LOMÉ, Togo, Jan. 14, 2022—The Togolese Fencing Federation hosted a fencing equipment repair course from Dec. 14-18, 2021 with 14 trainees from four fencing leagues in the region. The course, held at the request of Federation President Victor Laméga, was funded by the FIE, which provided expert instruction, equipment and tools.
Mr. Gilles Martinage (FRA), who has worked as an official armourer and managed weapons control in numerous events worldwide, led the preparation and training of the course.
The 14 trainees had varying levels of experience, including athletes, coaches, fencing masters trained in Dakar or Algiers, athletes training to be coaches, and the international referee and technical director of the Togolese Federation, Mr. Koffi Kassefon.
Theoretical and informational content was provided about electrical scoring systems, technical aspects of weapons operation and current equipment regulations. Topics covered included fault detection, complete weapon repair and assembly, verification of piste installations and proper personal gear verification (e.g., lames, body wires, masks, etc.).
The course overall was interactive and hands-on, focused on developing and practicing technical skills. Daily content addressed the individual interests, skills and expectations of the trainees and focused on ensuring they developed the ability to consistently reproduce the techniques they learned. Practical exercises took place using the equipment provided by the FIE: 12 basic repair kits, three armourer cases and a special kit for repairing cable spools. The focus of these exercises was to effectively recondition competition weapons, standardizing body wires, spool repair, managing piste cables and repairing/managing scoring apparatus and associated remote controls. Trainees learned to test all equipment, test and detect faults and determine proper and necessary repairs and apply the repairs, including soldering, bonding wires to blades and restoring metallic threads for proper conductivity.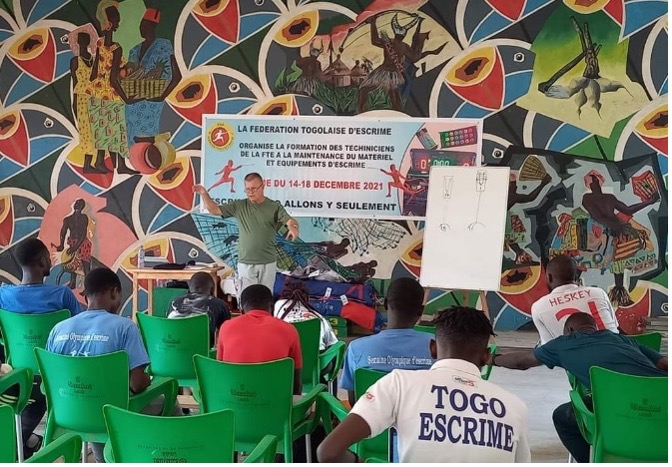 The results of the course included trainees being able to effectively assess and repair virtually all FIE competition weapons, test and repair body cords and cable spools, repair remotes for scoring systems and craft cables designed to connect cable spools to weapons.
When participation certificates were presented to trainees, Mr. Martinage hailed their enthusiasm, outstanding work and conscientiousness throughout the course. Togolese Federation President Laméga also welcomed the "spirit of cohesion" that prevailed during the programme.
The following is a list of the trainees who all successfully completed the course: