TORUŃ, Poland (June 26) – Russia finished top of the medal table at the European Fencing Championships, claiming six gold medals and 10 in total.
The continent's top competition, held in the Polish city of Toruń, brought together more than 400 fencers from 40 countries to compete for medals in six individual disciplines: men's and women's épée, foil and sabre, plus the respective team events.
Other top-performing countries at the championships were France, which won two gold and nine overall, and Italy, which took home six medals, one of which was gold. Also among the medallists were athletes from Romania, Germany, Estonia, Hungary, Switzerland, Ukraine, Britain and Poland. (Full list of champions below.)
Getty Images from the event are available here, with reports on all 12 disciplines viewable on the FIE's dedicated Rio 2016 portal.
The championships, staged at the modern Arena Toruń, followed the European Fencing Confederation Congress, during which Stanislav Pozdnyakov was elected EFC President for the next four years.
"We have witnessed six days of magnificent fencing, with 40 of our Confederation's 45 member federations represented on the pistes of Toruń," said Pozdnyakov, a four-time Olympic sabre gold medallist.
"These championships make an invaluable contribution to the development of our sport in Poland and across Europe," he added. Vladimir Shklar, the former interim President of the Confederation and current Vice President, noted: "We would like to thank the organising committee for their efforts in putting on a fantastic and memorable championships."
"Poland and the city of Toruń have proved to be superb hosts for our premier event, and have set the bar high for future editions of the European Fencing Championships."
EUROPEAN CHAMPIONS 2016
MEN
Foil (individual): Timur Safin (RUS)
Epee (individual): Yannick Borel (FRA)
Sabre (individual): Benedikt Wagner (GER)
Foil (team): Russia
Epee (team): France
Sabre (team): Russia
WOMEN
Foil (individual): Arianna Errigo (ITA)
Epee (individual): Simona Gherman (ROU)
Sabre (individual): Sofya Velikaya (RUS)
Foil (team): Russia
Epee (team): Estonia
Sabre (team): Russia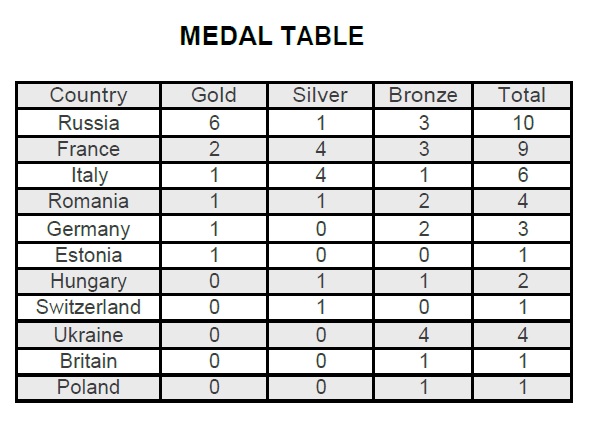 More links: