BUDAPEST, Hungary, July 21, 2019—The President of the Republic of Hungary, Janos Ader, was present at this evening's competition before a cheering, full capacity audience at the 2019 Budapest Fencing World Championships. Korea won against Hungary in men's team sabre in the final match. The Chinese women's epee team also scored gold, winning against Russia. Sixty-five international teams fenced in the two competitions, part of the nine-day Championships that include 118 countries participating in a total of 12 individual and team events in three weapons.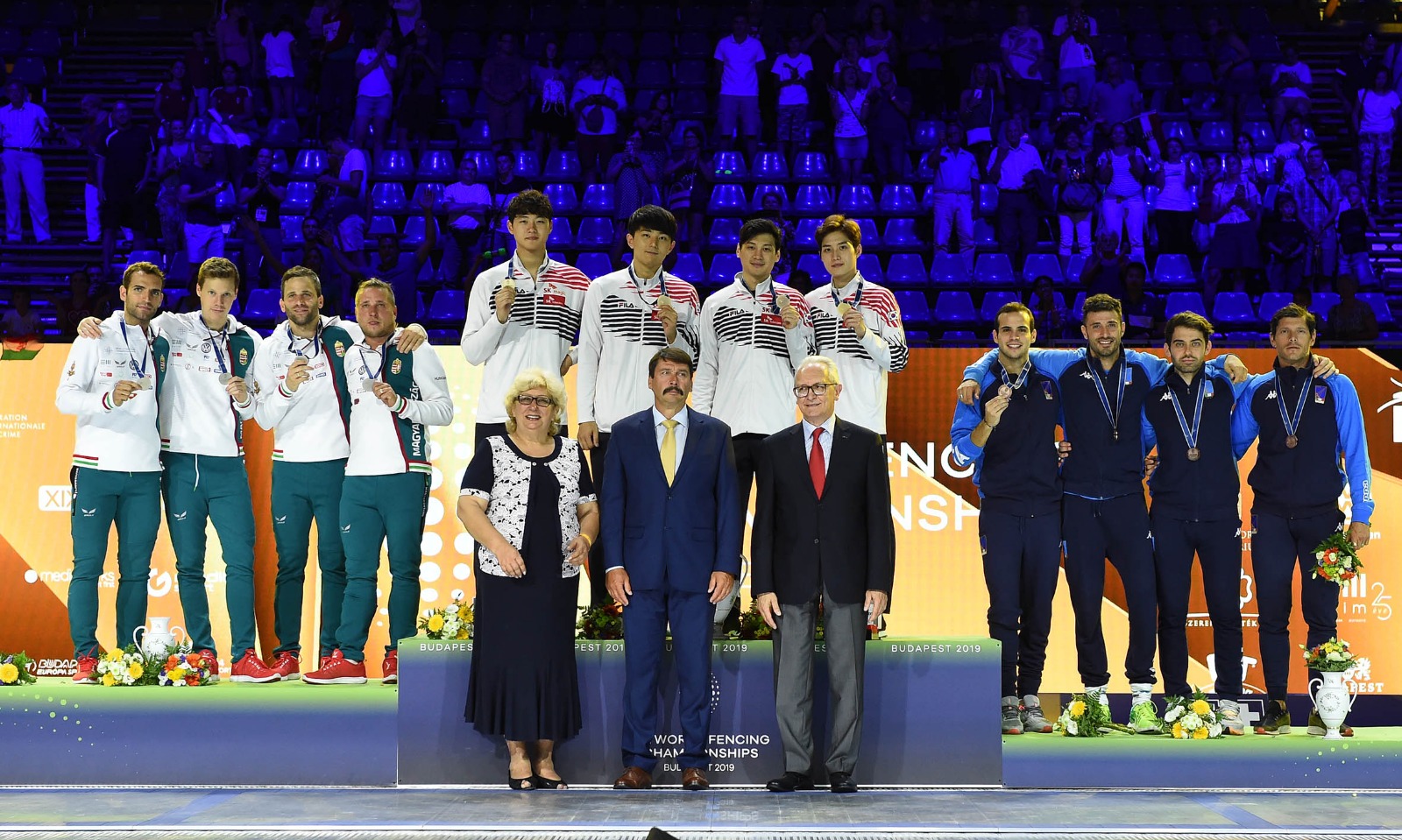 This was the third consecutive year Korea has been victorious in men's team sabre, winning by a single touch against the Hungarians, 45-44. In the semifinal round, Hungary beat Italy, 45-38, and Korea defeated Germany, 45-22. The bronze medal went to Italy over Germany, 45-38. At the awards ceremony, President Ader congratulated all the fencers and presented the silver medal to the Hungarian team.
The Chinese victory over Russia was equally close, taking the women's team epee title with a 29-28 score. This was the third World Championship gold medal for China in this event; they also won a gold medal at the London 2012 Olympic Games. Russia beat Ukraine in the semifinals, 42-40, while China overcame Italy, 44-31. Italy scored 45-36 against Ukraine to take the bronze medal.
Final ranking in men's team sabre at the 2019 Budapest World Championships included Korea (gold), Hungary (silver), Italy (bronze), Germany, Russia, Iran, Georgia and Romania.
In women's team epee, the final ranking included China (gold), Russia (silver), Italy (bronze), Ukraine, USA, Estonia, Korea and Poland.
Complete information about the Championships may be found on the official website, www.2019Budapest.com and official results are available on the FIE website. Click here for photo highlights of men's sabre and women's epee.

#Budapest2019