BUDAPEST, Hungary, July 19, 2019—Hungary's Gergely Siklosi won the individual men's epee world title on the second evening of finals competition at the 2019 Fencing World Championships in Budapest, and Russian two-time world champion and Olympic gold medallist Inna Deriglazova earned her third individual women's foil world championship title. In total, 367 men and women participated in the two competitions, and overall the Championships feature 118 countries participating in 12 individual and team events in three weapons over nine days.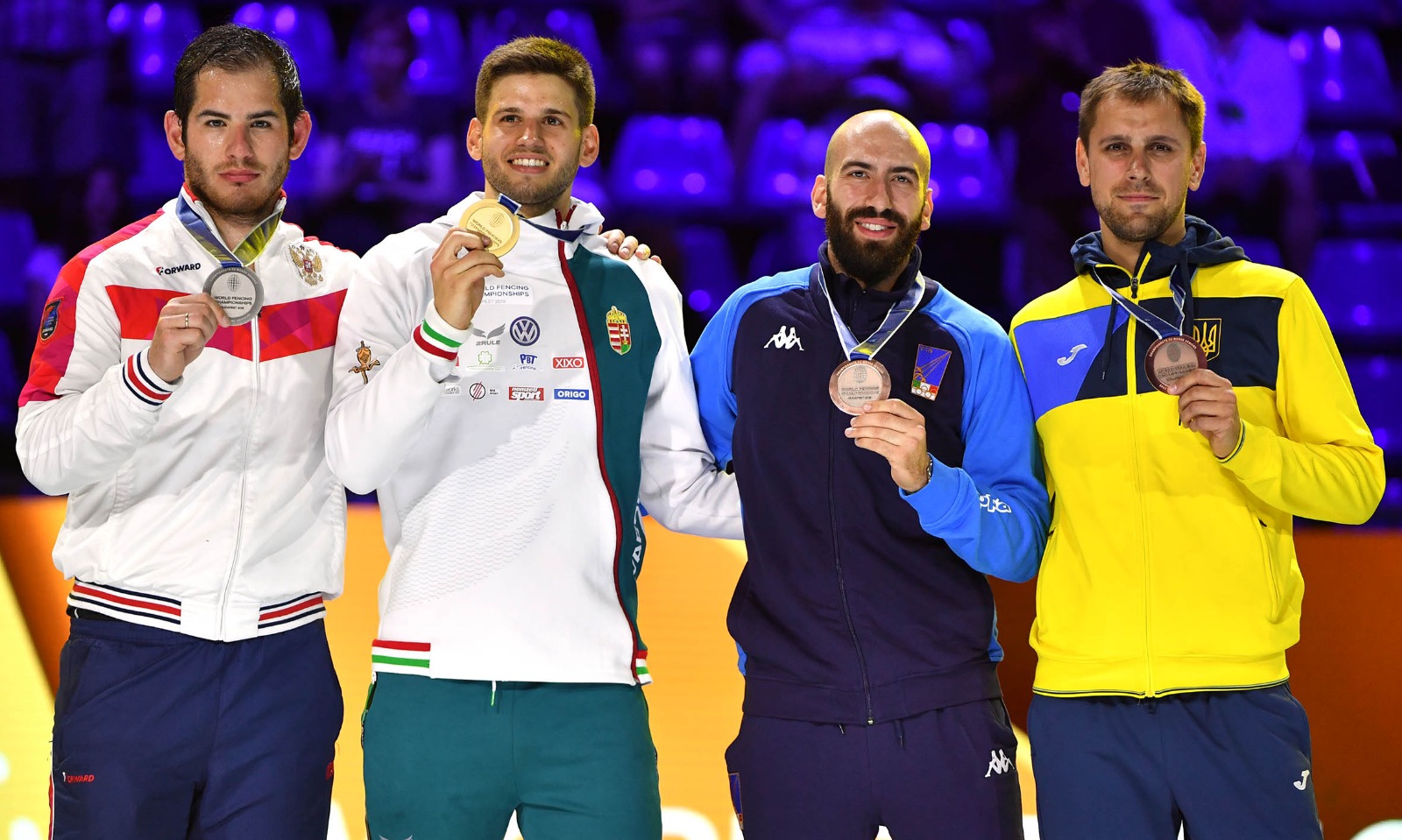 In the final round of individual men's epee, Siklosi faced Russia's Sergey Bida, taking the gold medal by a single touch, 15-14. Bida eliminated Ukrainian Igor Reizlin in the semifinal round, 15-10, while Siklosi overtook Italian Andrea Santarelli, 15-9. In the quarterfinals, Santarelli defeated reigning French world champion Yannick Borel, 15-12.
Deriglazova fenced France's Pauline Ranvier for the individual women's foil gold medal, winning the title with a 15-11 final score. Ranvier defeated Italy's two-time world champion Arianna Errigo in the semifinals, 15-13, and Deriglazova beat Italian Olympic and world champion Elisa Di Francisca, 15-13.
Final ranking for individual men's epee at the Budapest 2019 Fencing World Championships included Gergely Siklosi (HUN, gold), Sergey Bida (RUS, silver), Igor Reizlin (UKR, bronze), Andrea Santarelli (ITA, bronze), Yannick Borel (FRA), Koki Kano (JPN), Bas Verwijlen (NED) and Ruslan Kurbanov (KAZ).
For individual women's foil, final ranking included Inna Deriglazova (RUS, gold), Pauline Ranvier (FRA, silver), Elisa Di Francisca (ITA, bronze), Arianna Errigo (ITA, bronze), Lee Kiefer (USA), Yuka Ueno (JPN), Adelina Zagidullina (RUS) and Xingxin Huo (CHN).
Complete information about the Championships may be found on the official website, www.2019Budapest.com and official results are available on the FIE website. Click herefor photo highlights of men's epee and women's foil.

#Budapest2019