The senior international season continued successfully at the weekend with the second Fencing Grand Prix on sabre in South Korea. A number of 265 athletes (142 men and 123 female fencers) from 41 countries participated in this competition. In this Fencing Grand Prix, spectators increased compared to last year about 2000 people including all national clubs visited our competition hall and watched our event.
Women's sabre – Seoul
Olga Kharlan (UKR) for a second time, after the New York Fencing Grand Prix, won the gold on the final against Muhammad Ibtihaj (USA) 15-9. The bronze medal went to the two semi-finalists Velikaya Sofya (RUS) and Zagunis Mariel (USA). Sofya lost on the semifinal against Olga 11-15 and Mariel defeated by her compatriot Ibtihaj 14-15.
Men's Sabre - Seoul
Within a field of one hundred and forty-two fencers Nicolas Liimbach (GER) beat Nicolas Rousset (FRA) on the finals by 15-8. Ibragimov Kamil (RUS) lost on the semifinal against Rousset 9-15 and he shared the third position on the podium with Homer Daryl (USA) who lost 11-15 from the gold medalist Liimbach 11-15 on the semifinal.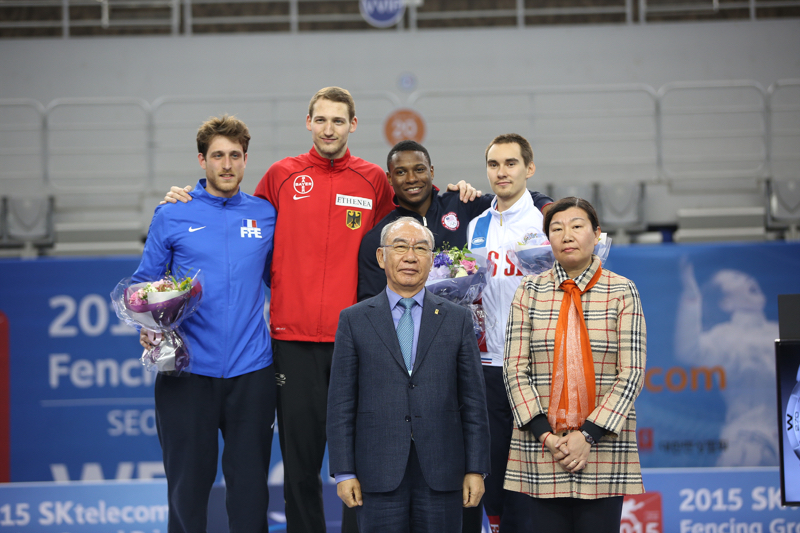 Mr. SON Kil Seung, President of Korean Fencing Federation, visited the competition hall these two days and tried to smoothly run this event. Also, Mr. CHOI Jong Sam, National training center mayor of Korean Olympic Committee, attended this competition to encourage the participants.
The next sabre Grand Prix will take place May 30 in Moscow.
Highlights are posted on Euronews
Follow FIE on twitter: @fie_en
Like FIE on Facebook
Watch FIE on Youtube here