ST. MAUR, France, Nov. 3-5, 2017 – Korea's Hyo Jin Hong won gold in France this weekend at the St. Maur Women's Foil World Cup, held at the Sport Center Pierre Brossolette. Italy was victorious, as well, winning the Women's Team Foil event, with 19 countries participating. Nearly 200 international women's fencers took part in the competition.
Korea's Hong faced World Champion silver medallist and Grand Prix winner Italy's Alice Volpi in the final, winning by two points, 15-13. This was a career-best win for the Korean. Volpi overcame Russian fencer Svetlana Tripapina by a single touch in the semi-final, 15-14, while Hong faced her teammate, Song Oh Chae, whom she beat by default when Chae had to withdraw.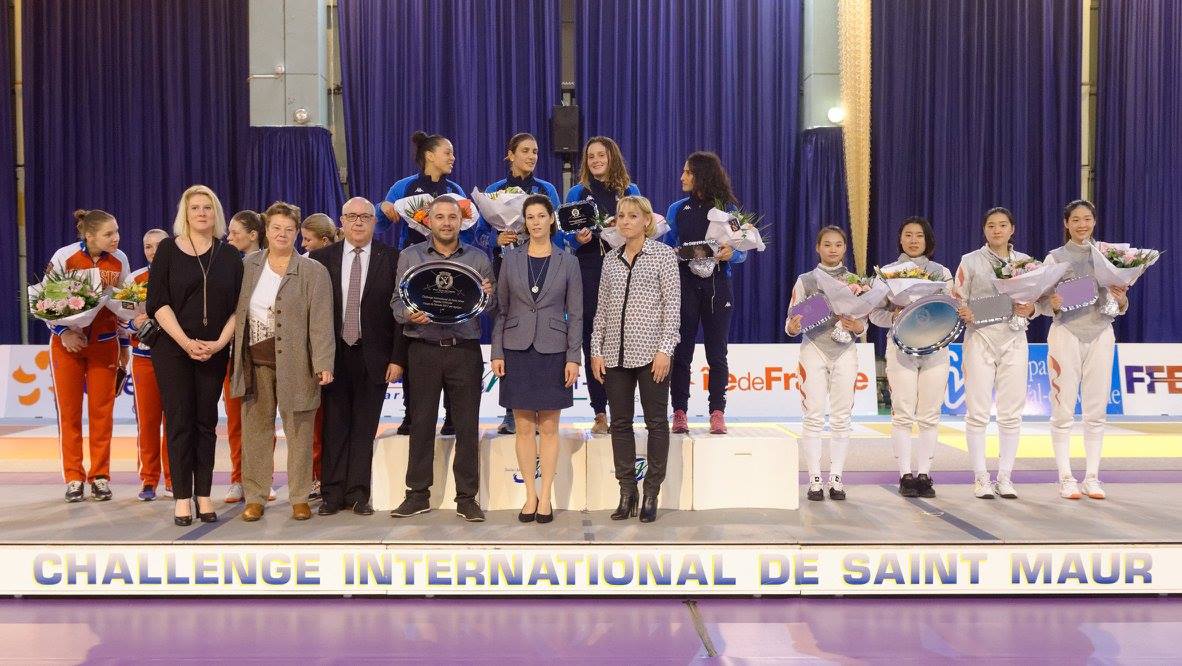 In the women's team foil competition, Italy prevailed over Russia, 45-38, in the final round. Italy had overtaken China in the semi-final, 45-32, and Russia beat USA, 45-39. In the bronze match, China beat USA, 45-42.
The top-eight overall individual women's foil ranking from St. Maur include Hyo Jin Hong (KOR, gold), Alice Volpi (ITA, silver), Song Oh Chae (KOR, bronze), Svetlana Tripapina (RUS, bronze), Nicole Ross (USA), Hee Sook Jeon (KOR), Chiara Cini (ITA), and Aida Mohamed (HUN).
The top-eight overall individual women's team foil rankings place Italy (gold) in first place, followed by Russia (silver), China (bronze), USA, France, Hungary, Canada, and Korea.
Full results for the individual competition can be found here, and results for the team event are here.