TALLINN, Estonia, Oct. 20-22, 2017 – Italy's Mara Navarria earned gold this weekend in Tallinn, Estonia at the 48th-annual Glaive de Tallinn Women's Epee World Cup. More than 200 women's epeeists fenced at the event, which also featured a team event where France won the gold medal with nearly 20 countries competing.
Navarria beat Russian World Champion Tatiana Gudkova, 15-12, in the final round to win the individual women's gold medal. Gudkova overtook another World Champion, Julia Beljajeva (EST), 15-8, in the semi-finals, while Navarria defeated Olympic gold medallist Emese Szasz-Kovacs (HUN) in the same round, 15-13.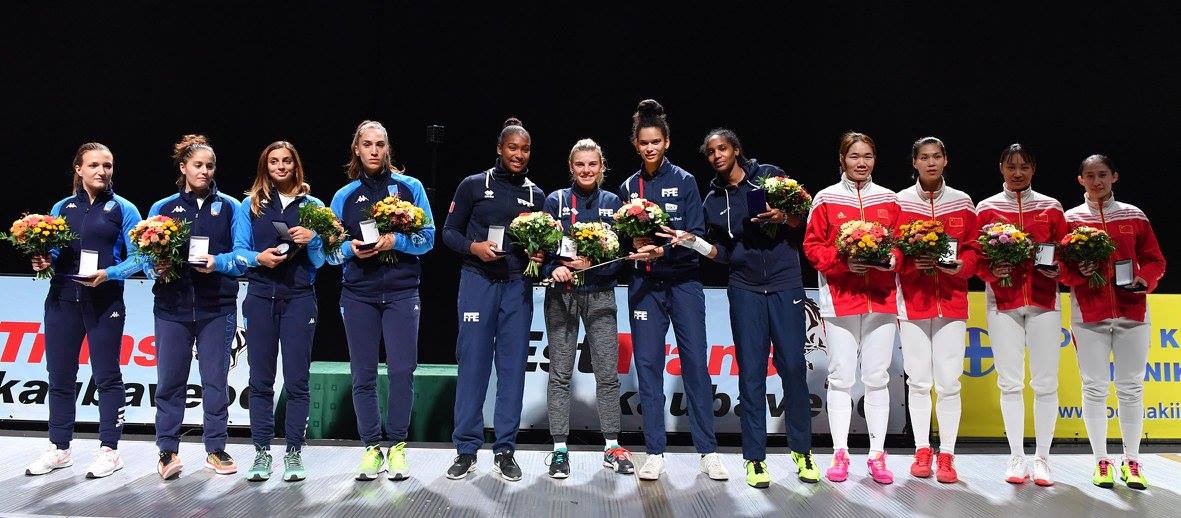 In the women's epee team competition, France beat Italy, 43-39, to take the gold medal. The Italian women narrowly edged-out China in the semi-final, 44-43, while France also won a close match with Germany, 45-43. In the bronze round, another tight win gave the medal to China over Germany, 32-31.
The top-eight overall individual women's epee ranking from Tallinn included Mara Navarria (ITA, gold), Tatiana Gudkova (RUS, silver), Julia Beljajeva (EST, bronze), Emese Szasz-Kovacs (HUN, bronze), Dzhoan Feybi Bezhura (UKR), Irina Okhotnikova (RUS), Alena Komarova (RUS), and Laura Staehli (SUI).
Overall, the top-eight women's epee team rankings place France in first place (gold), followed by Italy (silver), China (bronze), Germany, Estonia, Russia, Ukraine, and Hungary.
Full results for the individual competition can be found here, and results for the team event are here.
The International Fencing Federation (FIE - Fédération Internationale d'Escrime) is the world governing body for the sport of fencing, part of the Olympic Games since 1896. The FIE currently has 152 affiliated member federations representing the sport on all five continents. The headquarters of the FIE are in Lausanne, Switzerland. The mission of the FIE is to actively promote the development of fencing throughout the world, and to educate people from all walks of life about the values intrinsic to fencing: Clean Sport, Fair Play, gender equality, hard work, and excellence.