MOSCOW, Russia, June 4, 2017—Moscow's famous "VTP Ice Palace" this weekend featured nearly 300 top-level world sabre fencers at the Moscow Men's and Women's Sabre Fencing Grand Prix. France and Italy took home gold medals after the three-day event, with Charlotte Lembach winning the women's event, and Luca Curatoli taking the men's title. One of nine world Grand Prix events sponsored by the International Fencing Federation (FIE), this is the third and final sabre event in the series leading to the Senior World Fencing Championships this July in Leipzig, Germany.
The men's event featured multiple Olympic and world-champion fencers looking for victories, and many newer faces to elite world fencing also earned high-level results. This was a best-ever individual win for Italy's 22-year-old Curatoli, who took a bronze in March at the sabre Grand Prix in Seoul, Korea, beating Korean World Championship silver medallist Bongil Gu, 15-13, in the final. In the semi-final, the Italian took-out another top-ranked Korean fencer, four-time Grand Prix winner and Olympic bronze medallist Junghwan Kim, 15-11. Prior to that, in the round of eight, Curatoli also beat USA's Olympic silver medallist, Daryl Homer, 15-13. In the second semi-final, Gu beat Hungarian two-time Olympic gold medallist Aron Szilagyi in a close match, 15-14.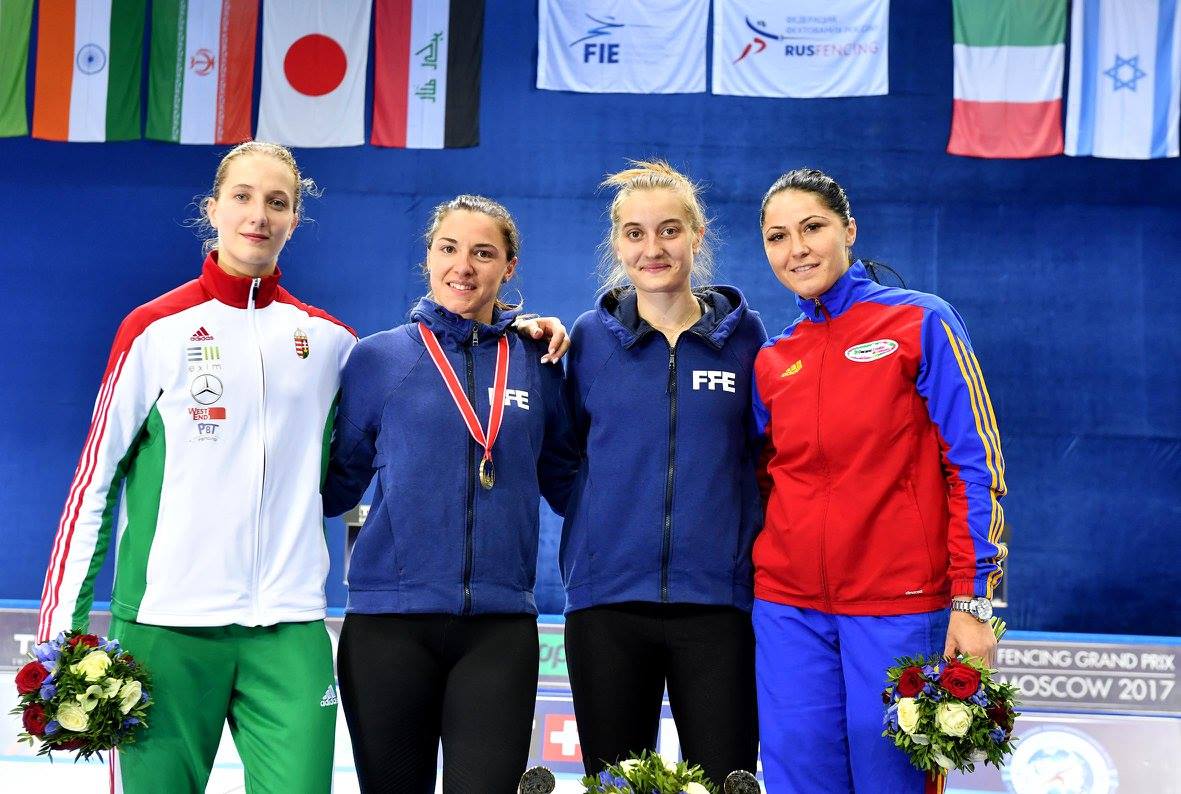 The women's sabre competition also featured numerous top athletes from Olympic and world events, and for France's 29-year-old Charlotte Lembach, winning in Moscow this weekend was a best-ever result. In the final, she overcame Hungarian Anna Marton, 15-10, for whom this was her third Grand Prix silver medal. Lembach beat Romanian Bianca Pascu in the semi-final, 15-11, and Marton took-out France's Caroline Queroli in the other semi match, 15-5. For both Pascu and Queroli, winning a Grand Prix bronze are best-in-career results. Top-five-ranked fencers Kim Jiyeon (KOR) and Manon Brunet (FRA) both went out in the round of eight.
Overall top-eight ranking for the men's sabre event included Luca Curatoli (ITA, gold), Bongil Gu (KOR, silver), Junghwan Kim (KOR, bronze), Aron Szilagyi (HUN, bronze), Daryl Homer (USA), Sanguk Oh (KOR), Alexey Yakimenko (RUS), and Tiberiu Dolniceanu (ROU).
Top-eight for the women included Charlotte Lembach (FRA, gold), Anna Marton (HUN, silver), Bianca Pascu (ROU, bronze), Caroline Queroli (FRA, bronze), Manon Brunet (FRA), Jiyeon Kim (KOR), Chika Aoki (JPN), and Anna Bashta (RUS).
Additional and information for the Moscow Sabre Grand Prix may be found on the FIE Web site, with men's results located here and women's results here. The official website for the Moscow Grand Prix is located here.