Plovdiv, Bulgaria
April 2017
The 2017 Junior & Cadet World Fencing Championships, taking place in Plovdiv, Bulgaria from April 1 to 10, offer more than fencing bouts and new friendships. Here, young and talented fencers have the opportunity to participate in multiple FIE-sponsored programs that educate, inform, and help athletes around the world in a variety of ways.
Fencing Donations. One of the newest programs, 'Donate Your Fencing Gear', is intended to share equipment among those who have what they need and those who need more than what they have. At a designated drop-off point, fencers may bring used but still functional and safe fencing gear and donate it to be reused. The FIE accepts and re-purposes the equipment, providing it to federations in various areas with fencers who may not have the resources or funds to acquire what they need to compete.
Sometimes it may only be the difference of a mask, a jacket, or even a glove that gives an athlete the chance to compete in a tournament that could change their career. Olympic bronze medallist and world champion Hungarian epee fencer Gabor Boczko led the way in Plovdiv by donating a mask as well as the glove he wore when he won his medal at the 2016 Rio Olympic Games.
'This glove has special emotional meaning for me, and, as a result, aIong with my mask, I felt it would be the perfect gesture to donate it to this meaningful program and cause,' he said.
Donate Your Fencing Gear is reaching out to all fencers, regardless of age, gender, weapon, or nationality to help others join and participate in fencing, and there will be a similar donation opportunity this summer at the Leipzig Senior World Fencing Championships. In addition, manufacturers are invited to donate equipment to the program. In Plovdiv, PBT Fencing was the first company to drop-off and donate a generous selection of equipment.
If you have any functional equipment you would like to donate and you're coming to this summer's World Championships, please bring it along.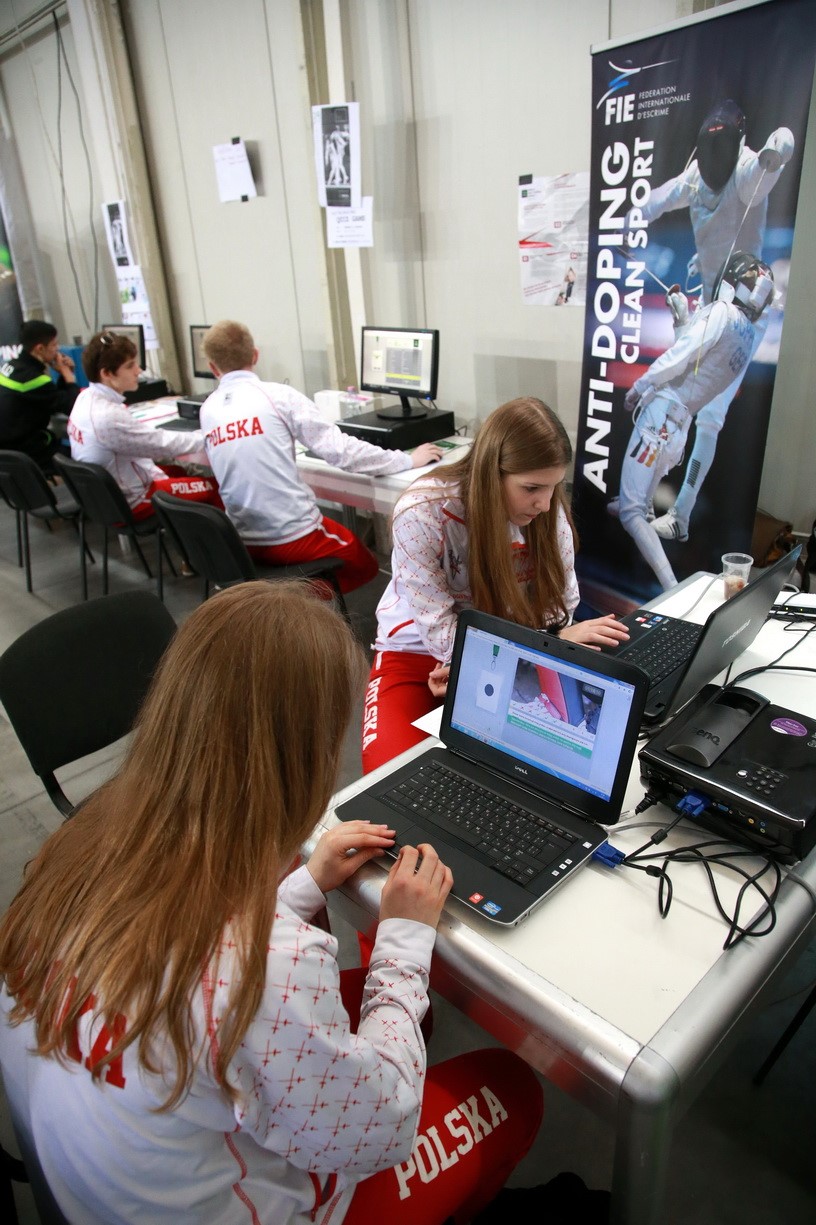 Anti-Doping Mission. For several years, the FIE Anti-Doping Education Outreach program has communicated hundreds of fencers at the Junior & Cadet World Fencing Championships. In Plovdiv, a special stand where fencers could obtain information and play anti-doping education games provided opportunities to reach teens about this essential topic. Dr. Clare Halsted, a member of the FIE Medical Commission, was on-hand to oversee the stand and ensure fencers were fully briefed on anti-doping.
'Our mission is to educate juniors and cadets so they are aware of what they need to do to not have any anti-doping problems', she stated. 'In fencing, we have a very-low risk of cheating. Our main problem is prescribed and over-the-counter drugs as well as supplements.' Fencers should be aware that even vitamins and protein powders may sometimes contain banned ingredients resulting from cross-contamination in poorly managed labs.
For example, the commonly available drug Sudafed, used for nasal and sinus decongestion, can trigger a positive anti-doping result. 'Just because it's legal, doesn't mean it won't fail anti-doping', said Dr. Halsted.
At the anti-doping stand, fencers can take a WADA (World Anti-Doping Agency) quiz and win a prize. The FIE also offers a twice-daily 100 Euro prize to randomly selected participants in the quiz. This year, the program experienced a 62 percent increase in the number of people taking part over last year's presence in Bourges.
Fair Play Initiative. Fencing has a long and rich history as a noble and honorable sport. Associated with the Fair Play Committee of the International Olympic Committee (IOC), the FIE's Fair Play Council strives to educate athletes about Fair Play, and to recognized exceptional examples of fairness in fencing. Bert van de Flier, the Fair Play Council President, was on-hand in Plovdiv to work with teenagers at a dedicated stand.
'We talk about Fair Play meaning going the "extra mile", having fun together, and fighting in fairness', he said. 'It occurs before, during, and after the bout, it's the attitude towards the referee, and it's about making our sport enjoyable for everyone involved'.
He gives the example of Czech epee fencer Jiri Beran who, at the Rio 2016 Olympic Games, collided with his opponent, where the other fencer received a single light. While it was obstructed on the replay video, Beran immediately offered to the referee that he had felt his weapon hit his own leg, not his opponent's—an admission that, while not seen by the referee and that could possibly have gone in his favor, could just as easily have cost him the bout. This type of honorable act is the 'essence of Fair Play', according to Mr. van de Flier.
The Fair Play Council is working on a number of initiatives to promote Fair Play in fencing, including marketing activities, producing a video dedicated to fencing, and offering a variety of awards and recognitions—even ones referees can quickly recognize and communicate to the Council. More than 300 cadets took part in a special Fair Play game in the stand in Plovdiv, where a group of fencers had to catch-and-lift blocks with commonly held ropes—thus learning the value of teamwork, shared leadership, and other essential skills the promote fairness in fencing and sport overall.
These programs overall help build younger fencers not only as athletes, but as individuals and conscientious citizens, as well. In keeping with fencing's traditions in history, they are building athletes' characters and preparing them for successful lives in whatever fields, sports, or relationships they develop throughout life.
Donations by:
Yusuke Aoki, JPN, FIE Coaches' Council, mask, chest protector for coaches Rio Morita, JPN, fencing bag Yuki Mori, JPN, gloves, foil grips Haruna Baba, JPN, fencing bag, breast protector Lachlan Crook, AUS - fencing bag Isaac Hayles, AUS - fencing bag Gabor Boczko, HUN, mask Julius Jutila, FIN – mask
Suppliers:
Allstar/Uhlmann, various
PBT, various