LONG BEACH, Calif., USA, March 18—Individual fencers from Russia and USA both scored gold tonight at the Absolute Fencing Gear Men's and Women's Foil Grand Prix in Long Beach, California. Held in the same facility where the fencing competition in the 1984 Los Angeles Olympic Games took place, the tournament is one of nine major global Grand Prix events held this season by the International Fencing Federation (FIE).
Russian Olympic bronze medallist Timur Safin overtook USA's Olympic silver medallist Alexander Massialas in the final 15-10, after defeating Italian Giorgio Avola 15-12 in the semi-finals and French fencer Erwan Le Pechoux in the quarter-finals with the same score.


"For sure, my hardest bout today was my first one, with [Great Britain's] James Davis, which was 15-14," said the Russian champion, referring the round of 64. From that point on, he won all of his bouts with a comfortable margin all the way to the finals.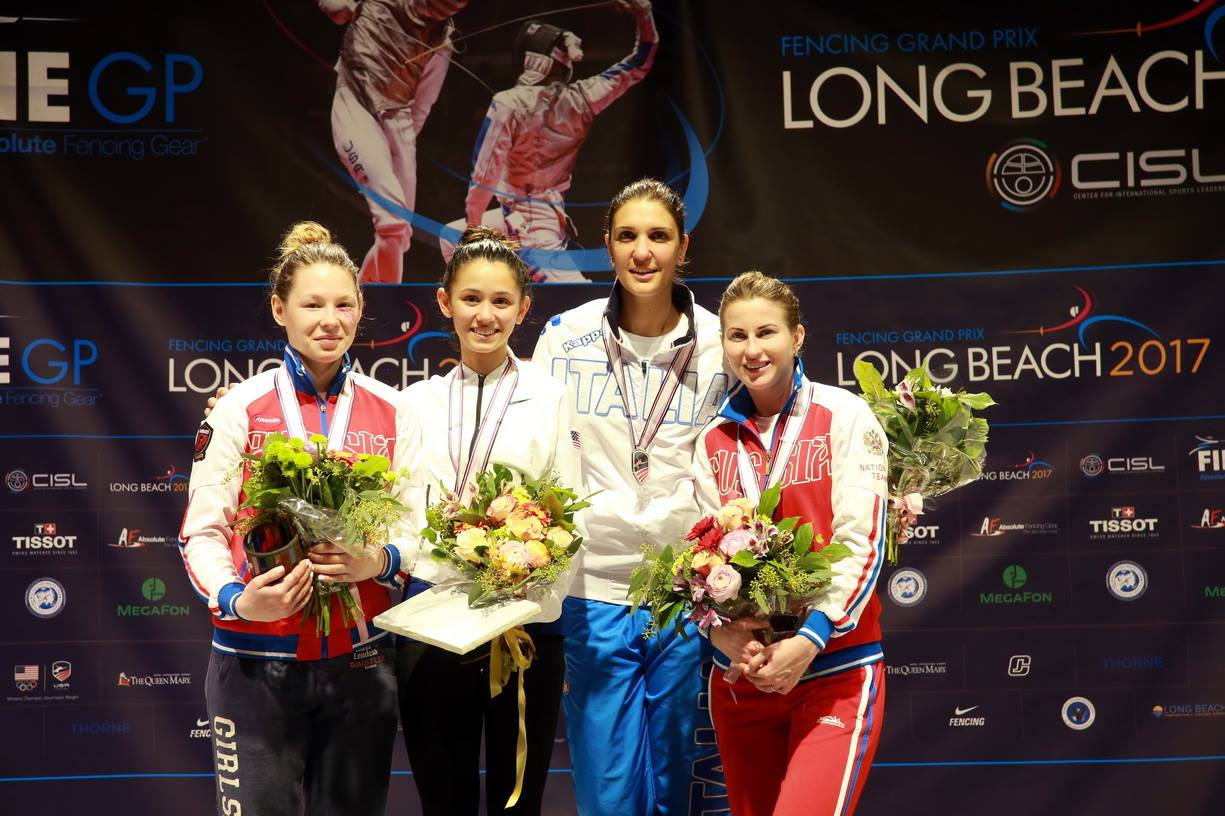 USA's Lee Kiefer won gold in a victory, 15-4, against a surprising opponent, Russia's Marta Martyanova, ranked 118th. The Russian defeated Italian Olympic silver medallist and first-ranked Arianna Errigo in a surprising upset in the semi-finals, 15-12, to make the gold-medal round. Kiefer overcame Russian Olympic gold medallist Inna Deriglazova 15-9 in a big semi-final victory.

"I had a lot of focus and I told myself I was going to take my time, and I met my goal," said the American champion.

Kiefer defeated teammate Margaret Lu 15-12 in the round of 8, and overall had a very strong day before making the finals.

The Grand Prix was very challenging, featuring well over 100 top-ranked fencers from around the world in both men's and women's events, including multiple world and Olympic champions. The event was temporarily interrupted for more than an hour in the women's semi-finals by a city-wide power outage in Long Beach before finishing before a spirited crowd of enthusiastic fencing spectators and supporters.

Overall top-eight ranking for the event for men included Timur Safin (RUS, gold), Alexander Massialas (USA, silver), Giorgio Avola (ITA, bronze), Daniele Garozzo (ITA, bronze), Richard Kruse (GBR), Erwan Le Pechoux (FRA), Miles Chamley-Watson (USA), and Taegyu Ha (KOR).

Top eight for women included Lee Kiefer (USA, gold), Marta Martyanova (RUS, silver), Inna Deriglazova (RUS, bronze), Arianna Errigo (ITA, bronze), Nicole Ross (USA), Alice Volpi (ITA), Margaret Lu (USA), and Francesca Palumbo (ITA).

Additional and complete results for the Grand Prix may be found on the FIE web site here.