LEGNANO, Italy – Estonia's Julia Beljajeva and China's women's epee team both won gold medals this weekend in Italy at the Legnano Women's Epee World Cup, which took place from February 10-12. Nearly 200 women from around the world participated in the competition, also including 21 country teams. The spirited competition featured world and Olympic champions fencing in a top-tier mix of athletic talent.
Beljajeva, a former world champion in women's epee, defeated France's Lauren Rembi 12-8 in the final. Rembi, who took fourth place in the Rio 2016 Olympics, beat Ukraine's Dzhoan Feybi Bezhura in a low-scoring semi-final match, 4-3, to make the finals against Beljajeva. The Estonian overtook Tunisia's Sarra Besbes 15-11 in the other semi-final; Besbes is currently ranked first in the world.
In a surprising loss, Rio 2016 Olympic champion Emese Szasz-Kovacs, ranked third in the world, was eliminated in the round of 64, 15-9, by the 118th-ranked Italian, Camilla Batini.
The top-eight overall individual ranking from Legnano places Julia Beljajevo first (EST, gold), followed by Lauren Rembi (FRA, silver), Sarra Besbes (TUN, bronze), Dzhoan Feybi Bezhura (UKR, bronze,), Irina Embrich (EST), Injeong Choi (KOR), Marta Ferrari (ITA), and Kamila Pytka (POL).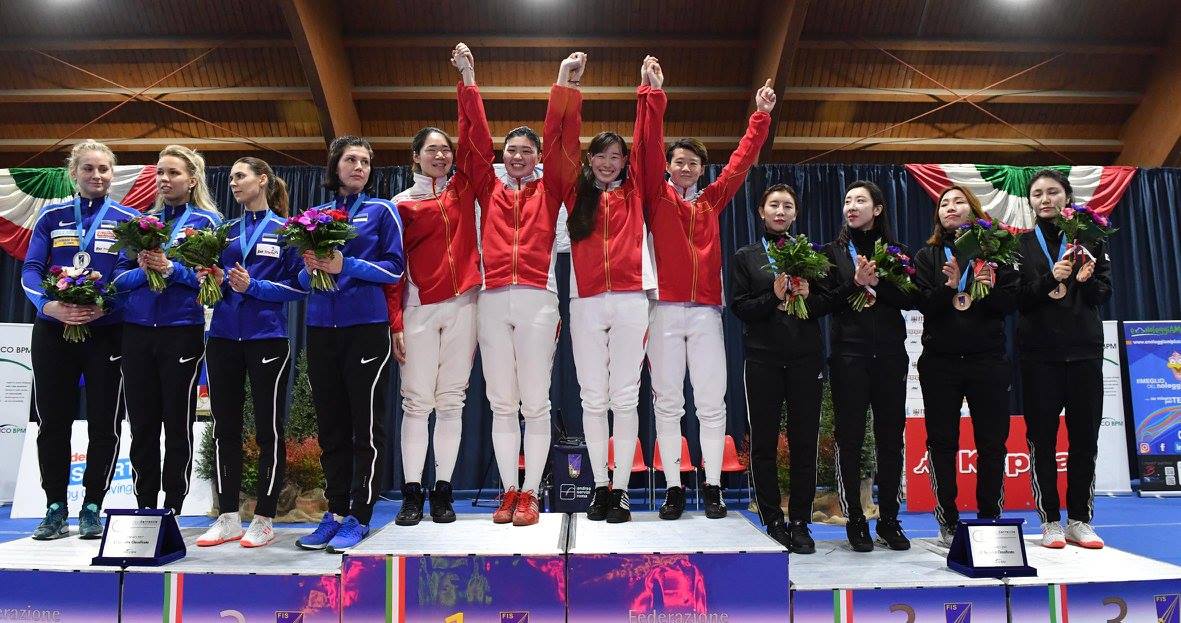 Estonia had a very good weekend overall with two individual medals and a silver team medal against China, who won gold at the event 28-25. The Estonians beat Korea in a fast-paced but low-scoring semi-final, 15-12, and China edged-out Ukraine 34-33 in the other semi match. In the bronze-medal round, Korea took the medal against Ukraine, 45-34.
Overall team rankings for the women's team epee event place China first (gold), followed by Estonia (silver), Korea (bronze), Ukraine, France, Russia, USA, and Romania.
Full results for the individual competition can be found here, and results for the team event are here.