PADUA, Italy – Hungary's Andras Szatmari and Korea's men's sabre team took gold this weekend in Padua at the Luxardo Trophy Men's Sabre World Cup. Held February 3-5 at the northern Italian city's Kioene Arena, nearly 200 individual fencers and more than 20 international teams competed. With many top-tier fencers participating, two-time Olympic gold medallist Aron Szilagyi took fifth place and several other Olympic and World Championship medallists vied for a win.
Coming into the event ranked 18th worldwide, this was a fantastic win for the 24-year-old Hungarian. He took out Iranian and fifth-seed Mojtaba Abedini 15-12 in the final, after a stunning defeat of Korea's Junghwan Kim in the semi-finals, 15-8. Abedini won a very close semi-final match against another Korean, Sanguk Oh, 15-14, to make the final. Until that point, Oh had a very strong day, in particular having beaten Hungary's champion Aron Szilagyi 15-11 in the table of eight.
The top-eight overall individual ranking from Padua places Andras Szatmari first (HUN, gold), followed by Mojtaba Abedini (IRI, silver), Junghwan Kim (KOR, bronze), Sanguk Oh (KOR, bronze), Aron Szilagyi (HUN), Kamil Ibragimov (RUS), Luca Curatoli (ITA), and Andriy Yagodka (UKR).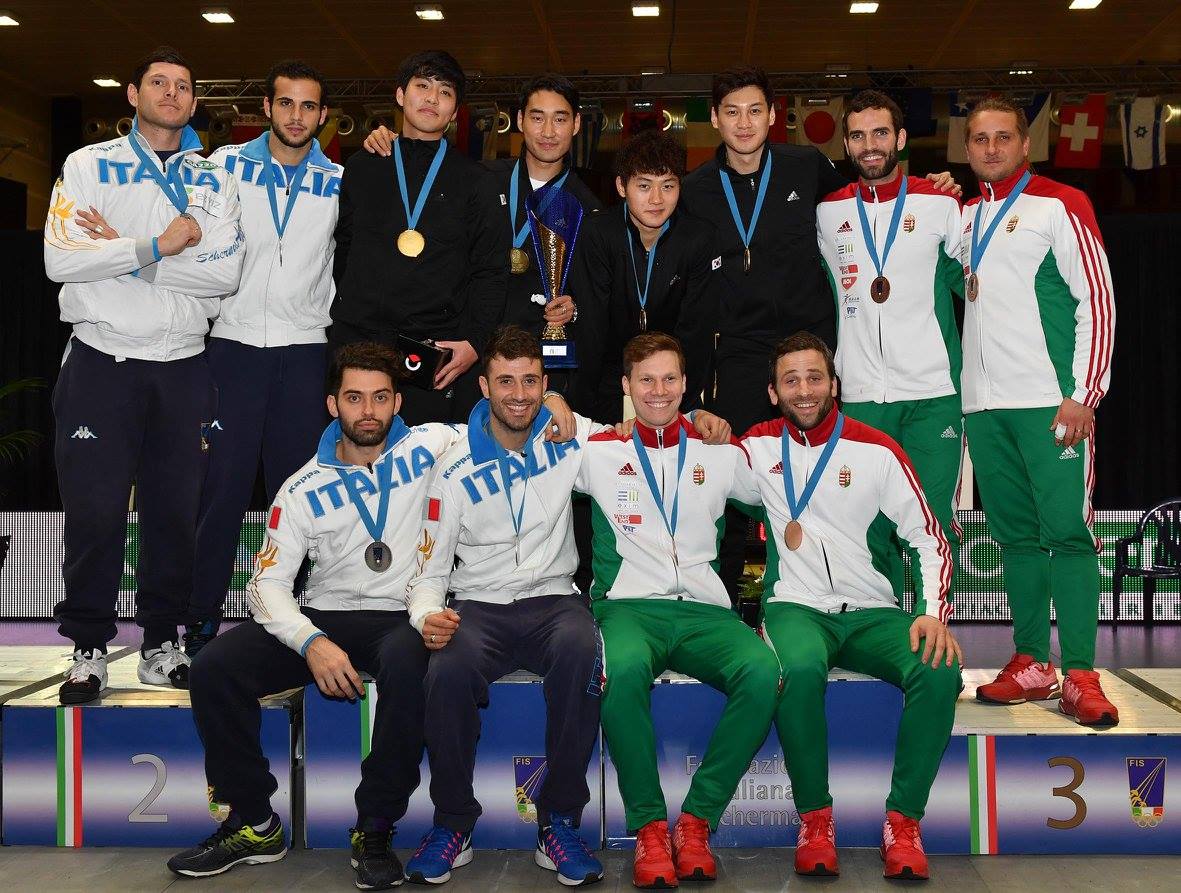 The Korean men's sabre team scored a very tight victory in the gold-medal round against home-favorite Italy 45-44, after a stronger win in the semi-finals against Iran, 45-34. For Italy, the men had two tough matches in a row, having beaten Hungary by only two points 45-43 in the semi-finals before facing Korea. For the bronze medal, Hungary beat Iran 45-32.
Overall team rankings place Korea in first place, followed by Italy (silver), Hungary (bronze), Iran, Russia, France, Germany, and USA.
Full results for the individual competition can be found here, and results for the team event are here. The official Website for the event can be found at www.trofeoluxardo.it.