SHANGHAI (June 5) – The world's top foilist Alexander Massialas of the United States proved Sunday he will be the man to beat at the Rio Olympics this summer, winning the Westgate Shopping Mall Shanghai Grand Prix with a lightning-fast victory over South Korea's Lee Kwanghyun.
The world silver medalist needed less than two minutes of the first round to overwhelm Lee, the world No. 34, by a score of 15-5 and clinch a second title of the season. "It's amazing," Massialas said of his ruthless performance in the final. "I love coming to Shanghai, I feel very comfortable here," he added.
"Having my mother being Chinese and my grandmother actually from Shanghai, it means a lot for me to win this tournament and make myself one of the contenders for the Rio Olympic gold medal."
The bronze medals went to Haiwei Chen of China and Italy's Alessio Foconi.
Massialas, who last won in Tokyo in November, was the only American to progress past the last 32, his top-ten compatriots Gerek Meinhardt, Race Imboden and Miles ChamleyWatson all crashing out earlier in the competition.
Lee, for his part, had posted a remarkable comeback from 7-0 down in the semifinal to beat Italy's Foconi 15-13 and force his way into contention for gold.
In the women's event on Saturday, Arianna Errigo claimed her fourth title of the season and regained the world No. 1 ranking position with a 15-8 victory over Lee Kiefer of the United States.
A live stream of the Westgate Shopping Mall Shanghai Fencing Grand Prix was provided in collaboration with the Chinese Fencing Federation and the Zhibo.tv website.
A list of fencers who have qualified for Rio can be accessed at the International Fencing Federation's dedicated Rio 2016 portal here.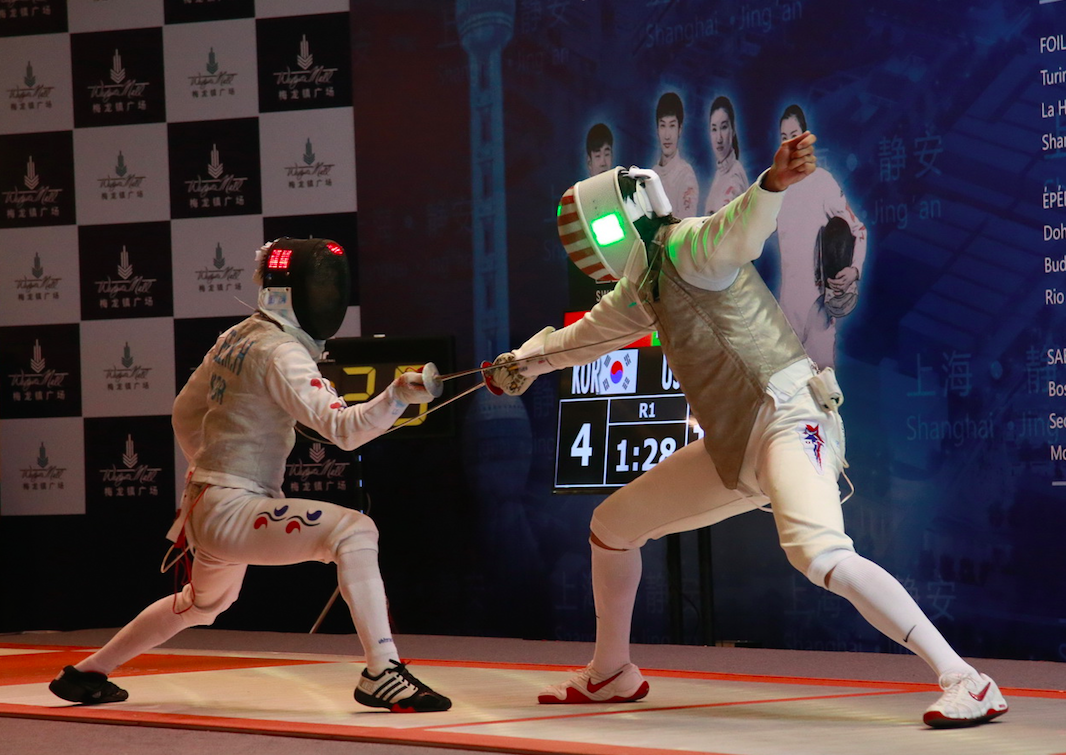 Photo © Serge Timacheff