On October 29, 2015, Ethan Kushnerik, a 12 year old boy who is an epee fencer, was honoured at a Proclamation ceremony at City Hall in New York City for his achievements in the sport of fencing.
Proclamations are official announcements, public declarations issued by the Mayor. They are issued for the following reasons: Recognition of action or service above and beyond the call of duty. Recognition of extraordinary achievement.
Supporting actions that improve the quality of life of the community or raise public awareness of issues that directly affect the community.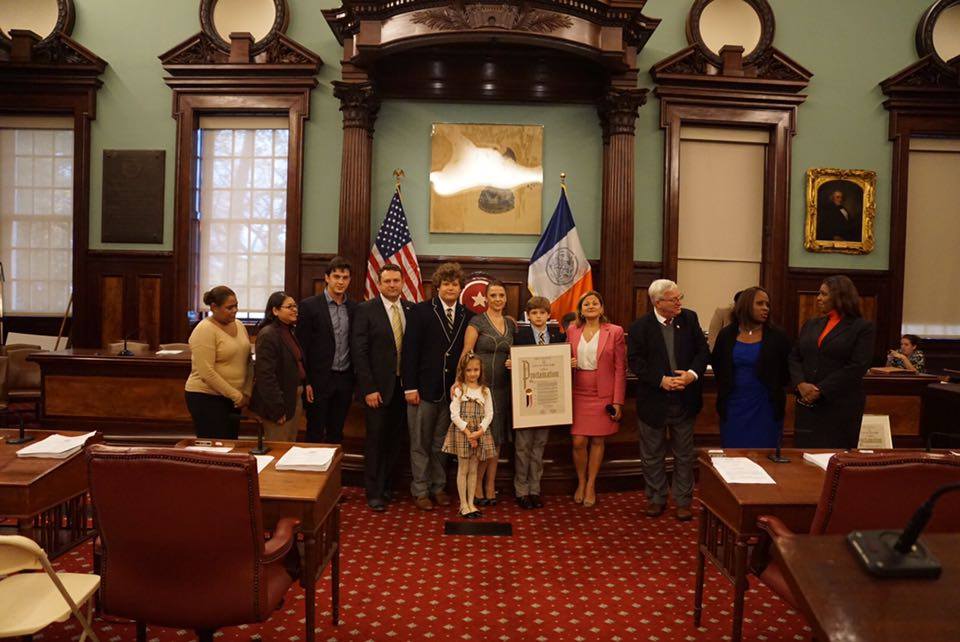 Ethan's Proclamation read, "The Council of the City of New York is proud to honor Ethan Kushnerik for his outstanding sportsmanship and achievements in fencing.
While many people are aware of fencing through the stories of Zorro or the Three Musketeers, it is one of the world's oldest sports, one practiced in ancient Egypt, and one of only four sports that has been in every modern Olympic games. Fencing is also referred to as "Physical Chess" for it is a challenging sport for both body and mind. It is a sport for both men and women of all ages to attempt, a tactical masterpiece of prowess and grace. An expert fencer improves their skill not only by becoming stronger and more flexible but also by developing their coordination, speed, focus and concentration. Ethan Kushnerik is truly such an individual."
The Proclamation further read, "In 2014, at the age of 10, Ethan's dedication took him to Wroclaw, Poland, where he competed at the 37th Annual International Children's Fencing Tournament Challenge among the top scoring young fencers from 272 clubs from 31 countries. Ethan played against many of the world's best fencers and shocked many by becoming a finalist. While fencing his way to the gold medal in the Y11 men's epee category, Ethan did not lose a single match."
This is the first time that New York City Council has recognized an individual for their achievements in the sport of fencing.
On 11/11/2015, U. S. Fencing Association wrote, "Congratulations to PanAm Youth team fencer, Ethan Kushnerik who was honored with a Proclamation by the New York City Council at City Hall...Great to see a young fencer recognized for all his hard work!"
Grant Jones, Development Director for USA Fencing wrote, "We are very proud of Ethan's accomplishments. He is an excellent ambassador for USA Fencing and the power of youth participating in sport."