The second medal for the hosts
They lost the gold, but they won the bronze thanks to a courageous performance: The men's epee team gave Switzerland their second medal at the European Championships on home soil. Once again, they activated the last bit of energy that was left. Mentally and physically that is. Max Heinzer, Benjamin Steffen, Peer Borsky and Fabian Kauter, who was sitting on the bench in the last bouts, didn't want to let off the medal and were in control of the
Ukraine in the match for third place. One minute to the end, with a score of 39-28, the team from eastern Europe accepted defeat and the Swiss could celebrate their fifth straight team medal. "I am enormously proud of the whole team", Heinzer, the winner of silver in the individual event, said, "I would have been very sad if not the entire team could have left Montreux with a medal too." That the colour wasn't the same as in the three previous editions, where the Swiss had triumphed, was secondary given the circumstances of the day.
In fact, they had suffered from a heartbreaking loss in the semifinals versus Estonia. Heinzer had a seemingly comfortable lead in the last minute but couldn't convert a 38-34. Later, he fell in "sudden death". "I am not a machine either", he admitted, "but of course I have to assume responsibility for the last 39 seconds. The two following hours in the locker room were extremely tough. For the first thirty minutes, there was a huge void but then we were able to regroup."
It also proved fatal that the Swiss had squandered a lot of energy in the previous round versus the Czech Republic. Probably too much. After taking a 19-10 lead from the first five bouts, they couldn't hold to the lead and Heinzer had to enter the final three minutes at a score of 31-31. The gold medal was taken by France who clearly had the better off Estonia.
In women's sabre, the French took the silver, with Russia proving too strong in the final and celebrating its fourth consecutive title.
Women's sabre team podium :
Gold : Russia
Silver : France
Bronze : Ukraine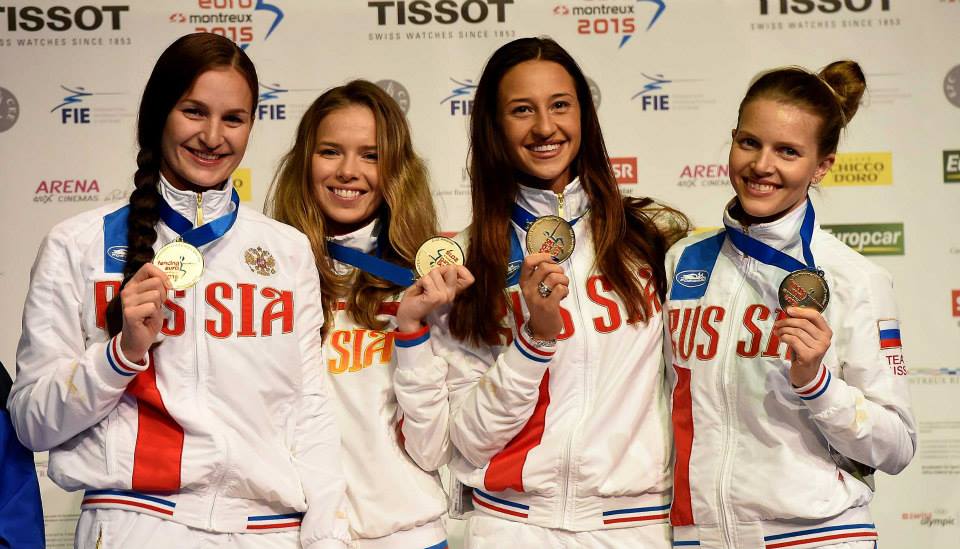 Watch Live Stream the event through the FIE fencing channel
Follow the Euro Fencing 2015 Montreux on:Twitter Facebook Instagram
photo: Augusto Bizzi 
(function(d, s, id) { var js, fjs = d.getElementsByTagName(s)[0]; if (d.getElementById(id)) return; js = d.createElement(s); js.id = id; js.src = "//connect.facebook.net/en_US/sdk.js#xfbml=1&version=v2.3"; fjs.parentNode.insertBefore(js, fjs);}(document, 'script', 'facebook-jssdk'));
Last attack by Gauthier Grumier and France wins the Gold medal over Estonia 45-32! Fencing Euro 2015 #fencing #roadtorio #best #team #epee

Posted by FIE - International Fencing Federation on Wednesday, June 10, 2015