MILAN, Italy, July 30, 2023 – Hungary won the gold medal in women's team sabre at the 2023 Milan Fencing World Championships and Japan won the gold in men's team foil. It was the final of six days including 12 gold-medal events in women's and men's individual and team competition in epee, foil and sabre. In all, 29 women's and 32 men's teams competed in today's sabre and foil events. The Championships are taking place in Milan's Allianz MiCo, the largest convention centre in Europe.
In the closing ceremony for the Fencing World Championships, FIE Interim President Emmanuel Katsiadakis received the FIE flag from Italian Fencing Federation President Paolo Azzi, passing it to French Fencing Federation President Bruno Gares for the Paris 2024 Summer Olympic Games. Closing speeches were given by Interim President Katsiadakis, President Azzi and Milan Fencing World Championships President Marco Fichera. Also present at the closing were Martina Riva, Deputy Mayor for Sport, Tourism and Youth Policies in Milan; Lara Magoni, Undersecretary for Sport and Youth in Lombardia; and Claudia Giordani, Italian Olympic Committee Vice President.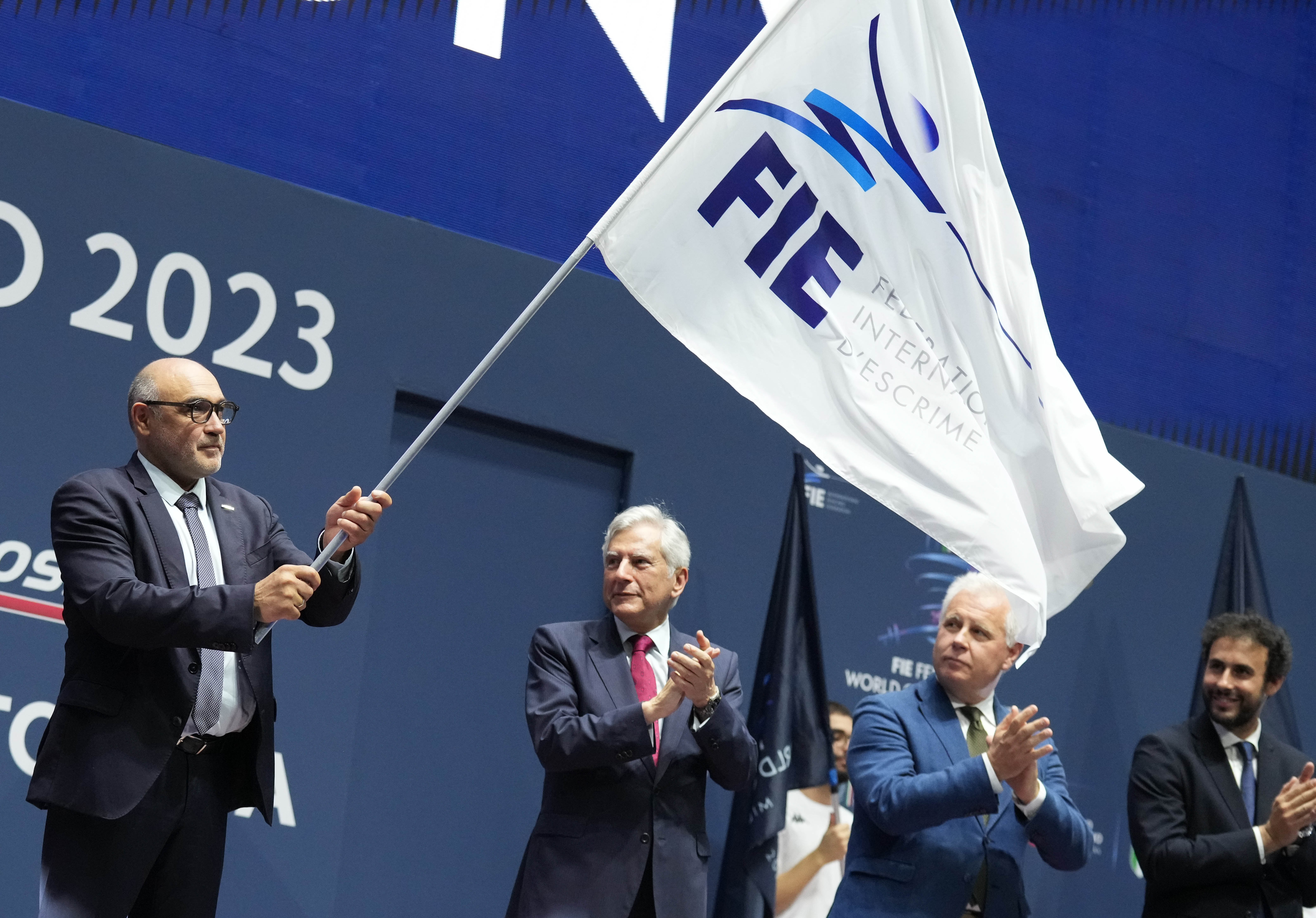 Hungary faced France in the final match of women's team sabre, winning with a 45-38 score and retaining its title from 2022. In the semifinal round, France won against Ukraine, 45-32, while Hungary defeated Korea, 45-39. The bronze medal went to Korea over Ukraine, 45-32.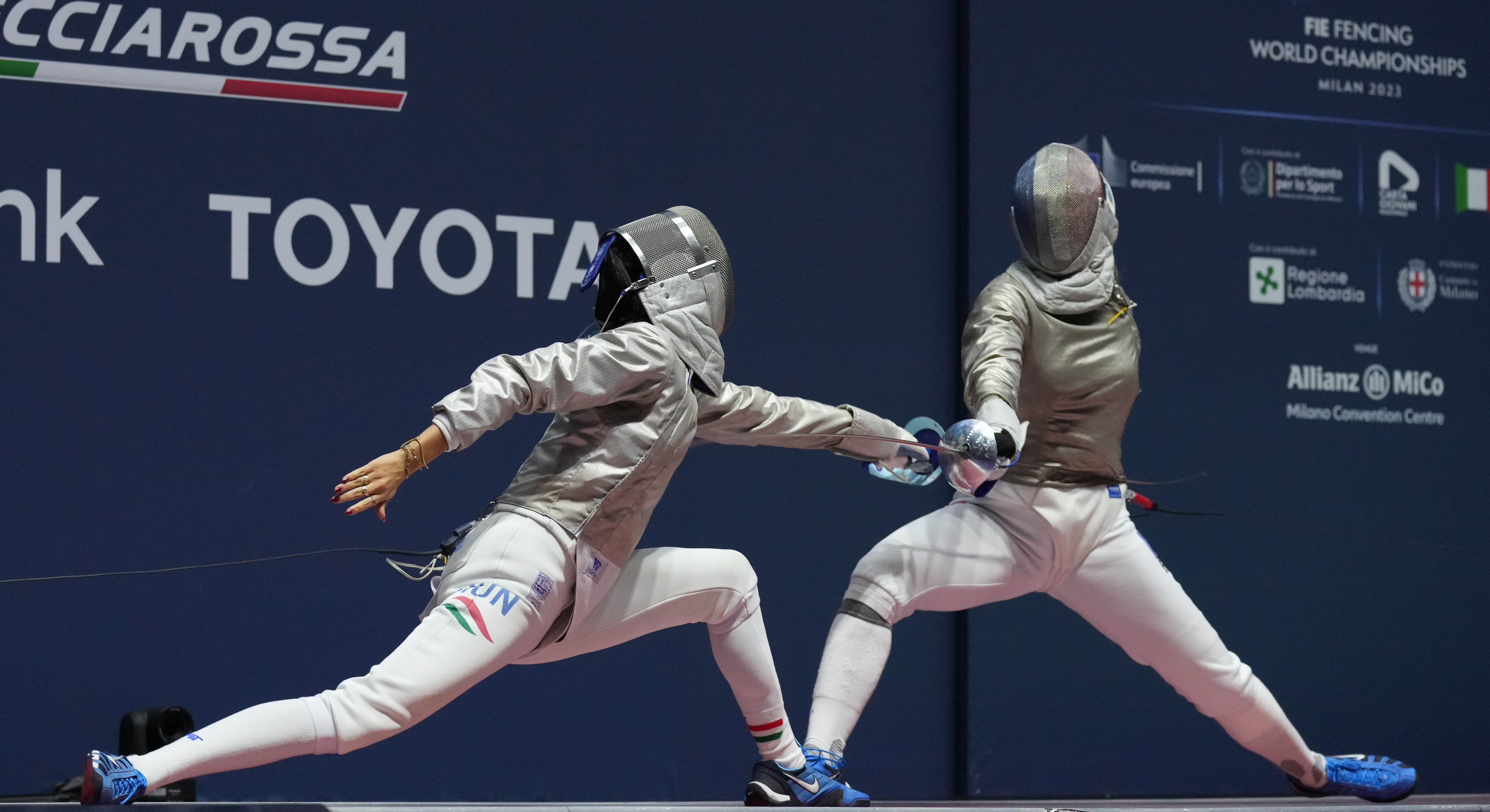 "I am very happy to win this gold medal. I am very proud that we made it and won again", said Hungary's Liza Pusztai. "We all dreamed of remaining at the top of the world. During the match against France, when we were behind, my teammate did a great job. For us, it wasn't only the final, but during the day, we had some tough matches against Greece and Korea."
Japan faced China in the final match of men's team foil, winning with a 45-35 score and its first world title in this event. In the semifinal round, China won against USA, 45-35, while Japan defeated Hong Kong, China, 45-35. The bronze medal went to Hong Kong, China over USA, 45-31. This was the first-ever Senior World Championships medal in team foil for China.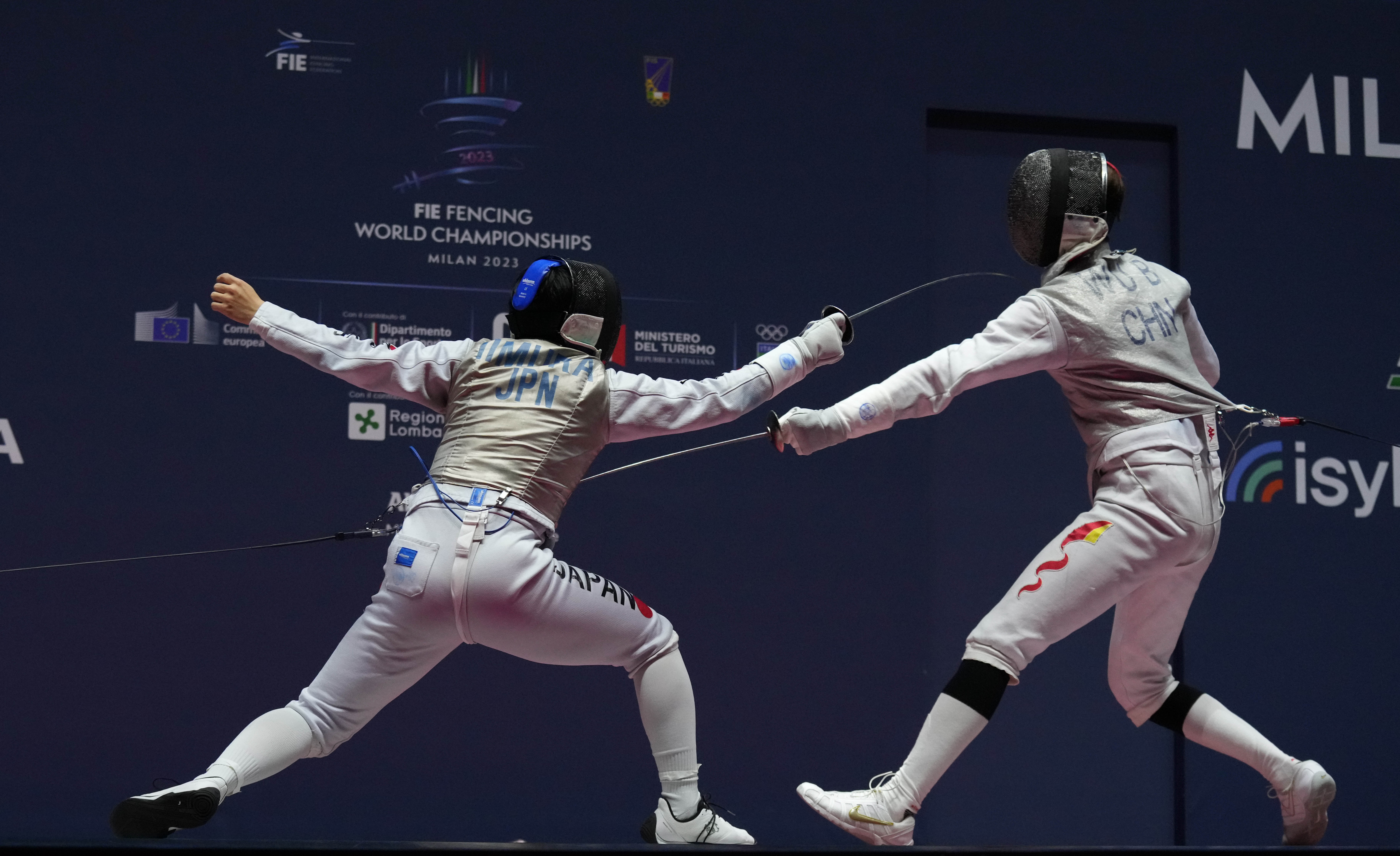 "Today we had a very hard competition against the Chinese team. At the beginning, I wasn't feeling very confident, but my teammates encouraged me that I can stand on the piste and face these talented Chinese fencers", said Japan's Kazuki Iimura. "China was not the only difficult team we fenced against today, the bout against Korea was also very tough. In the finals, our coach told us that if we fence as usual and don't feel stressed, then for sure, we will be the next champions, and that's what happened."
Final rankings in women's team sabre included Hungary (gold), France (silver), Korea (bronze), Ukraine, Azerbaijan, Japan, USA and Greece.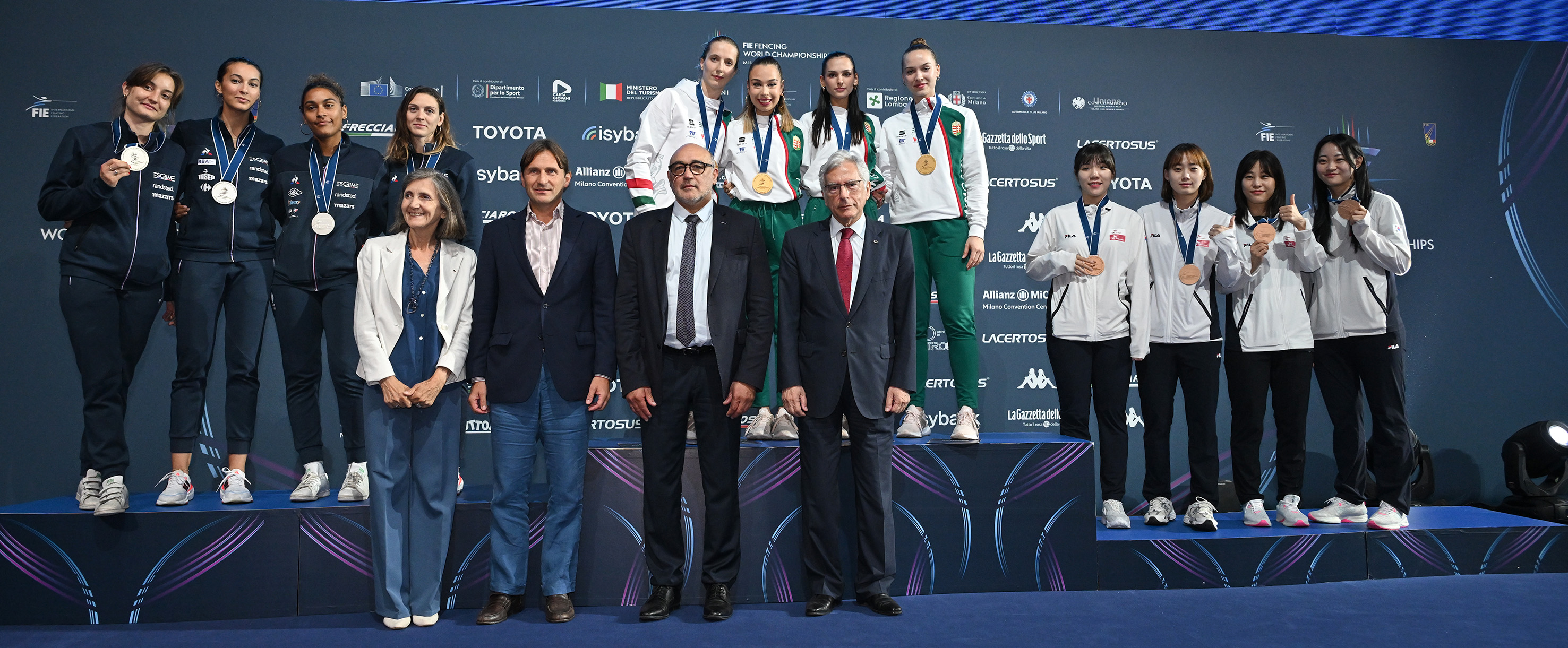 Final rankings in men's team foil included Japan (gold), China (silver), Hong Kong-China (bronze), USA, Italy, France, Korea and Poland.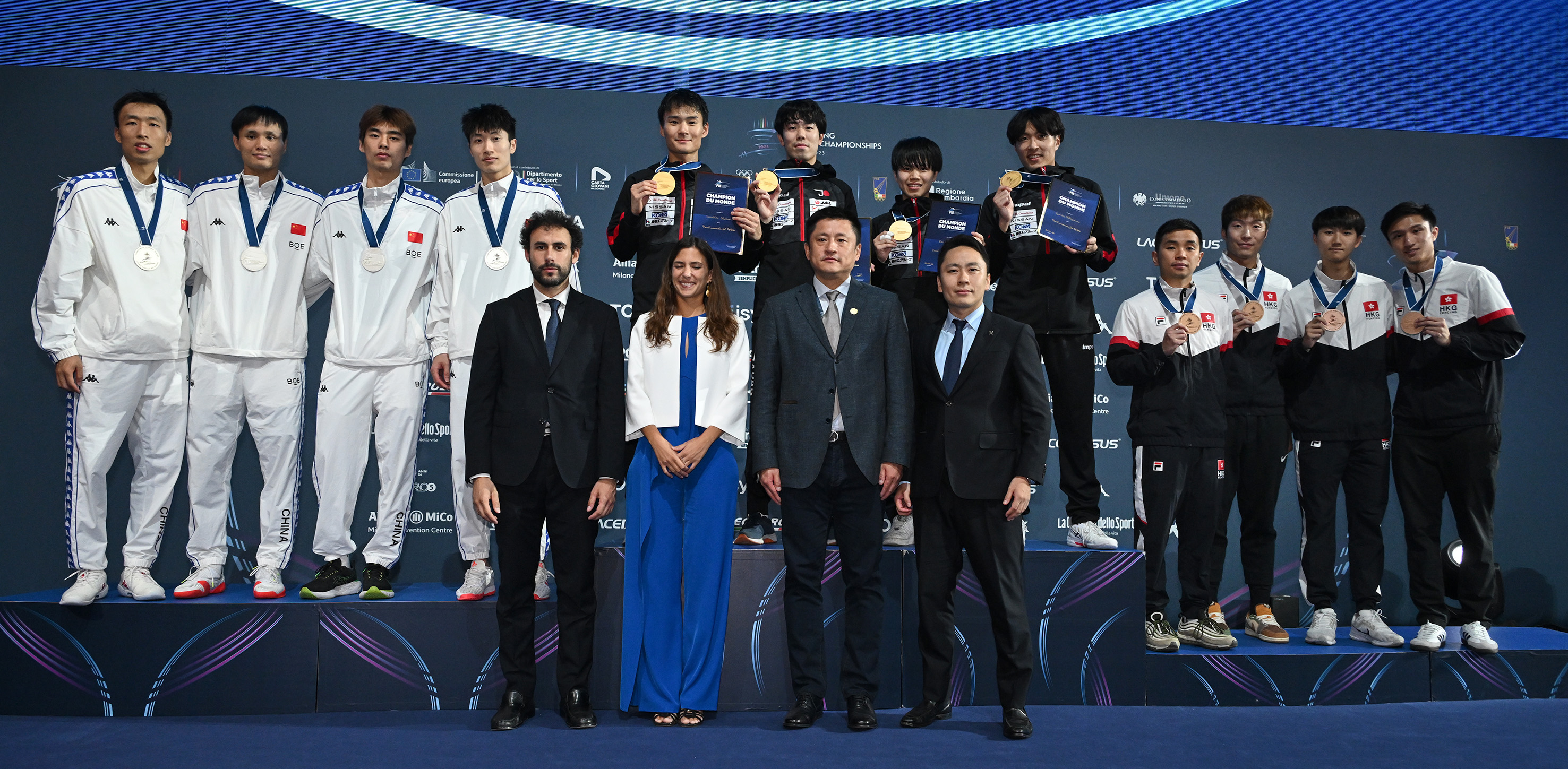 Complete and official results for the event may be found here on the FIE web site. For more exciting world fencing news and features, check out the YouTube FIE Fencing Channel. Find official photos from this and other events on the FIE Facebook page.
Official website of the 2023 Milan Fencing World Championships: https://milano2023.com/
#fencing #fencingworldchampionships #milan2023 #epee #sabre #foil