CAIRO, Egypt, April 29-May 1, 2022—France's world champion Yannick Borel and Korea's Injeong Choi won gold medals at the Cairo Men's and Women's Epee Grand Prix. The competition took place at the Cairo Stadium Indoor Halls Complex, with 179 men and 138 women participating.
In the men's epee event, Borel faced teammate Nelson Lopez Pourtier, winning with a 15-5 score. Lopez Pourtier won against teammate Alex Fava in the semifinal round, 9-8, while Borel defeated Hungarian world champion Gergely Siklosi, 15-10.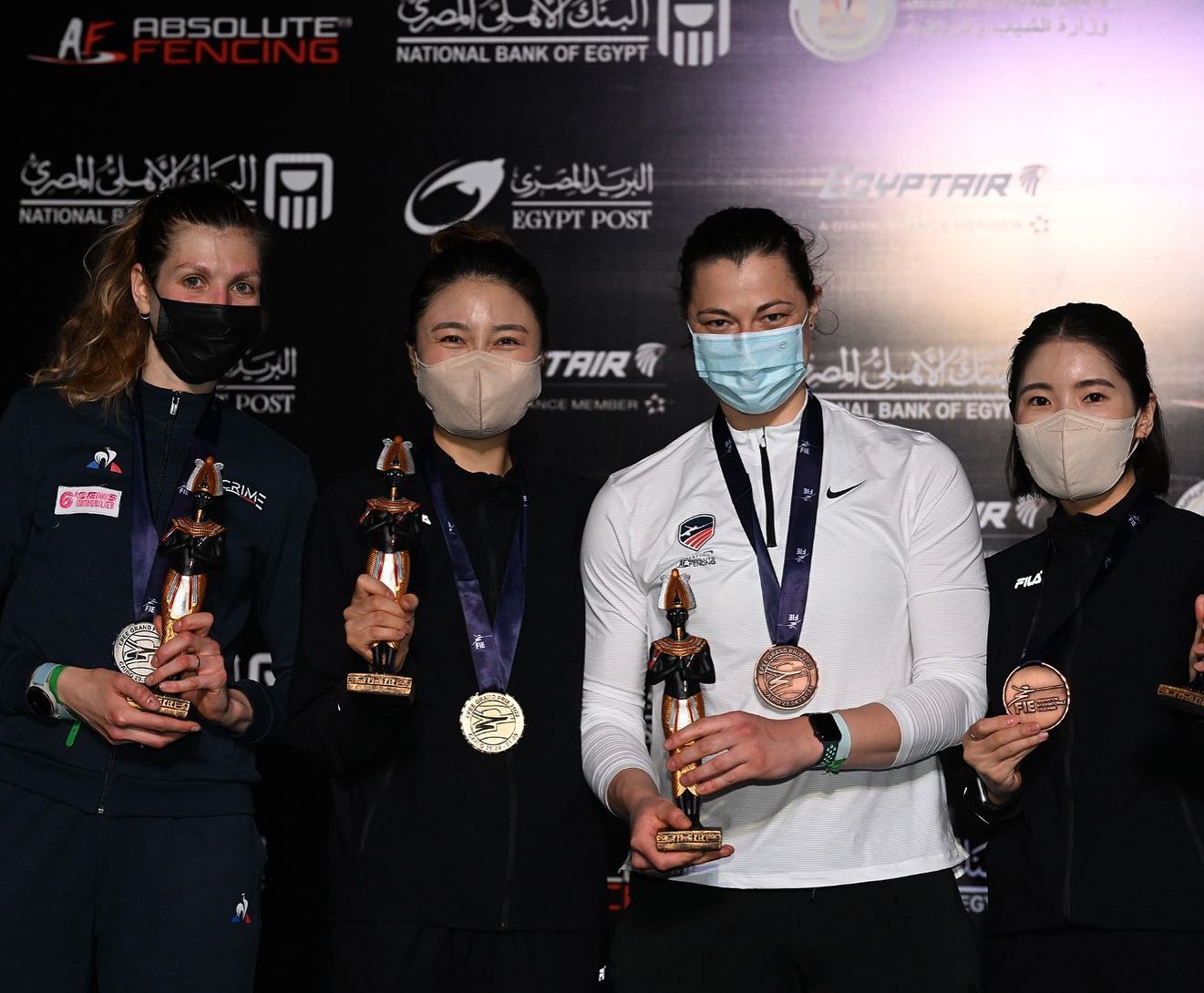 In the women's epee event, Choi faced France's Auriane Mallo, winning with a 15-14 score. Mallo won against USA's Katharine Holmes in the semifinal round, 15-9, while Choi beat teammate Sera Song, 11-10. Of note, Choi also defeated two-time Italian world champion Rossella Fiamingo in the quarterfinals, 15-11, and Mallo won against brasilian world champion Nathalie Moellhausen in the round of 16, 15-14.
Final rankings in men's epee included Yannick Borel (FRA, gold), Nelson Lopez Pourtier (FRA, silver), Alex Fava (FRA, bronze), Gergely Siklosi (HUN, bronze), Andrea Santarelli (ITA), Houssam Elkord (MAR), Max Heinzer (SUI) and Davide Di Veroli (ITA).
Final rankings in women's epee included Injeong Choi (KOR, gold), Auriane Mallo (FRA, silver), Katharine Holmes (USA, bronze), Sera Song (KOR, bronze), Rossella Fiamingo (ITA), Anna Kun (HUN), Kristina Kuusk (EST) and Lauren Rembi (FRA).
Complete and official results for the event may be found here on the FIE web site. For more exciting world fencing news and features, check out the YouTube FIE Fencing Channel.