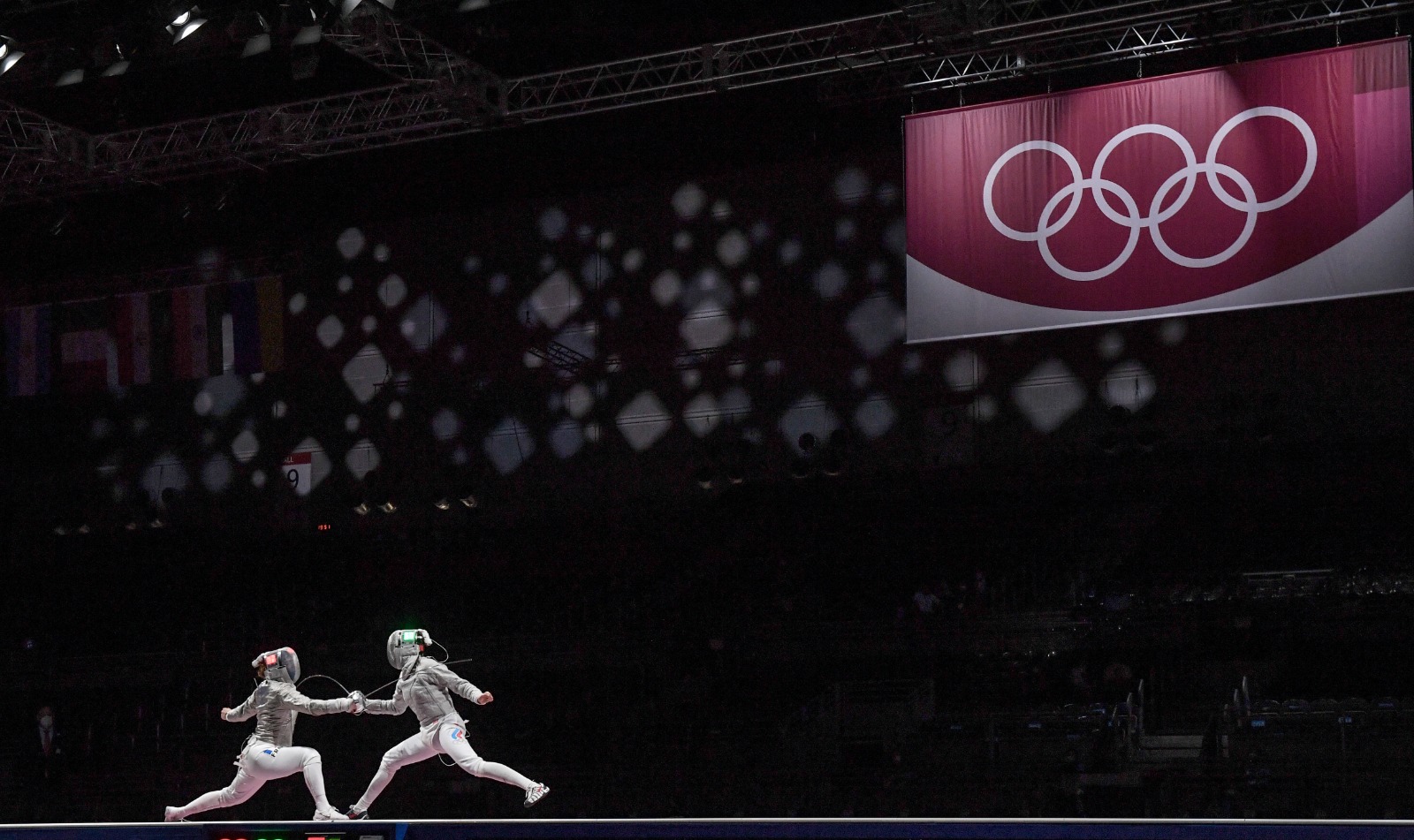 TOKYO, Japan, July 31, 2021— ROC has won gold in women's team sabre at the Tokyo 2020 Olympic Games. Nine women's teams participated in the day's event, which was the eighth day of Olympic fencing at Tokyo's Makuhari Messe Hall B in the Chiba prefecture.
In the gold medal round, ROC faced France, winning with a score of 45-41. The bronze medal went to Korea over Italy, 45-42. It was the first-ever Olympic women's team sabre medal for Korea.
Tonight's win for ROC's Sofya Velikaya is her fifth Olympic medal, and she is the first woman to win a gold in team sabre twice in the Olympic Games. Her teammate, ROC's Sofia Pozdniakova, won gold in both women's individual and team sabre in Tokyo.

"All is possible if you love your job, your training", said Pozdniakova. "I was happy for my team, I forgot about my individual competing and I have a new medal for my country … and it's incredible."
"I say to girls of today that they are the future of fencing, and it's a new future", said Velikaya. "Today I feel girls can win, if they believe in themselves, believe in team, and help each other to do what they want to achieve victory."
"Because you have the dream of your teammates, it's more difficult, more stressful", said France's Cecilia Berder. "But when you win, it's just amazing. It's the best memory in my life."
"Our strategy against Italy was to attack more than just defending each other", said Korea's Jisu Yoon. "Being aggressive was today's goal. While this was the first Korean women's team sabre medal at the Olympic Games, there have been previous Korean teams who won medals at the Olympic Games – silver and gold – and we thought 'we have to get a medal'. Especially, we wanted to follow in the footsteps of Jiyeon Kim, who won an individual gold medal at London 2012, so we were feeling pressure to win."
Final ranking for women's team sabre included ROC (gold), France (silver), Korea (bronze), Italy, Japan, USA, China, Hungary and Tunisia.
Complete information about fencing results and athletes at the Olympic Games may be found on the official Olympic website, and on the FIE website, www.FIE.org.
#Tokyo2020
#Fencing