TOKYO, Japan, July 28, 2021—On the fifth day of competition at the Tokyo 2020 Olympic Games, nine men's sabre teams have completed quarterfinals and placement rounds through the semifinals. This evening, Korea, the defending Olympic champion, fences Italy for the gold medal, and Hungary will face Germany for the bronze.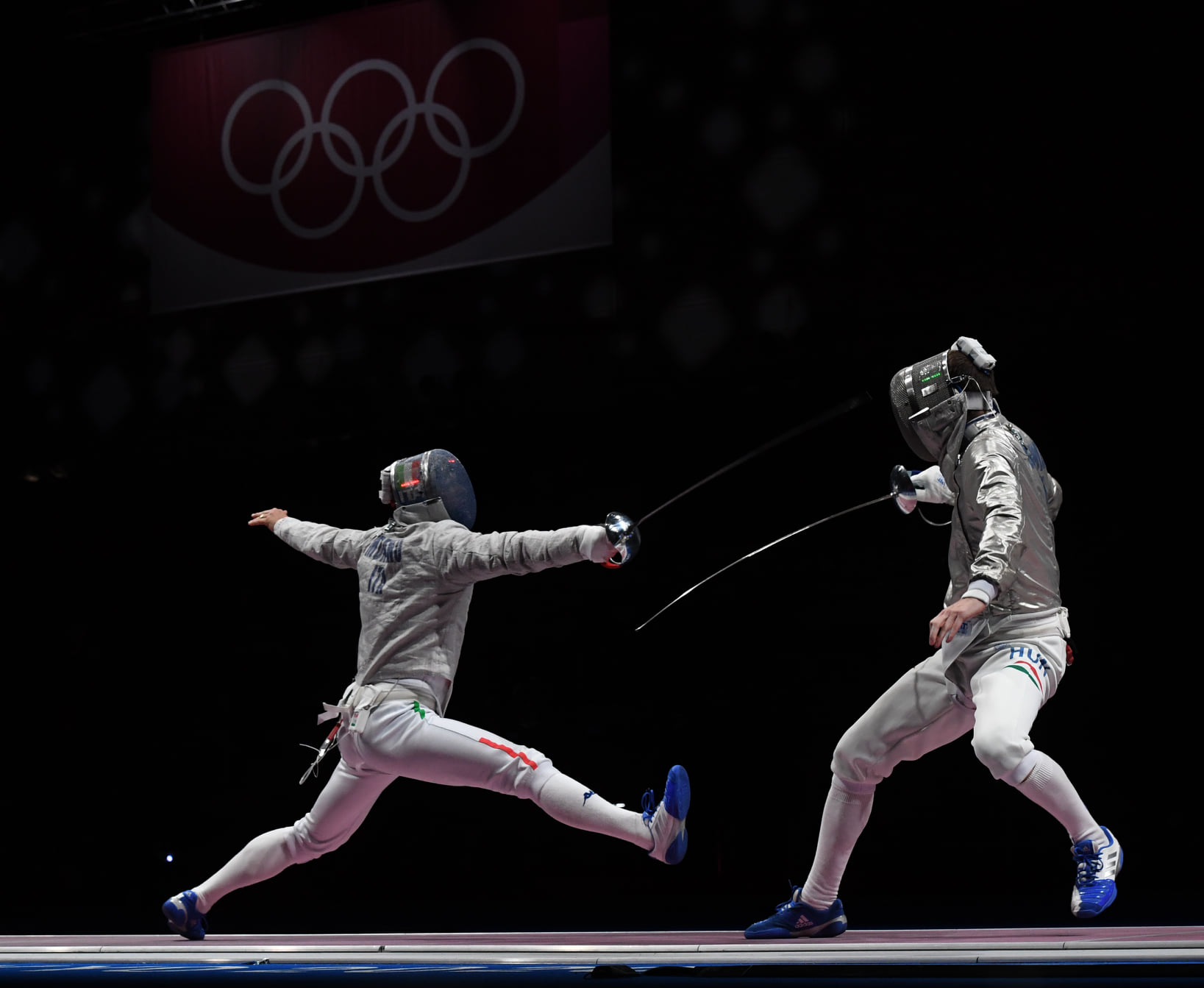 In the semifinal rounds, Korea beat Germany, 45-42, and Italy defeated Hungary, 45-43. For fifth through eighth placement positions, Egypt defeated Iran, 45-24, and USA withdrew due to injuries, so ROC won the match by default. Japan took ninth place after being defeated by Egypt in the round of 16, 45-32.
"It's been a great day, and although perhaps not as great as it could have been, we were really focused on our first bout with Japan", said Egypt's Ziad Elsissy. "We had to fence first in the 16, so we were thinking we had a chance if we focused on this as a really good start, feel the atmosphere, and get warmed up for the rest of the day because our next opponent – Korea – was number one in the world for the past several years. While our dream was to get into the top four, we didn't make it, so it was then time to cancel everything in the mind, refresh, get ready for the next bout without focusing on anything else – as if starting the day fresh."
"I think the best thing was that we were hyped-up already from the beginning and we had a good feeling as a team", said Germany's Richard Huebers. "The most important thing was to be ready. Knowing we had to next fence Korea, multi-time world champion, we felt we didn't have anything to lose. We gave it our best and continued fighting. It's always a challenge to fence the Koreans, they are super-quick and also they've proven several times they are among the best teams in the world, so we had to be ready from the first hit."
"We'll next be fencing Germany", said Hungary's Tamas Decsci. "We are using a substitute to give new energy for the team, so we will fight. We came to Tokyo to win a medal and still have a chance. This is a very different Olympic Games, but I'm enjoying the fencing competition, which is good, but of course without supporters it's more difficult."
Complete information about fencing results and athletes at the Olympic Games may be found on the official Olympic website and on the FIE website, www.FIE.org.
#Tokyo2020
#Fencing