TOKYO, Japan, July 26, 2021—On the third day of fencing competition at the Tokyo 2020 Olympic Games, athletes have completed individual direct elimination rounds through the quarterfinals in men's foil and women's sabre. In all, 36 men's foil and 36 women's sabre athletes fenced in the two events. Semifinals take place this evening followed by bronze- and gold-medal finals.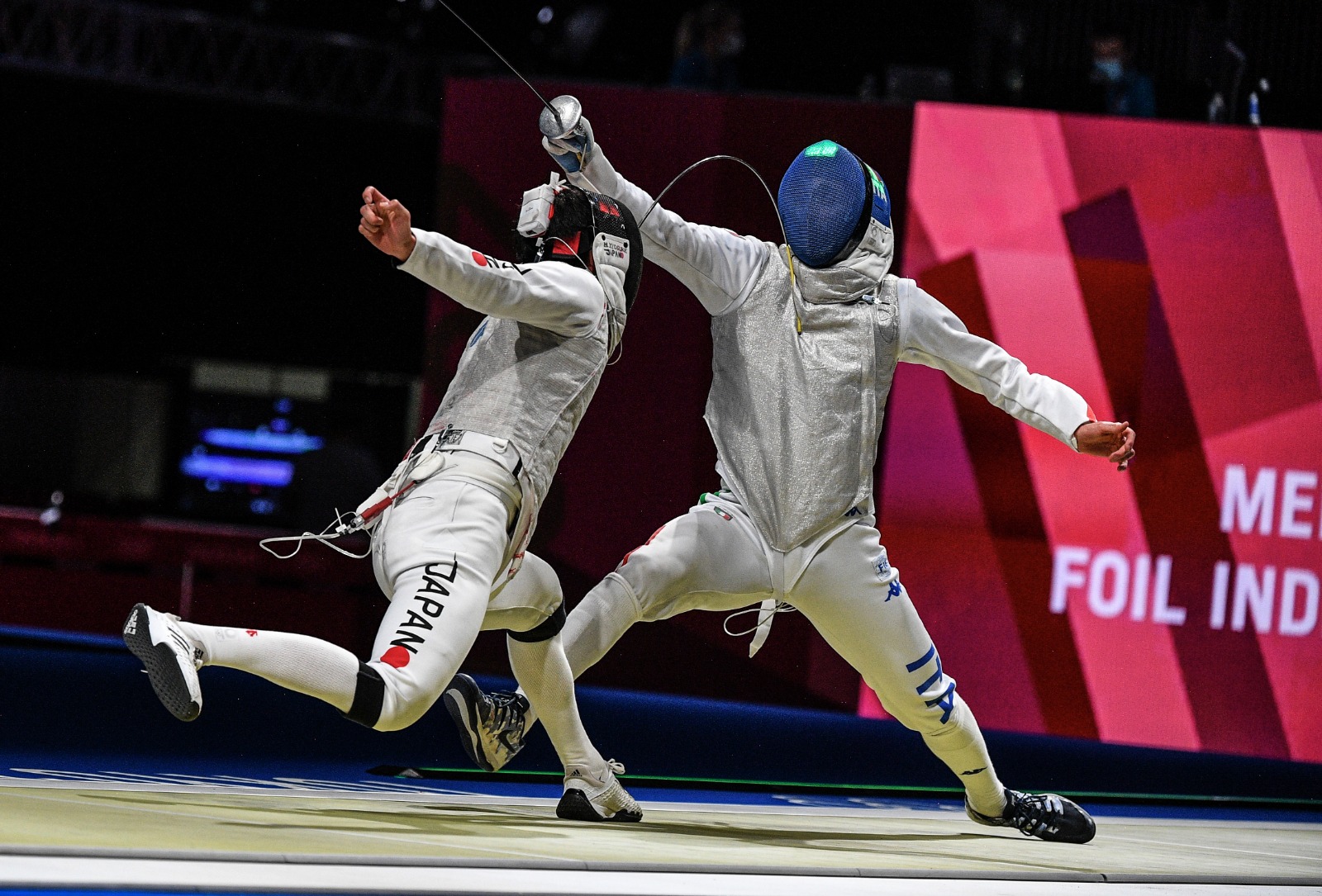 Highlights of the day in individual men's foil included Hong Kong's Ka Long Cheung defeating Italian world champion Alessio Foconi, 15-3, in the round of 16, and ultimately making his way into the semifinals after defeating ROC's Kirill Borodachev in a comeback victory, 15-14. ROC's Vladislav Mylinkov beat USA foilist Gerek Meinhardt in the round of 32, 15-11. Germany's four-time world champion Peter Joppich defeated USA's Alexander Massialas in the round of 32, 15-12, while Egypt's Mohamed Hamza beat Italian world champion Andrea Cassara in the round of 16, 15-13.
Egypt's Olympic silver medallist Alaaeldin Abouelkassem beat German Olympic champion Benjamin Kleibrink, in the 32, 15-11, but ultimately lost to Japan's Takahiro Shikine, 15-13, in the quarterfinals. "I was fencing Kleibrink, the Olympic champion, so of course it was tough", said Abouelkassem. "He fenced very well and at the middle of the bout I had some difficulties. There is no one easy bout and at each one in this competition you have to fight hard until the end. While there is no crowd, and with the organization and volunteers here in Tokyo, they are trying to give us everything we deserve and I hope we can give back to Japan what it deserves for this great organization."
Japan's Kyosuke Matsuyama, after losing to Italy's Olympic champion Daniele Garozzo in a close 15-14 match in the round of 16, said, "I tried to concentrate and enjoy the game. I'm happy to participate in the Games as part of the Japanese team. We still have the team event coming and will meet the Italian team, so I'm hoping to achieve revenge."
Czech Republic's Alexander Choupenitch, who made the semifinals after beating Germany's Joppich, 15-13, said, "I feel good, it was a very intense bout, it was a real fight. He was pushing me a lot a and the last two touches were amazing … I don't know where they came from, but they were amazing. I'm so happy I won and now I have to get ready for the quarterfinals and my strategy is always to leave my soul on the piste."
The men's semifinals include Japan's Takahiro Shikine fencing Italy's Daniele Garozzo and Czech Republic's Alexander Choupenitch against Hong Kong's Ka Long Cheung.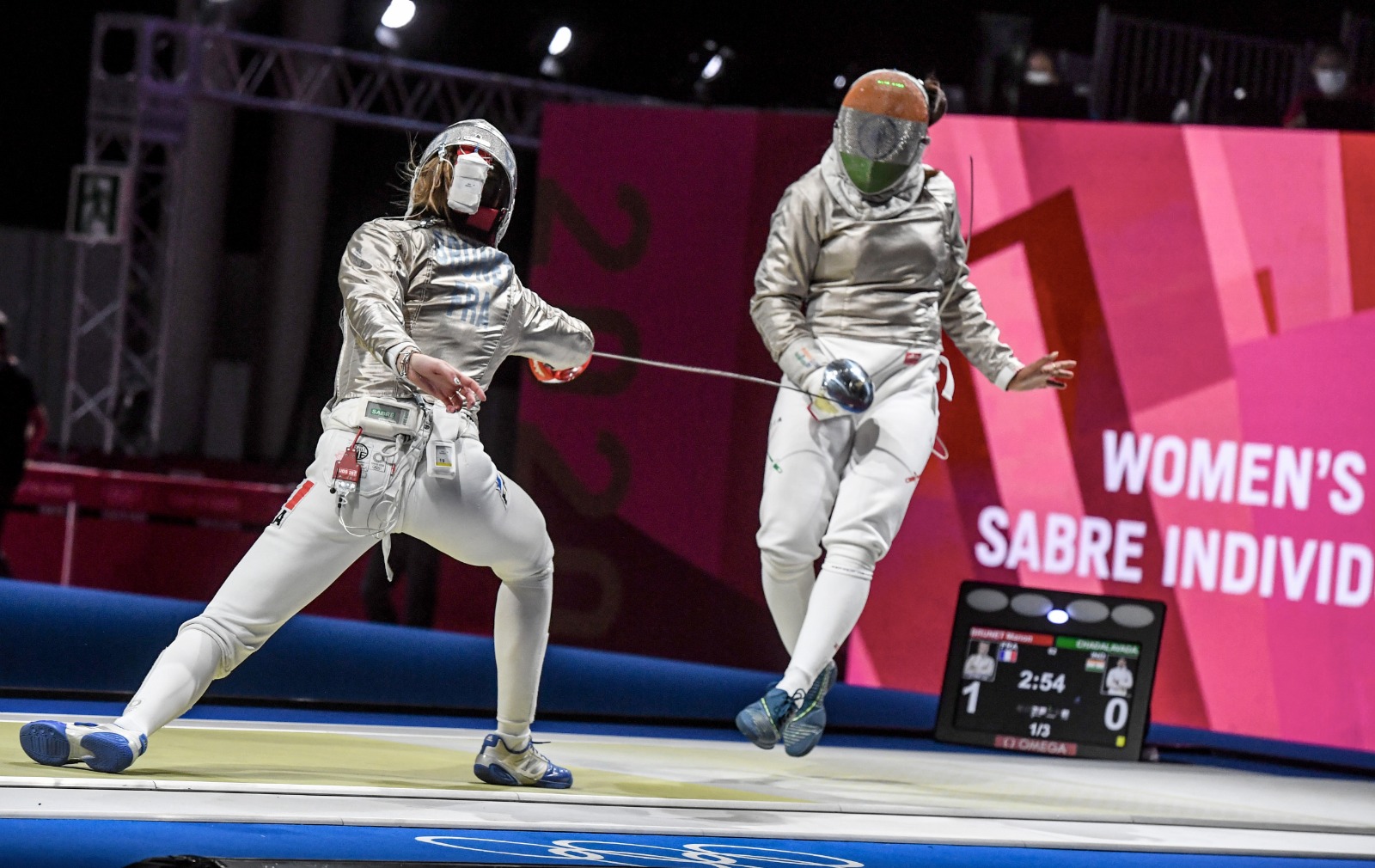 In individual women's sabre, highlights included ROC's two-time world champion and double Olympic silver medallist Sofya Velikaya beating USA's two-time world champion and two-time Olympic champion Mariel Zagunis in the quarterfinals, 15-8, to make the semifinals. Uzbekistan's Zaynab Dayibekova defeated China's Yaqi Shao in the 32, 15-10, and then Korea's Jisu Yoon, 15-12, in the round of 16 before losing to Hungary's Anna Marton, 15-11, in the quarterfinals. Four-time Ukrainian world champion Olga Kharlan was beaten in the round of 64 by China's Hengyu Yang. India's first-ever Olympic fencer, Bhavani Chadalavada Anandha Sundh, won her first elimination round against Tunisian Nadia Ben Azizi, 15-3, before going out in the round of 32 to France's Manon Brunet, 15-7.
"I feel great," said Chadalavada Anandha Sundh. "It's my first Olympics and first for India. It's been my dream for 15 years, so finally I am playing in the Olympics and I won my first match. The Olympic dream is everything for me, I have done all my life only fencing for this dream and I'm here. It's the first time most Indians will watch fencing live so I want to make them proud."
"They were difficult bouts for my first Olympics, and I want to win the gold medal", said Dayibekova. "I had to work past my mistakes and listen to my coaches, and then going forward my goal is to grow from what I learned … and I really want to win!"
The women's sabre semifinals include ROC's world champion Sofia Pozdniakova fencing France's Manon Brunet and Hungary's Anna Marton against ROC's Sofya Velikaya.
Complete information about fencing results and athletes at the Olympic Games may be found on the official Olympic website and on the FIE website, www.FIE.org.
#Tokyo2020
#fencing