TOKYO, Japan, July 25, 2021—On the second day of fencing competition at the Tokyo 2020 Olympic Games, athletes have competed individual direct elimination rounds through the quarterfinals in men's epee and women's foil. In all, 36 men's epee and 34 women's foil athletes fenced in the two events. Semifinals take place this evening followed by bronze- and gold-medal finals.
Highlights of the day in men's epee included Venezuelan Olympic champion Ruben Limardo Gascon being eliminated in the round of 32 by France's Romain Cannone, 15-12, who ultimately made the semifinal round after beating ROC's Sergey Bida, 15-12. Egypt's Mohamed Elsayed, who still competes at the junior level as well as senior, defeated French world champion Yannick Borel in the round of 32, 15-11, and ultimately made it to the quarterfinals where he lost to Ukraine's Igor Reizlin, 15-13. Other notable bouts included China's Minghao Lan defeating Ukraine's Bogdan Nikishin in the round of 32, 13-12, and Morocco's Houssam Elkord winning against China's Wang Zijie, 15-14, also in the 32.
"The Olympic games are not the same", said Elkord. "You have to be ready all the time, you have to focus on every touch. I won my first bout, then one bout more. I have to fence with combativity, take pleasure in the piste. My hardest time today was my first bout – for everyone, the first bout is the most important because it's the only way to keep going. It's not like it's a world cup where there's another one two weeks later—it's the Olympic Games."
"It was a great day, I knew I would win before I came and thought I would achieve a medal", said Elsayed. "I lost two touches away from a medal round, and the last two touches when it was 13-12 were the hardest. I came all this way, but that's fencing. Now I'll prepare for world championships and hopefully a medal in Paris 2024."
The men's epee semifinals include Hungary's Gergely Siklosi fencing Italy's Andrea Santarelli and Ukraine's Igor Reizlin against France's Romain Cannone.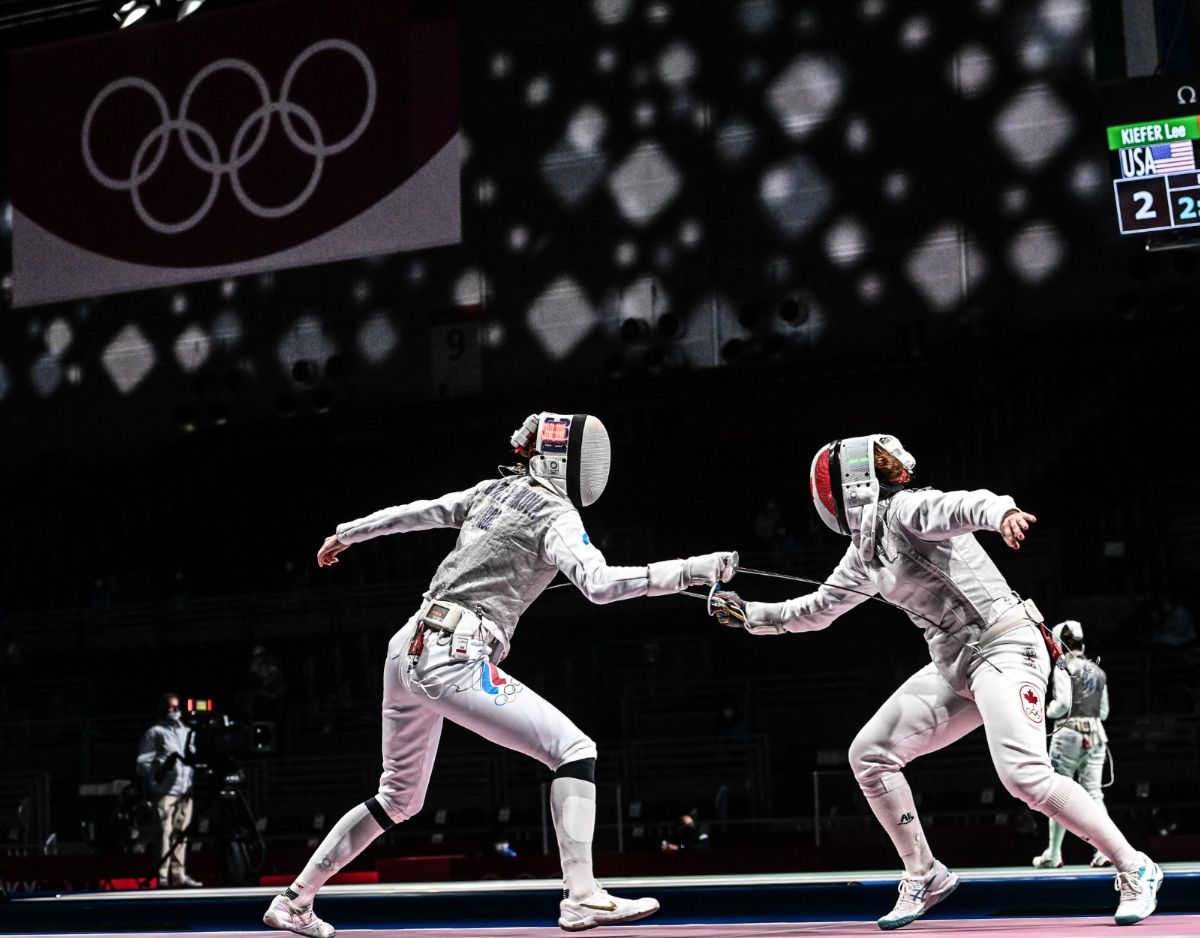 In women's foil, Korea's Hee Sook Jeon beat Japan's Rio Azuma in a close 11-10 match during the round of 32. In the round of 16, 34th-ranked Canadian foilist Kelleigh Ryan defeated ROC's eighth-ranked Adelina Zagidullina, 15-9, in the round of 16. In the quarterfinals, Italian world champion Alice Volpi faced her teammate and two-time world champion, Arianna Errigo, with Volpi winning her way into the semifinals, 15-7.
"I gave it my all today", said Colombia's Saskia Loretta van Erven Garcia, who lost to ROC's Adelina Zagidullina in the round of 32. "I missed a lot of competition rhythm and I didn't do competition for a year and a half and then had to fence a top-eight fencer from Russia. But that's how it is, I did my best, and gave it my all and my coach was with me throughout the entire project. Now I'll take a break and decide what comes next."
USA's Lee Kiefer, who will fence in the evening's semifinal round, said after beating Japan's Yuka Ueno, 15-11, "I am so excited, I felt like I was able to be myself, be explosive and a little wild, and have fun and carry the momentum forward."
The women's epee semifinals include ROC's three-time world champion and Olympic champion Inna Deriglazova against Alice Volpi and USA's Lee Kiefer fencing ROC's Larisa Korobeynikova.
Complete information about fencing results and athletes at the Olympic Games may be found on the official Olympic website and on the FIE website, www.FIE.org.
#Tokyo2020
#fencing