After a meeting with the Board of Botswana Amateur Fencing Society (BAFS) on Saturday 28th of March 2015 the first fencing tournament was organized in the capital of Botswana, Gaborone.
2015 Gaborone Open was organized as one day competition with 5 events:
U13 Men's Epee: 14 Competitors
Cadet Men's Epee: 7 Competitors
Junior Men's Epee: 6 Competitors
Senior Men's Epee: 9 Competitors
Senior Women's Epee: 8 Competitors
Despite the fact that it was an induction fencing tournament, it displayed great success.
The photos show the medal winners with the BAFS President: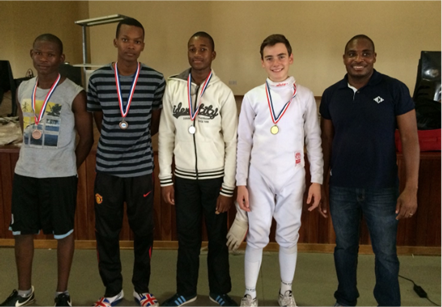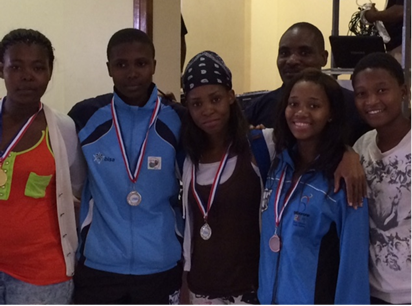 In order to help BAFS, South African Amateur Fencing Association had sent two experienced organizers to run the « directoire technique », two coaches and three junior fencers to participate.
Additionally, two South African national team senior fencers had been sent to promote fencing.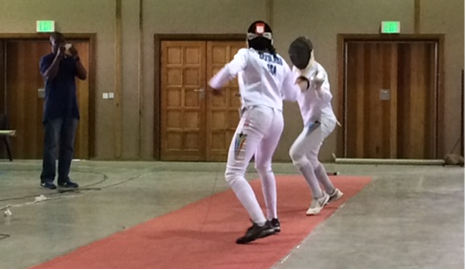 « As it is already known, we intend very soon to organize a training camp in Gaborone and then to investigate the option to send a coach on a permanent basis » said the Vice President of African Confederation and President of South African Federation Mr. Perovic.
SAAFA had also invited BAFS fencers to participate at the South African National and Provincial events.
Mr. Perovic stated « We hope that, with the adequate program, the African Fencing Confederation and the FIE support we will be able to develop fencing in Botswana to the level that they will very soon be able to participate at the African continental competitions »
Finally, Mr. Perovic is in contact with the ONLY fencer from Angola (where there is no fencing association) and he will be participating in South African competitions.