More than 15 000 delegations and journalists will attend the all African Games
The Congo was chosen by the African Union to shelter the eleventh edition of the African games. This event will take place from the 2 nd to the 19th of September 2015 in Brazzaville.
15 000 athletes, delegations and journalists will come from 54 African countries, 22 sports will be practiced during this continental event. There will be scientific and cultural activities.
A Youth Camp is scheduled as part and parcel of that celebration of the 50 th anniversary of these Games since 1965 (Brazzaville).
In fact modern sport infrastructures have been built at Kintele, a north suburb of Brazzaville. The Congolese government invested more than CFA 400billions in order to help youth go ahead with genuine conditions.
Some other sport infrastructures have also been restored such as Ornano Stadium, the complex Omni sport of Ouenze, University and Sport Center of Makelekele Massamba Debat Stadium where the first edition of African Games took place.
We are expecting every day 80 000 supporters in different sites and it seems that this event will be followed by 200 000 000 TV viewers.
In terms of communication, a special building has been built just for media at the sport complex of Kintele.
In this center, there are 40 offices for medias and 2 studios for recording. Most of competitions of the 11 th African Games will be taking place at the sport Complex of Kintele.
The opening and closing ceremonies will be held respectively on September 4 th and 19th 2015.
Visit the official website of the African Games 2015  here.
Live results will be posted here
Download the  official program.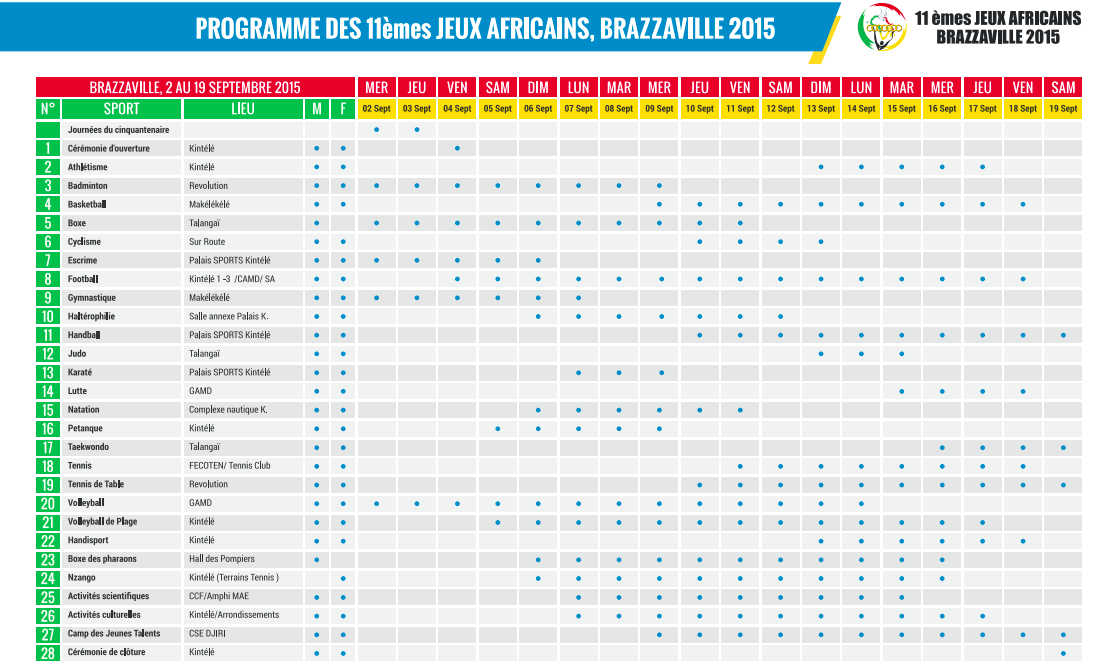 #Brazzaville2015 #fencing