BUDAPEST, Hungary, March 6-8, 2020—Japan's Masaru Yamada won the men's individual gold medal at the Budapest Westend Epee Grand and France's Alexandra Louis Marie took the gold in the women's event. The competition, which took place at Budapest's Ludovika Arena, featured 303 men and 268 women international fencers and was the fourth Grand Prix of the FIE 2019-2020 season nine-event series, leading to the Tokyo 2020 Olympic Games.
In the final match of men's individual epee, Yamada defeated French world champion Yannick Borel, 15-11. Borel beat Kazakhstan's Vadim Sharlaimov in the semifinal round, 15-12, while Yamada won against Ukraine's Igor Reizlin, 12-11. In the quarterfinals, Reizlin defeated Italian Olympic gold medallist Matteo Tagliariol, 15-10.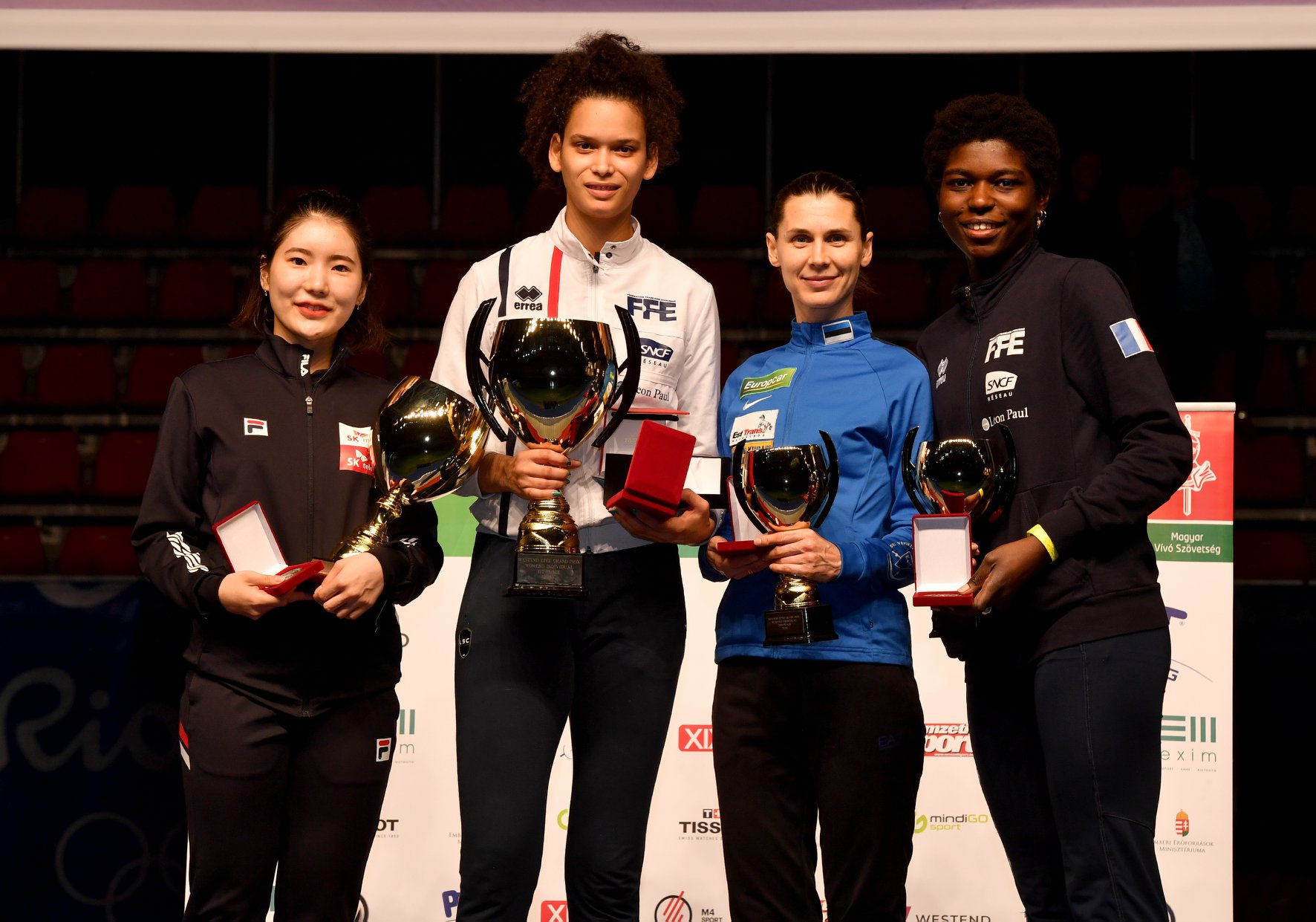 Louis Marie faced Korea's Sera Song for the women's individual epee final round, winning with a 15-13 score. Song beat France's Helene Ngom in the semifinals, 15-13, and Louis Marie defeated Estonia's Irina Embrich, 15-8. Notably, in the round of 16, Embrich won against Brazilian world champion Nathalie Moellhausen, 15-13; Louis Marie beat Russian world champion Tatiana Gudkova, 15-12; and Italy's Giulia Rizzi overcame Italian world champion Mara Navarria, 12-6.
Final rankings for men's individual epee at the Budapest Grand Prix included Masaru Yamada (JPN, gold), Yannick Borel (FRA, silver), Igor Reizlin (UKR, bronze), Vadim Sharlaimov (KAZ, bronze), Kazuyasu Minobe (JPN), Matteo Tagliariol (ITA), Daniel Berta (HUN) and Andras Peterdi (HUN).
For women's individual epee, final rankings included Alexandra Louis Marie (FRA, gold), Sera Song (KOR, silver), Irina Embrich (EST, bronze), Helene Ngom (FRA, bronze), Injeong Choi (KOR), Giulia Rizzi (ITA), Martyna Swatowska (POL) and Josephine Jacques Andre Coquin (FRA).
Complete and official results for the event may be found here on the FIE web site. For more exciting world fencing news and features on the Road to Tokyo 2020, check out the FIE video series on our YouTube channel.
Click Here to relive the men's and women's final matches of the Budapest Epee Grand Prix.