WARSAW, Hungary, Feb. 21-23—Hungary's double Olympic champion Aron Szilagyi won gold at the Warsaw "Sabre de Wolodyjowski" Men's Sabre World Cup, with France scoring victory in the men's team sabre event. Teams from 23 countries and 208 individual fencers took part in the competition, which was held at Warsaw's Józef Piłsudski University of Physical Education.
Szilagyi fenced USA's Eli Dershwitz in the final match, winning with a 15-9 score. Dershwitz beat Korea's world champion Sanguk Oh in the semifinal, 15-11, while Italy's Luca Curatoli withdrew in the same round against Szilagyi due to an injury. Notably, Curatoli defeated Korean world champion Junghwan Kim in the table of 16, 15-9, and Hungarian world champion Andras Szatmari lost in the round of 32 to Russia's Dmitriy Danilenko, 15-13.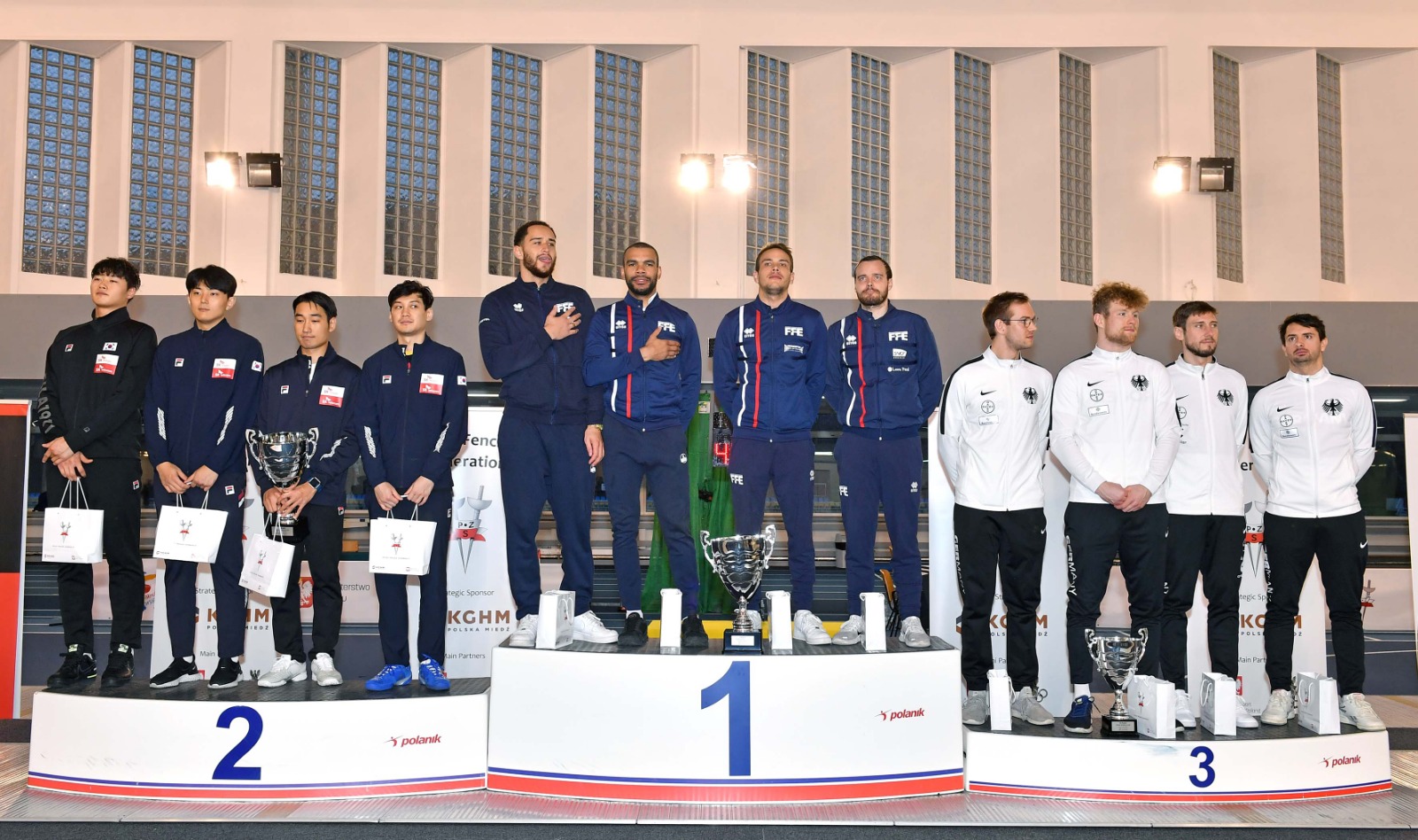 In the men's team sabre event, France scored a narrow victory against Korea in the final match, 45-43. Korea beat Germany in the semifinal round, 45-34, and France beat Italy, 45-41. The bronze medal went to Germany over Italy, 45-38.
Final individual rankings for the Warsaw Men's Sabre World Cup included Aron Szilagyi (HUN, gold), Eli Dershwitz (USA, silver), Luca Curatoli (ITA, bronze), Sanguk Oh (KOR, bronze), Max Hartung (GER), Bolade Apithy (FRA), Sandro Bazadze (GEO) and Luigi Samele (ITA).
Team rankings included France (gold), Korea (silver), Germany (bronze), Italy, Iran, Hungary, Russia and China.
Complete and official results for the event may be found here on the FIE web site. For more exciting world fencing news and features on the Road to Tokyo, check out the FIE video series on our YouTube channel.