DOHA, Qatar, Jan. 24-26, 2020—Russia's Sergey Bida and Romania's Ana Maria Popescu scored gold medals in men's and women's individual epee at the 2020 Doha Epee Grand Prix. This second Grand Prix of the FIE 2019-2020 season nine-event series, leading to the Tokyo 2020 Olympic Games, featured 219 male and 176 female international fencers competing at Qatar's Aspire Dome.
In the final match of men's individual epee, Bida faced France's Alexandre Bardenet, winning the event with a 15-6 score. Bardenet beat Italy's Andrea Santarelli in the semifinal, 15-10, while Bida overcame Japan's Masaru Yamada, 15-8. Notably, Korean Olympic champion Sangyoung Park went out in the table of 16 to France's Daniel Jerent, 15-10, and French world champion Yannick Borel lost in the same round to Yamada, 15-9.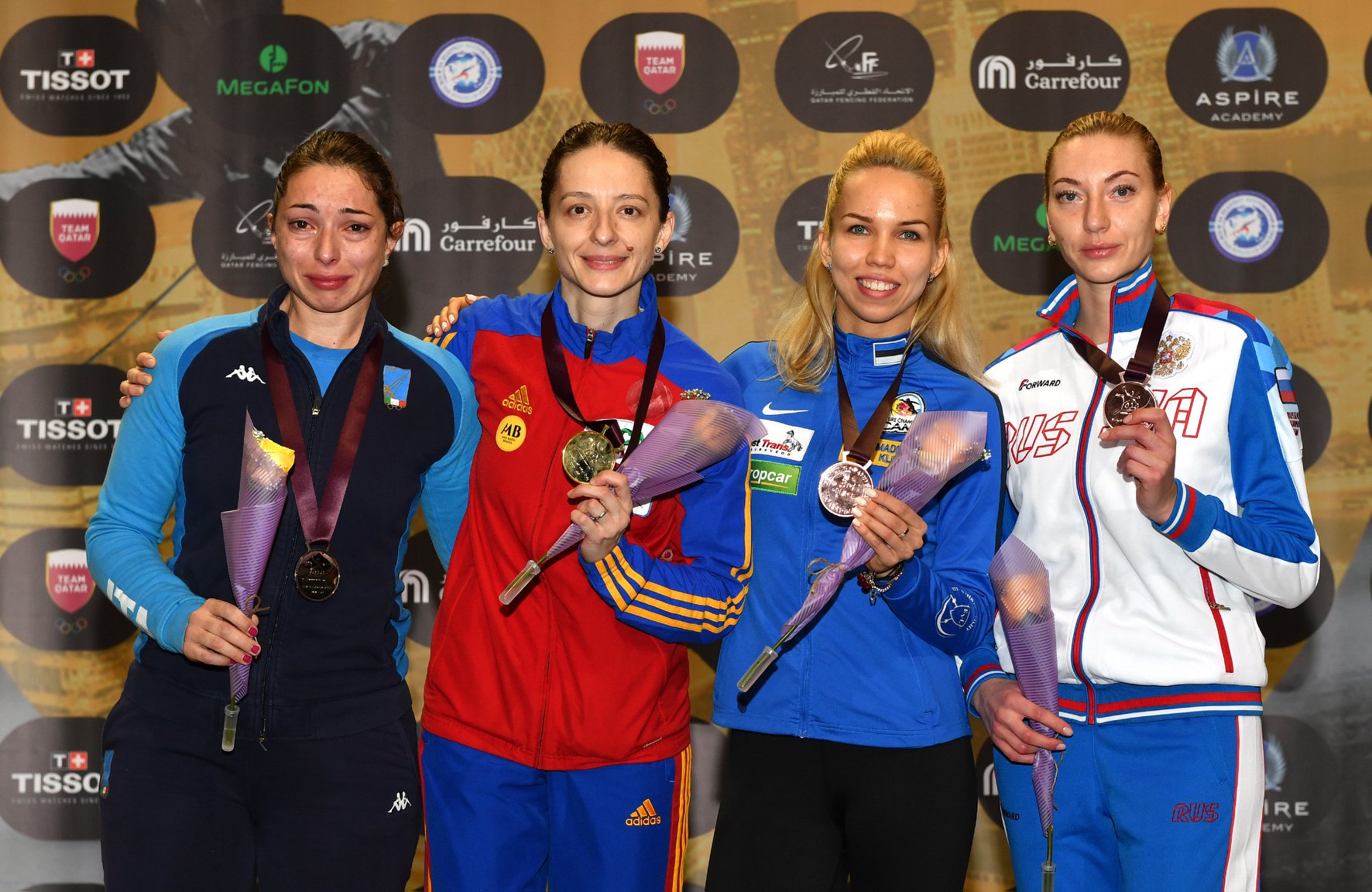 Popescu claimed victory in the final round of women's individual epee, beating Italian world champion Mara Navarria, 15-9. Navarria defeated Estonian Erika Kirpu in the semifinal, 15-13, while Popescu won against Russian Tatyana Andryushina, 15-5. Navarria also beat Russian world champion Tatiana Gudkova in the round of 16, 15-10.
Final rankings for men in the Doha Epee Grand Prix included Sergey Bida (RUS, gold), Alexandre Bardenet (FRA, silver), Andrea Santarelli (ITA, bronze), Masaru Yamada (JPN, bronze), Bas Verwijlen (NED), Gianpaolo Buzzacchino (ITA), David Nagy (HUN) and Daniel Jerent (FRA).
Women's final individual epee rankings included Ana Maria Popescu (ROU, gold), Mara Navarria (ITA, silver), Tatyana Andryushina (RUS, bronze), Erika Kirpu (EST, bronze), Injeong Choi (KOR), Katharine Holmes (USA), Auriane Mallo (FRA) and Yulia Lichagina (RUS).
Complete and official results for the event may be found here on the FIE web site. For more exciting world fencing news and features on the Road to Tokyo 2020, check out the FIE video series on our YouTube channel.
Click Here to relive the men's and women's final matches of the Doha Epee Grand Prix.