ORLEANS, France, Nov. 22-24—France's Manon Brunet won the individual gold medal at the Orleans "Trophée Orcom" Women's Sabre World Cup, with Russia taking the gold in the team competition. Finals took place at the City's Zenith d'Orleans, with 212 international women's sabre fencers participating along with teams from 26 countries.
Brunet fenced Russia's Olga Nikitina in the final match, winning with a 15-12 score. Nikitina beat China's Yaqi Shao in the semifinal, 15-11, while Brunet narrowly defeated four-time Ukrainian world champion Olga Kharlan, 15-14. Brunet beat Korean Olympic champion Jiyeon Kim in the quarterfinal round, 15-4, while Kharlan overtook Russian world champion Sofia Pozdniakova, 15-10. Of note, Russian Olympic champion Yana Egorian was eliminated by France's Charlotte Lembach in the table of 16, 15-13, after beating her teammate and two-time Russian world champion, Sofya Velikaya, 15-10, in the round of 32.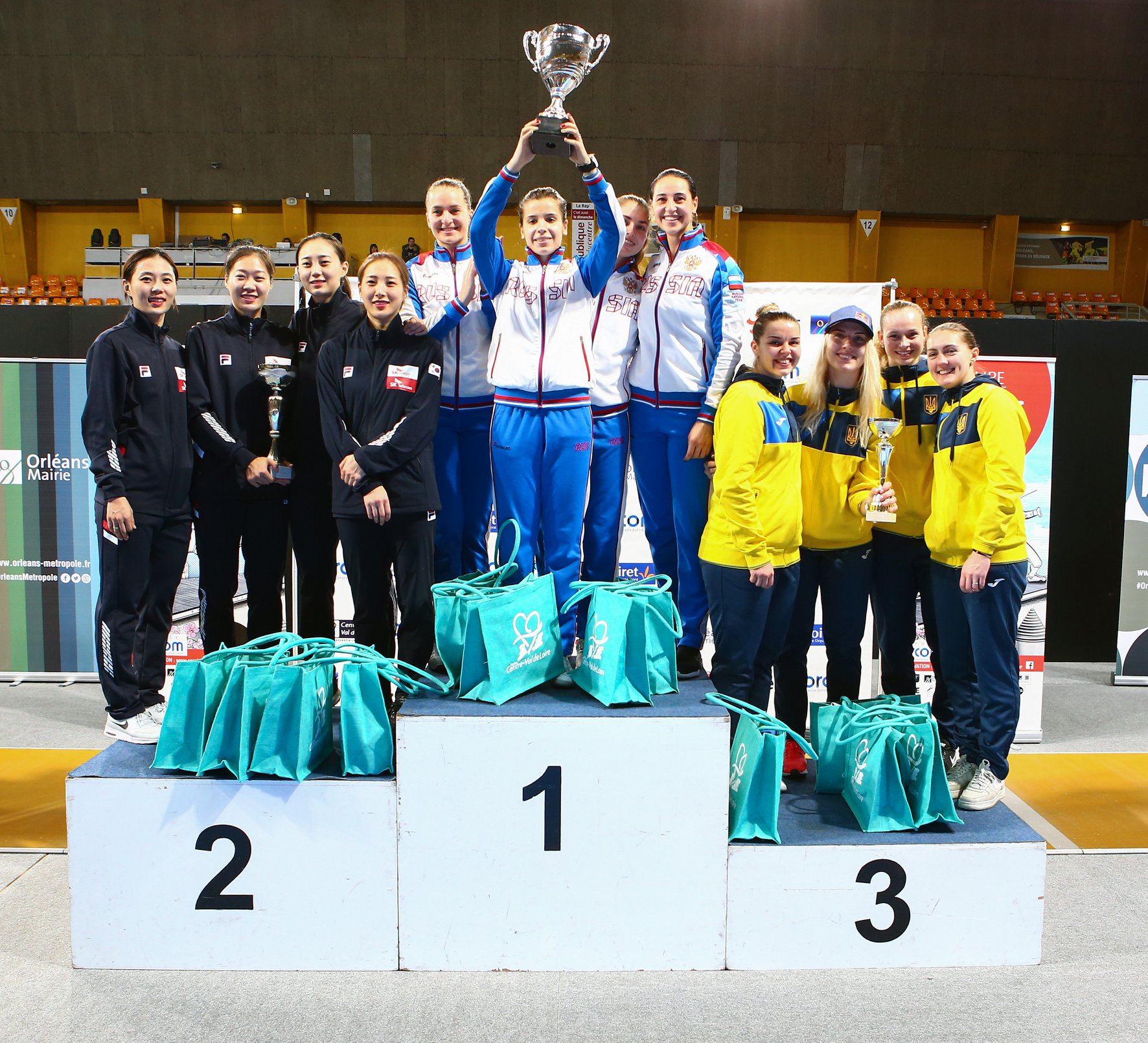 In the women's team sabre competition, Russia took the gold medal against Korea, 45-41. Korea beat Ukraine in the semifinal round, 45-43, while Russia beat Hungary, 45-26. The bronze medal went to Ukraine over Hungary, 45-36.
Final individual rankings in the Orleans Women's Sabre World Cup included Manon Brunet (FRA, gold), Olga Nikitina (RUS, silver), Olga Kharlan (UKR, bronze), Yaqi Shao (CHN, bronze), Jiyeon Kim (KOR), Sofia Pozdniakova (RUS), Bianca Pascu (ROU) and Charlotte Lembach (FRA).
Team rankings included Russia (gold), Korea (silver), Ukraine (bronze), Hungary, France, Italy, China and Spain.
Complete and official results for the event may be found here on the FIE web site. For more exciting world fencing news and features on the Road to Tokyo, check out the FIE video series on our YouTube channel.