BERNE, Switz., Nov. 22-24—Ukraine's Igor Reizlin took the gold medal at the "Tissot Grand Prix de Berne" Men's Epee World Cup, with France winning the team gold medal. Taking place at Berne's Haus des Sports, the event drew 324 international men's epee fencers and teams from 31 countries.
Reizlin faced Russia's Vadim Anokhin in the final round of the men's individual epee competition, winning closely with a 11-10 score to take the gold medal. Anokhin defeated Ukraine's Roman Svichkar in the semifinal round, 15-8, and Reizlin beat France's Alexandre Bardenet, 15-10. Notably, French world champion Yannick Borel lost to Reizlin in the quarterfinals, 15-12, while Olympic champions Ruben Limardo Gascon (VEN) and Sangyoung Park (KOR) were beaten in the round of 16.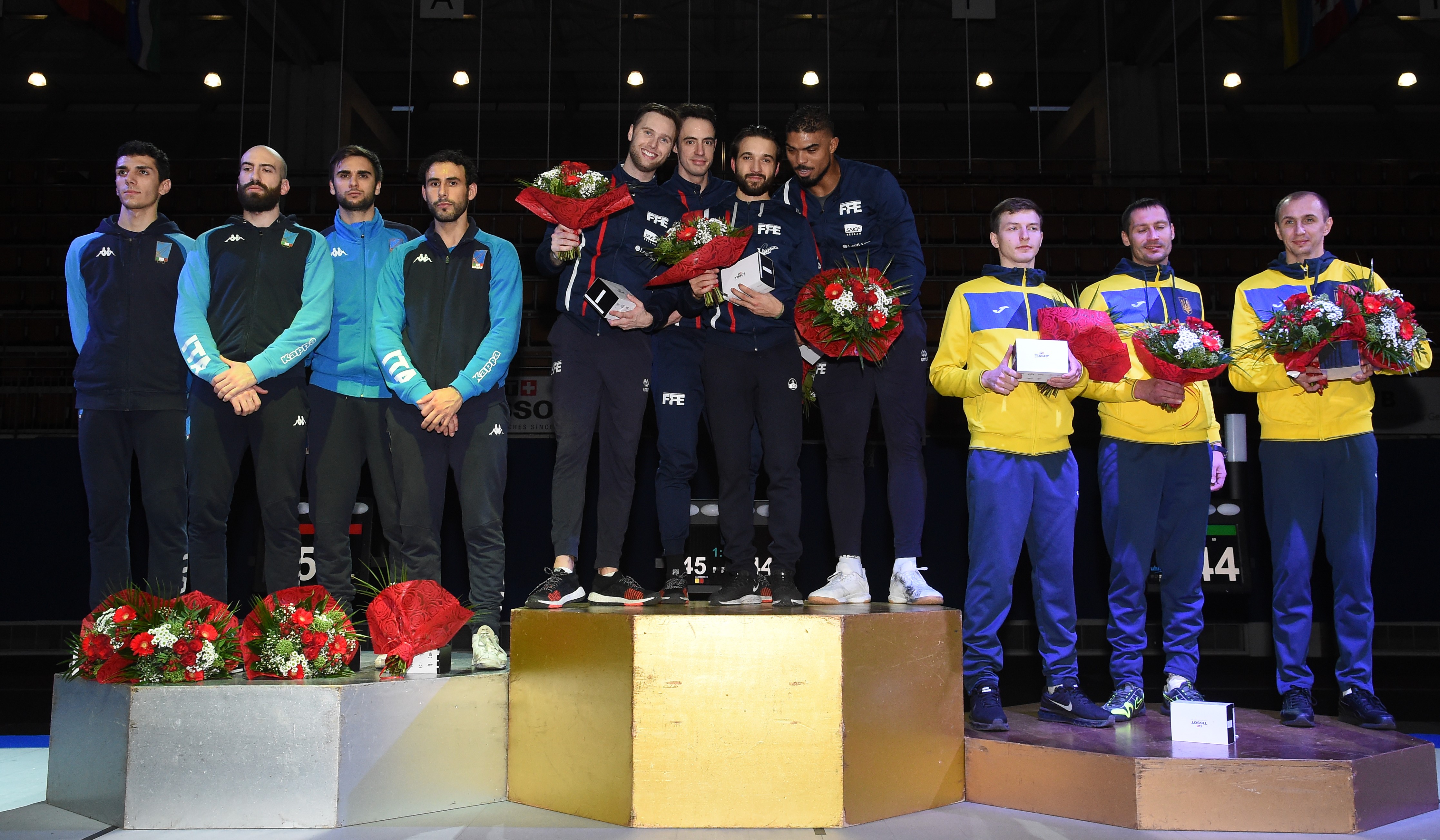 Team France had a close win in the final round of men's team epee, overcoming Team Italy 45-44. In the semifinal, Italy beat Ukraine, 32-31, and France beat Japan, 45-40. The bronze medal went to Ukraine over Japan, also by a single touch, 32-31.
Final individual rankings in the Berne Men's Epee World Cup included Igor Reizlin (UKR, gold), Vadim Anokhin (RUS, silver), Alexandre Bardenet (FRA, bronze), Roman Svichkar (UKR, bronze), Bogdan Nikishin (UKR), Yannick Borel (FRA), Houssam Elkord (MAR) and Tibor Andrasfi (HUN).
Team rankings included France (gold), Italy (silver), Ukraine (bronze), Japan, Korea, China, Switzerland and Poland.
Complete and official results for the event may be found here on the FIE web site. For more exciting world fencing news and features on the Road to Tokyo, check out the FIE video series on our YouTube channel.