CAIRO, Egypt, Nov. 15-17, 2019—France's Vincent Anstett won the men's individual gold medal at the 2019 Cairo Men's Sabre World Cup, and Korea took the gold in the men's team event. The event took place at the Cairo Stadium Indoor Halls Complex with 194 international men's sabre fencers and teams from 26 countries.
Anstett took on Italy's Luigi Samele in the gold-medal match of the men's individual sabre event, winning by a single point, 15-14. Samele overcame Tunisia's Fares Ferjani in the semifinal round, 15-8, and Anstett beat Korea's world champion Junghwan Kim in another close bout, 15-14. Notably, world champions Andras Szatmari (HUN) and Veniamin Reshetnikov (RUS) finished in the top 16.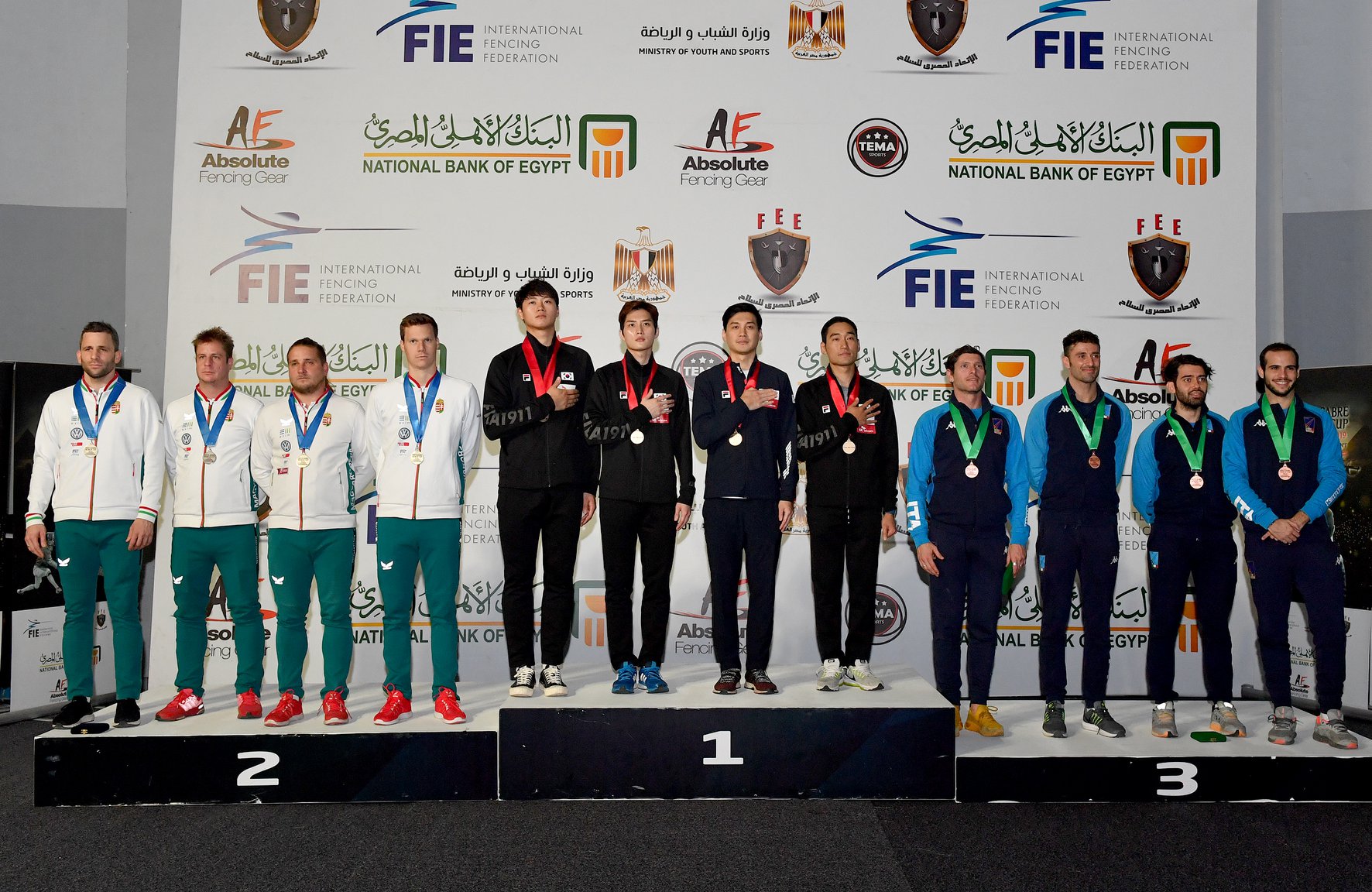 In men's team sabre, Korea faced Hungary in the final round, taking gold with a 45-41 score. Hungary beat Italy in the semifinal round, 45-37, and Korea defeated Russia, 45-39. The bronze medal went to Italy over Russia, 45-31.
Final ranking in the men's individual sabre event included Vincent Anstett (FRA, gold), Luigi Samele (ITA, silver), Fares Ferjani (TUN, bronze), Junghwan Kim (KOR, bronze), Bolade Apithy (FRA), Mohamed Amer (EGY), Gabriele Foschini (ITA) and Riccardo Nuccio (ITA).
In men's team sabre, final ranking included Korea (gold), Hungary (silver), Italy (bronze), Russia, Germany, Iran, China and France.
Complete and official results for the event may be found here on the FIE web site. For more exciting world fencing news and features on the Road to Tokyo 2020, check out the FIE video series on our YouTube channel.