BONN, Germany, Nov. 8-10, 2019—France's Julien Mertine took the individual gold medal at the 2019 Bonn Men's Foil World Cup, the 48th annual "Lowe von Bonn", with USA winning gold in the team event. Taking place at Bonn's Hardtberghalle, the competition drew 261 international foilists and teams from 26 countries.
In the final round of individual men's foil, Mertine defeated USA's Gerek Meinhardt, 15-9. Both fencers overcame world champions in the semifinals, with Meinhardt beating Italy's Alessio Foconi, 15-12, and Mertine winning against Italy's Andrea Cassara, 15-10. Notably, Meinhardt advanced to the semifinals against Italian Olympic champion Daniele Garozzo in the round of eight, 15-9, while Mertine beat Germany Olympic champion Benjamin Kleibrink, 15-3.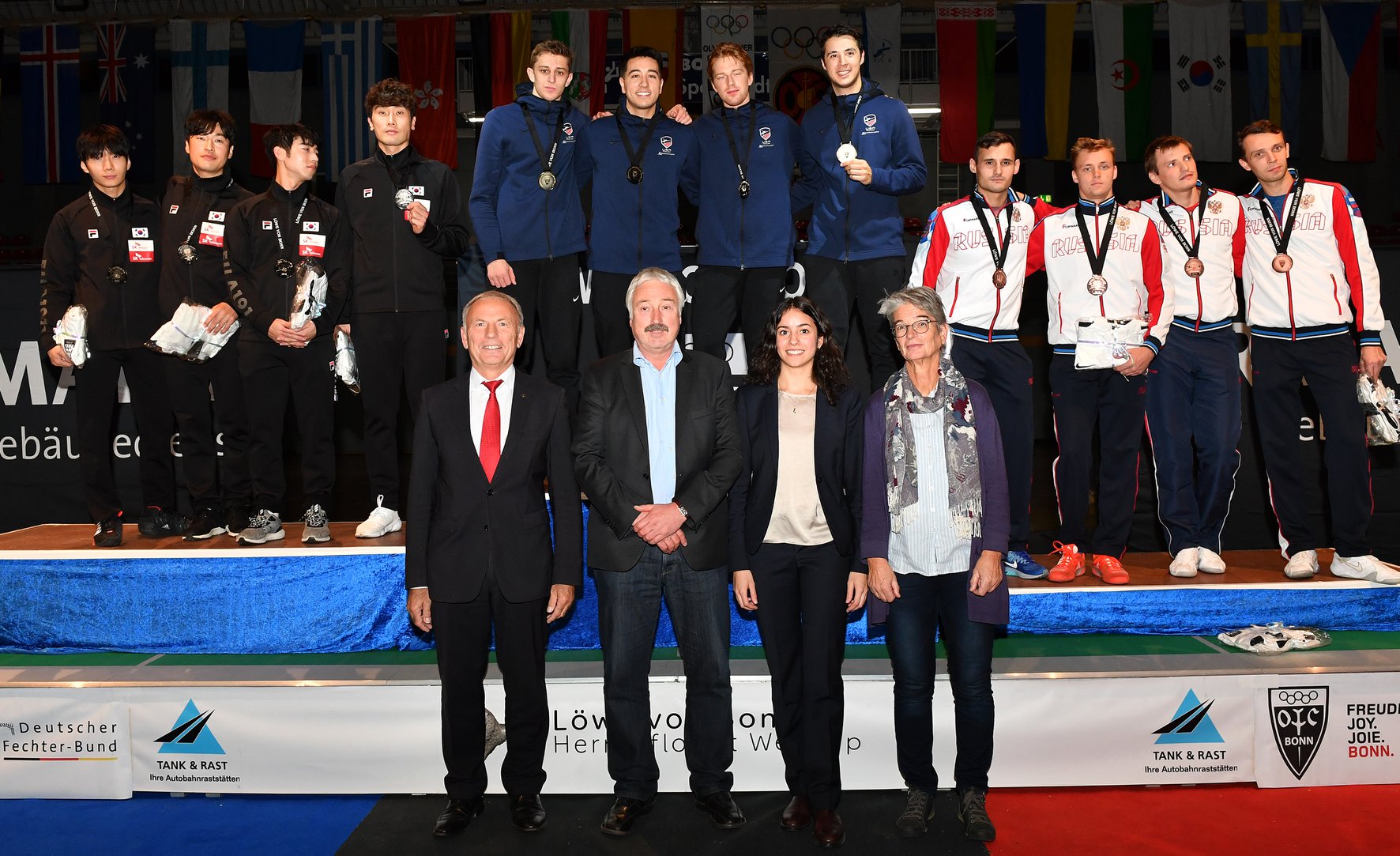 In the men's team foil final, USA beat Korea for the gold medal, 45-31. Korea defeated Italy, 45-37, in the semifinal and USA won against Russia, 45-42. Russia took the bronze medal against Italy, 45-40.
Final ranking in the men's individual foil event included Julien Mertine (FRA, gold), Gerek Meinhardt (USA, silver), Andrea Cassara (ITA, bronze), Alessio Foconi (ITA, bronze), Daniele Garozzo (ITA), Kyosuke Matsuyama (JPN), Benjamin Kleibrink (GER) and Carlos Llavador (ESP).
In men's team foil, final ranking included USA (gold), Korea (silver), Russia (bronze), Italy, France, Hong Kong, Japan and Germany.
Complete and official results for the event may be found here on the FIE web site. For more exciting world fencing news and features on the Road to Tokyo, check out the FIE video series on our YouTube channel.