TALLINN, Estonia, Nov. 1-3, 2019—In the first FIE senior world cup of the 2019-2020 international fencing competition season, Romania's Ana Maria Popescu took the gold medal in individual women's epee at Estonia's 50th annual "Glaive de Tallinn". Poland also took the women's epee gold medal in the team competition, which took place at the Kalev Sports Hall and drew 30 teams and 279 athletes from around the world. With the 2020 Olympic Games taking place next July, the qualification phase now underway for the "Road to Tokyo" gives heightened excitement to this and upcoming FIE world cups and Grand Prix events.
In the final round of individual women's epee, Popescu defeated Russia's Violetta Kolobova, 15-13. In the semifinal round, Kolobova beat China's Mingye Zhu, 15-8, while Popescu narrowly overcame China's Yiwen Sun, 15-14.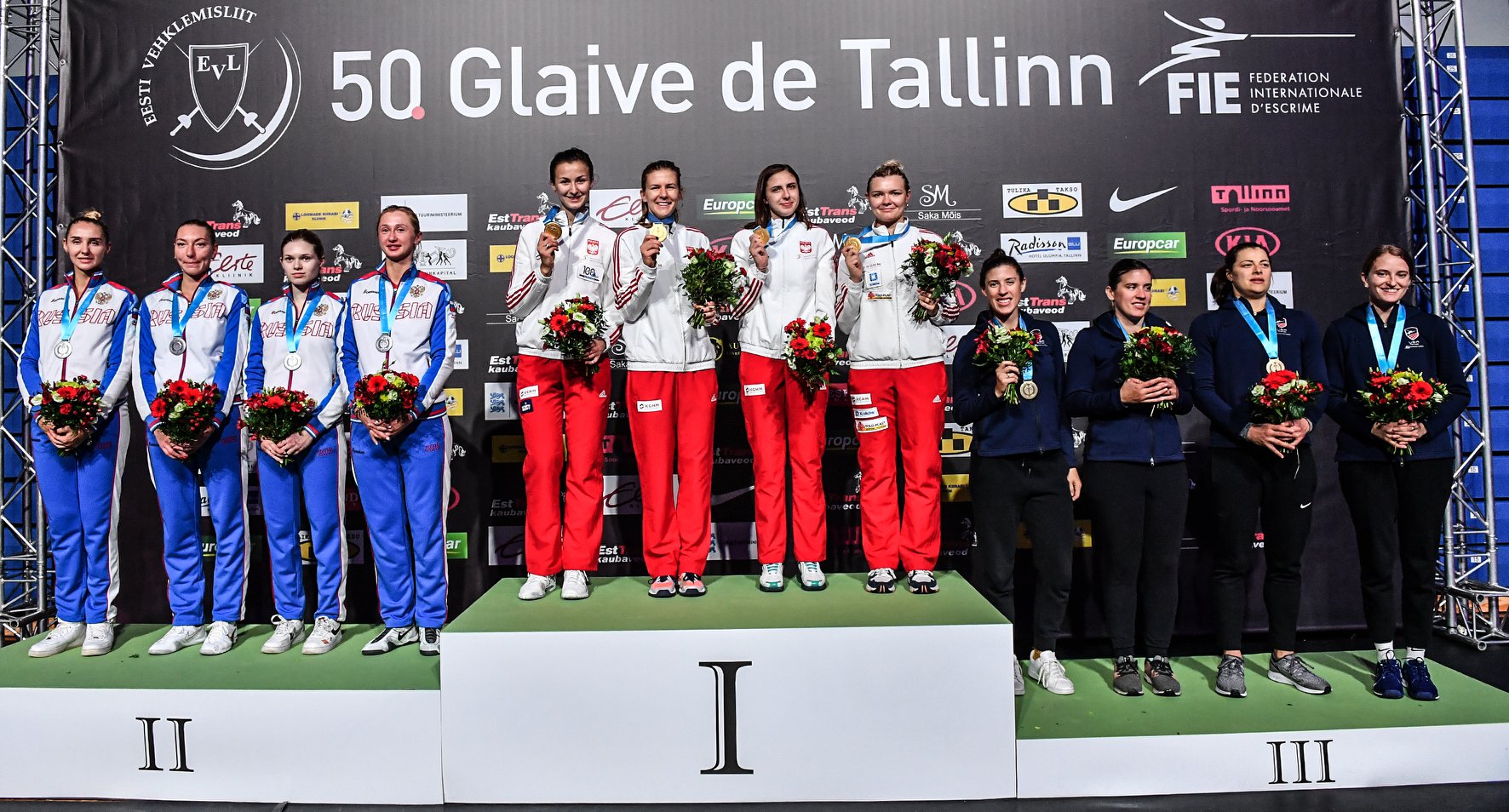 The gold medal in women's team epee was decided by a single touch, with Poland winning against Russia, 45-44. Russia overtook USA in the semifinal round, 45-29, and Poland beat China, 39-28. USA took the bronze over China, 43-35.
Final ranking for individual women's epee at the Tallinn World Cup included Ana Maria Popescu (ROU, gold), Violetta Kolobova (RUS, silver), Yiwen Sun (CHN, bronze), Mingye Zhu (CHN, bronze), Man Wai Vivian Kong (HKG), Leonora Mackinnon (CAN), Josephine Jacques Andre Coquin (FRA) and Nicol Foietta (ITA).
Top-eight results for team women's epee included Poland (gold), Russia (silver), USA (bronze), China, Estonia, Italy, Germany and Ukraine.
Complete and official results for the event may be found here on the FIE web site. For more exciting world fencing news and features on the Road to Tokyo, check out the FIE video series on our YouTube channel.