BUDAPEST, Hungary, July 23, 2019—USA won the gold medal in men's team foil on the final evening of the 2019 Budapest Fencing World Championships, and Russia took gold in women's team sabre. This completed nine days of competition in epee, foil and sabre featuring 12 men's and women's individual and team events. Sixty-seven international teams competed in the two competitions, with 118 countries participating overall in the Championships.
Before the final match, Hungarian Fencing Federation Secretary-General Henriette Tamas and FIE Secretary-General Emmanuel Katsiadakis gave closing remarks, and Mr. Katsiadakis officially closed the Championships. Then, a ceremony was held passing the FIE flag from host-country Hungary to Japan, for next year's Tokyo 2020 Olympic Games.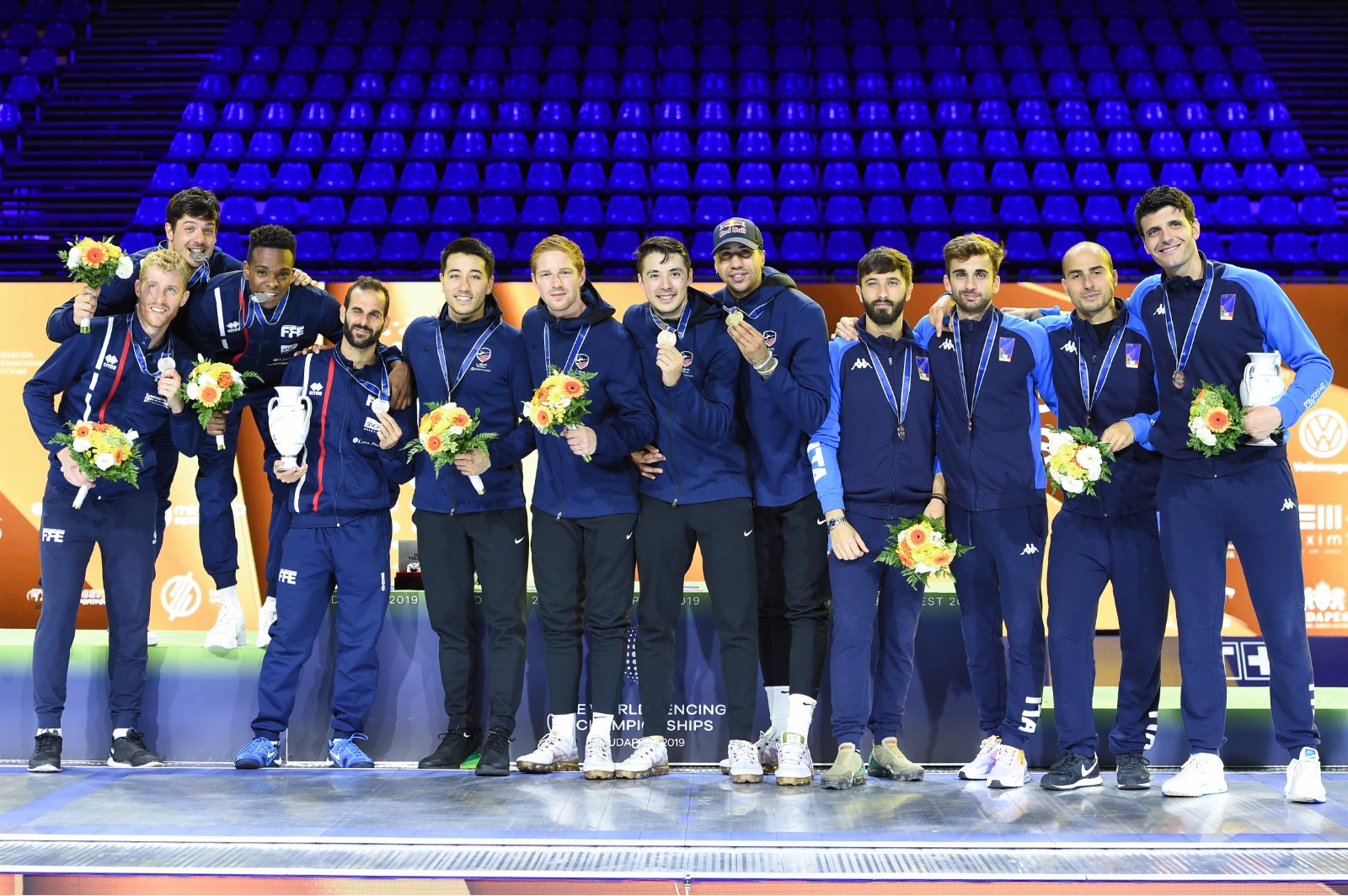 This was the first time USA has won the gold in men's team foil at the Senior World Championships, having taken silver medals three times in past years. USA defeated France in the final round, 45-32. France beat Italy in the semifinal round, 45-32, and USA overcame Russia, 45-30. The bronze medal went to Italy over Russia, 45-32.
Russia faced France in the gold-medal match of women's team sabre, winning with a 45-40 score. For Russia, this was the eighth gold and 13th time it has earned any medal in this event. In the semifinal round, France overcame Korea, 45-43, while Russia beat Italy, 45-37. Korea took the bronze medal over Italy, 45-35.
Final ranking for men's team foil at the 2019 Budapest Fencing World Championships included USA (gold), France (silver), Italy (bronze), Russia, Hong Kong, Korea, China and Germany.
The final ranking for women's team sabre included Russia (gold), France (silver), Korea (bronze), Italy, Hungary, Ukraine, USA and China.
Complete information about the 2019 Fencing World Championships may be found on the official website, www.2019Budapest.com and official results are available on the FIE website. Click here for photo highlights of team men's foil and women's sabre.

#Budapest2019