BUDAPEST, Hungary, July 20, 2019—France's Enzo Lefort took the individual men's foil gold medal at the 2019 Budapest Fencing World Championships, and Ukraine's Olga Kharlan won her fourth world championship in individual women's sabre. It was the third evening of finals competition, with 334 men and women competing in the two events. In all, 118 countries are participating in the nine-day Championships, featuring 12 individual and team events in three weapons.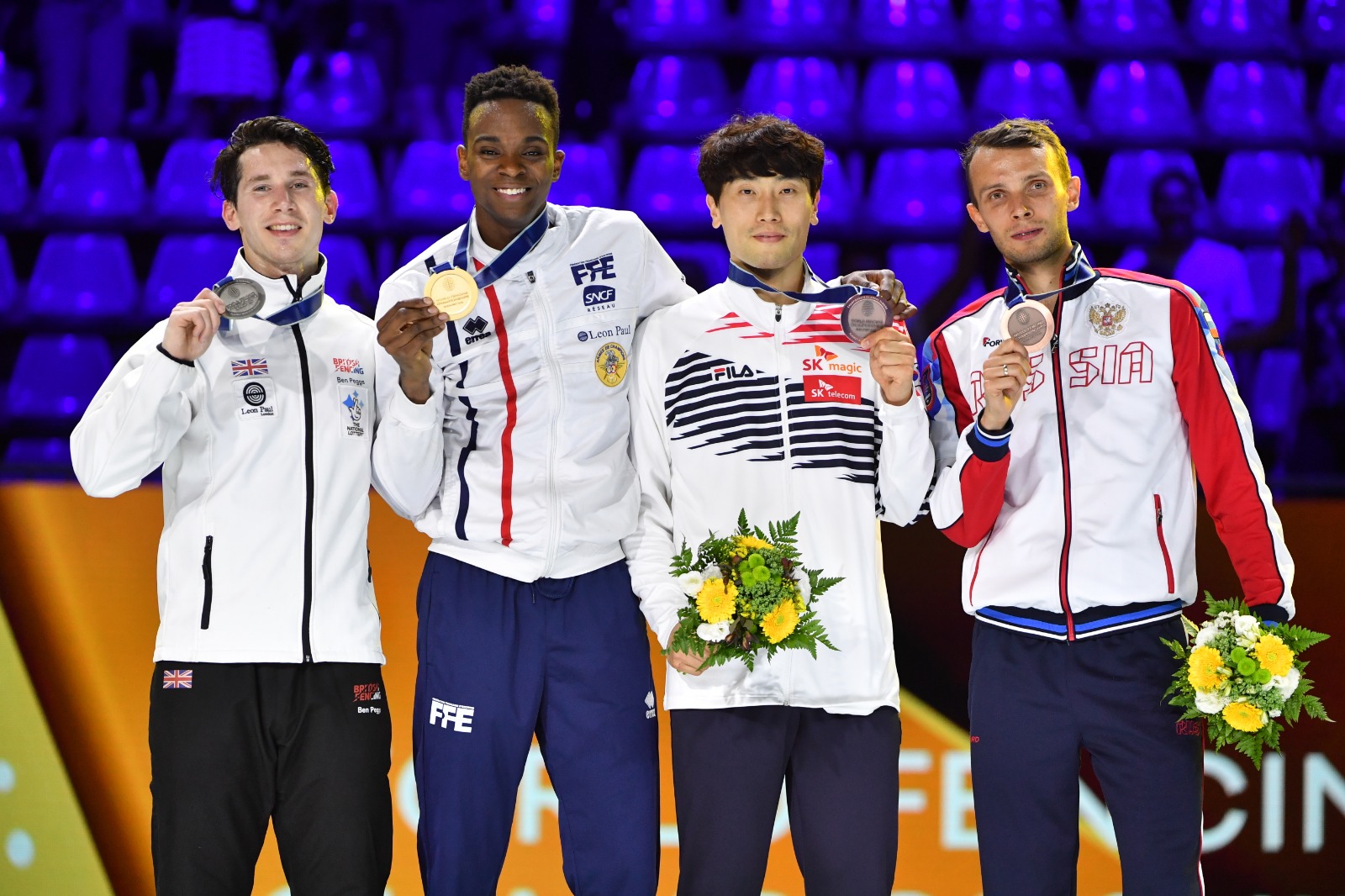 Lefort defeated Great Britain's Marcus Mepstead in the final round, 15-6, to give France its 11th individual men's foil world title and first gold medal since Philippe Omnes' 1990 victory. In the semifinal round, Mepstead overcame Korea's Young Ki Son, 15-12, and Lefort beat Russian world champion Dmitry Zherebchenko, 15-7. Notably, Zherebchenko eliminated Italian world champion Andrea Cassara in the quarterfinals, 15-6.
Kharlan faced Russian two-time world champion and top-ranked Sofya Velikaya to win the women's individual sabre gold medal by a single touch, 15-14. Velikaya defeated Greece's Theodora Gkountoura in the semifinal round, 15-11; the resulting bronze for Gkountoura was the first senior world championship fencing medal ever won by Greece. Kharlan defeated Romania's Bianca Pascu in the second semifinal match, 15-5.
The final individual men's foil ranking includes Enzo Lefort (FRA, gold), Marcus Mepstead (GBR, silver), Young Ki Son (KOR, bronze), Dmitry Zherebchenko (RUS, bronze), Andrea Cassara (ITA), Michal Siess (POL), Chun Yin Ryan Choi (HKG) and Kwanghyun Lee (KOR).
The overall ranking for individual women's sabre includes Olga Kharlan (UKR, gold), Sofya Velikaya (RUS, silver), Theodora Gkountoura (GRE, bronze), Bianca Pascu (ROU, bronze), Anne-Elizabeth Stone (USA), Cecilia Berder (FRA), Anna Marton (HUN) and Alina Komashchuk (UKR).
Complete information about the Championships may be found on the official website, www.2019Budapest.com and official results are available on the FIE website. Click here for photo highlights of men's foil and women's sabre.
#Budapest2019