DUSSELDORF, Germany, June 18, 2019—Israel's Yuval Shalom Freilich won the men's individual epee event, and Italy's world champion and Olympic gold medallist Elisa Di Francisca took the gold in women's individual foil at the 2019 Dusseldorf European Fencing Championships. This was the second of six days of individual and team competition, with 155 fencers participating in the day's events.
In the final of individual men's epee, Freilich faced Italy's Andrea Santarelli, winning with a 15-9 score. Santarelli fenced his teammate, Enrico Garozzo, in the semi-final, winning 15-12, while Freilich overcame Czech Republic's Jiri Beran, 15-8. Notably, French world champion Yannick Borel was eliminated in the round of 16 by Ukraine's Bogdan Nikishin, 15-14; Nikishin was then beaten by Freilich in the quarterfinals, 15-12.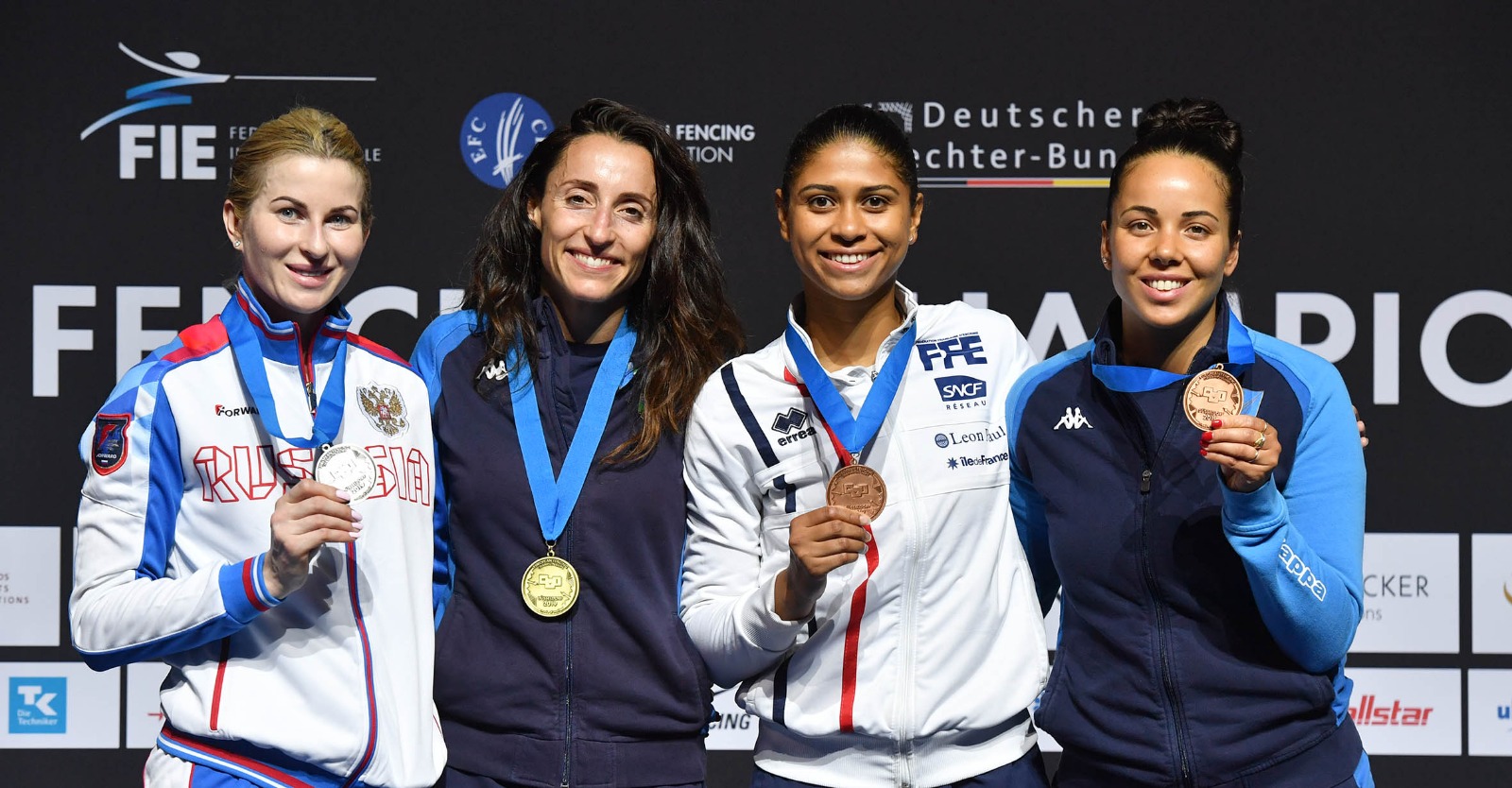 Di Francisca fenced Russian Olympic gold medallist and two-time world champion Inna Deriglazova in the final of individual women's foil, winning 15-8. Deriglazova beat Italian world champion and top-ranked Alice Volpi in the semi-finals, 15-11, and Di Francisca defeated France's Ysaora Thibus, 15-13. Two-time Italian world champion Arianna Errigo lost in the round of 16 to Russia's Anastasiia Ivanova, 15-11, who was then beaten by Deriglazova in the quarterfinals, 15-6.
Final ranking for men's individual epee at the European Fencing Championships included Yuval Shalom Freilich (ISR, gold), Andrea Santarelli (ITA, silver), Enrico Garozzo (ITA, bronze), Jiri Beran (CZE, bronze), Josef Mahringer (AUT), Bogdan Nikishin (UKR), Tibor Andrasfi (HUN) and Bas Verwijlen (NED).
In women's individual foil, final rankings included Elisa Di Francisca (ITA, gold), Inna Deriglazova (RUS, silver), Alice Volpi (ITA, bronze), Ysaora Thibus (FRA, bronze), Larisa Korobeynikova (RUS), Leonie Ebert (GER), Anastasiia Ivanova (RUS) and Martyna Dlugosz (POL).
Complete and official FIE results may be found on www.fie.org.