DUSSELDORF, Germany, June 17, 2019—Italy's world champion Alessio Foconi won the men's individual foil event and Ukraine's three-time world champion Olga Kharlan took the gold in women's individual sabre at the opening of the 2019 Dusseldorf European Fencing Championships. This was the first of six days of individual and team competition, with 128 fencers participating in the day's events taking place at the Messe Dusseldorf Exhibition Center.
Foconi fenced teammate and Olympic gold medallist Daniele Garozzo in the final round of men's individual foil, winning with a 15-4 score. Garozzo defeated France's Enzo Lefort in the semifinal, 15-8, while Foconi overcame Russia's world champion Alexey Cheremisinov, 15-11.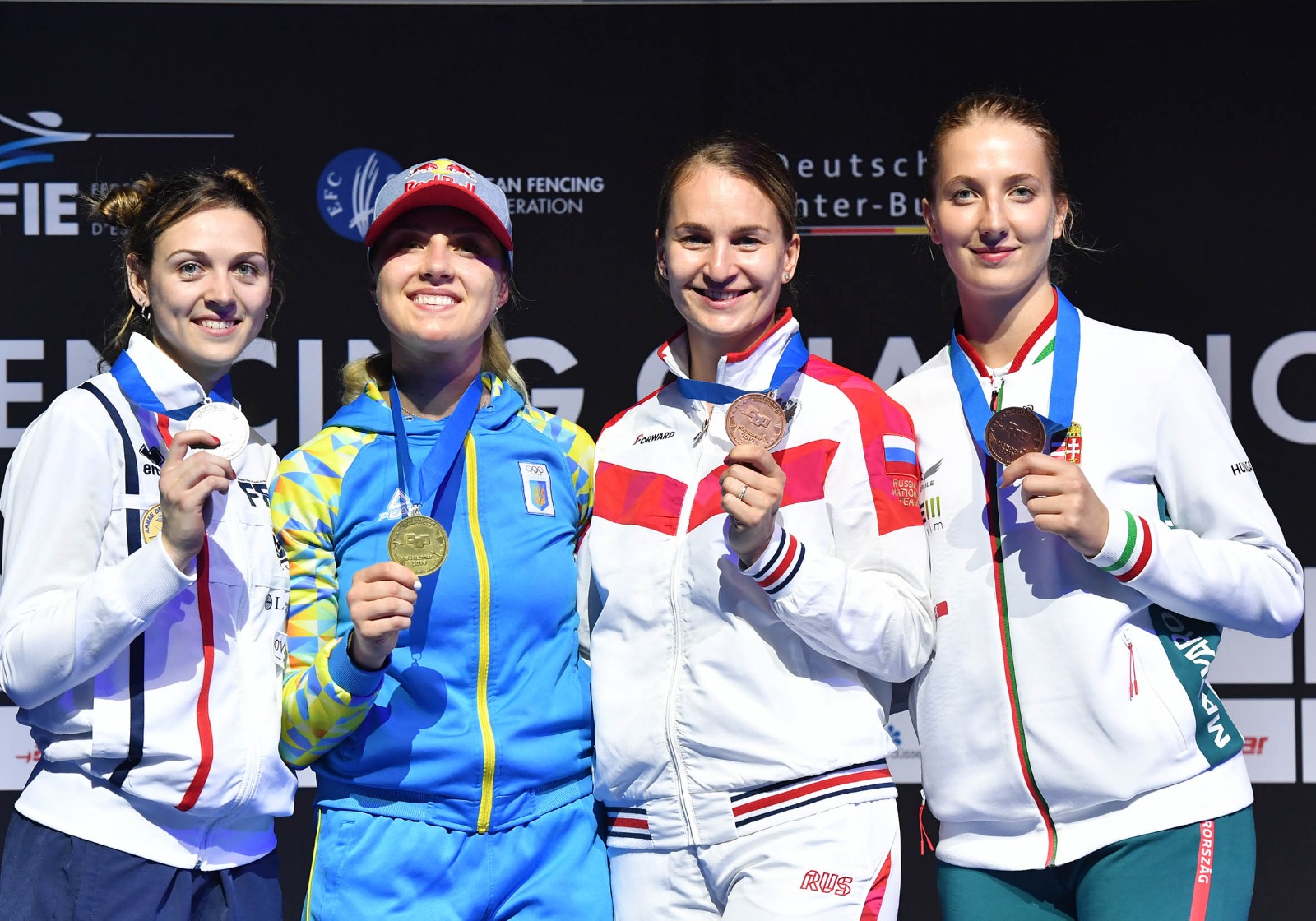 In the final match of women's individual sabre, Kharlan defeated France's Manon Brunet, 15-12. Brunet beat Russian two-time world champion and world number one Sofya Velikaya in the semifinal, 15-11, and Kharlan defeated Hungary's Anna Marton, 15-10.
Final ranking for men's individual foil at the European Fencing Championships included Alessio Foconi (ITA, gold), Daniele Garozzo (ITA, silver), Enzo Lefort (FRA, bronze), Alexey Cheremisinov (RUS, bronze), Maxime Pauty (FRA), Alexander Choupenitch (CZE), Dmitry Zherebchenko (RUS) and Andrzej Rzadkowski (POL).
In women's individual sabre, final rankings included Olga Kharlan (UKR, gold), Manon Brunet (FRA, silver), Anna Marton (HUN, bronze), Sofya Velikaya (RUS, bronze), Irene Vecchi (ITA), Olga Nikitina (RUS), Despina Georgiadou (GRE) and Charlotte Lembach (FRA).
Complete and official FIE results may be found here for men and here for women.