TORUN, Poland, April 6, 2019—On the opening night of the 2019 Junior and Cadet Fencing World Championships in Torun, Poland, Italy's Lorenzo Roma and Russia's Alina Mikhailova won gold medals in junior men's and women's individual sabre. The competition took place at the Arena Torun, with 147 men and 116 women participating in the two events. In all, 18 events will take place over nine days.

Roma faced Romania's George Dragomir in the final of junior men's individual sabre, finishing with a 15-8 score to win the gold medal. Dragomir defeated Italy's Giacomo Mignuzzi in the semi-final, 15-9, while Roma overcame USA's Mitchell Saron, 15-6.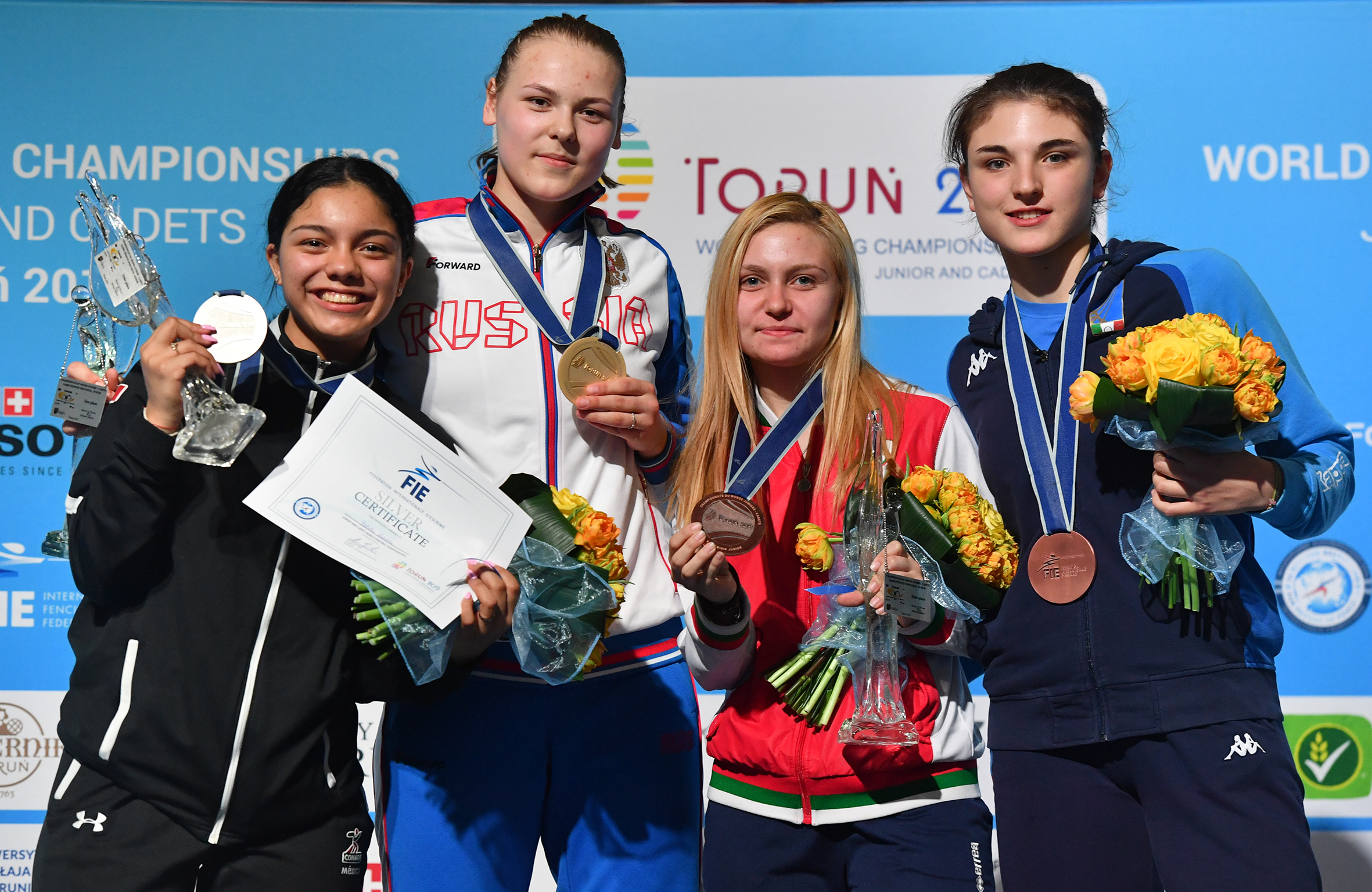 In junior women's sabre, Mikhailova beat Mexico's Natalia Botello, 15-10, in the gold-medal round; Botello took the silver last year in the same event in Verona, Italy. In the semi-finals, Botello eliminated Bulgaria's Yoana Ilieva, 15-13, while Mikhailova beat Italy's Benedetta Taricco, 15-10.Prior to the sabre competition, opening ceremonies were held with Polish and FIE dignitaries. Officials from Poland included the Mayor of Torun, Michal Zaleski; Piotr Nowacki, advisor to the Polish President of the Republic; Marcin Czyzniewski, Chairman of the Torun City Council; and Zbigniew Fiderewicz, Deputy Mayor of Torun and Championship Organising Committee Chairman. FIE officials included Emmanuel Katsiadakis (MH, GRE), FIE Secretary-General; Ana Pascu (MH, ROU), FIE Vice-President; and FIE Executive Committee members Jacek Bierkowski (POL), Velichka Hristeva (BUL), and Aldo Montano (ITA).


The final eight in men's junior sabre included Lorenzo Roma (ITA, gold), George Dragomir (ROU, silver), Giacomo Mignuzzi (ITA, bronze), Mitchell Saron (USA, bronze), Arne De Ridder (BEL), Kirill Tyulyukov (RUS), Kamar Skeete (USA) and Bakdaulet Kuralbekuly (KAZ).


The final eight ranking in women's junior sabre included Alina Mikhailova (RUS, gold), Natalia Botello (MEX, silver), Yoana Ilieva (BUL, bronze), Benedetta Taricco (ITA, bronze), Lika Jijieishvili (GEO), Liza Pusztai (HUN), Dariya Drozd (RUS) and Edith Johnson (USA).
Full results may be found here on the FIE web site.