SALT LAKE CITY, Utah, USA, Jan. 27, 2019—France took both gold medals at the 2019 Absolute Fencing Gear FIE Women's Sabre World Cup, in individual and team events. Held at Salt Lake City's Salt Palace Convention Center, the event attracted more than 160 international women's sabre fencers and teams from 18 countries.
The individual women's sabre gold medal went to France's Cecilia Berder, who overcame Hungary's Anna Marton by a single touch, 15-14. Marton beat Italy's Irene Vecchi in the semi-finals, 15-9, while Berder defeated Russia's two-time world champion, Sofya Velikaya, 15-7. Notably, Korean Olympic gold medallist Jiyeon Kim was eliminated in the quarter-finals by Velikaya, 15-12, and reigning world champion Sofia Pozdniakova was defeated by Berder in the same round, 15-11.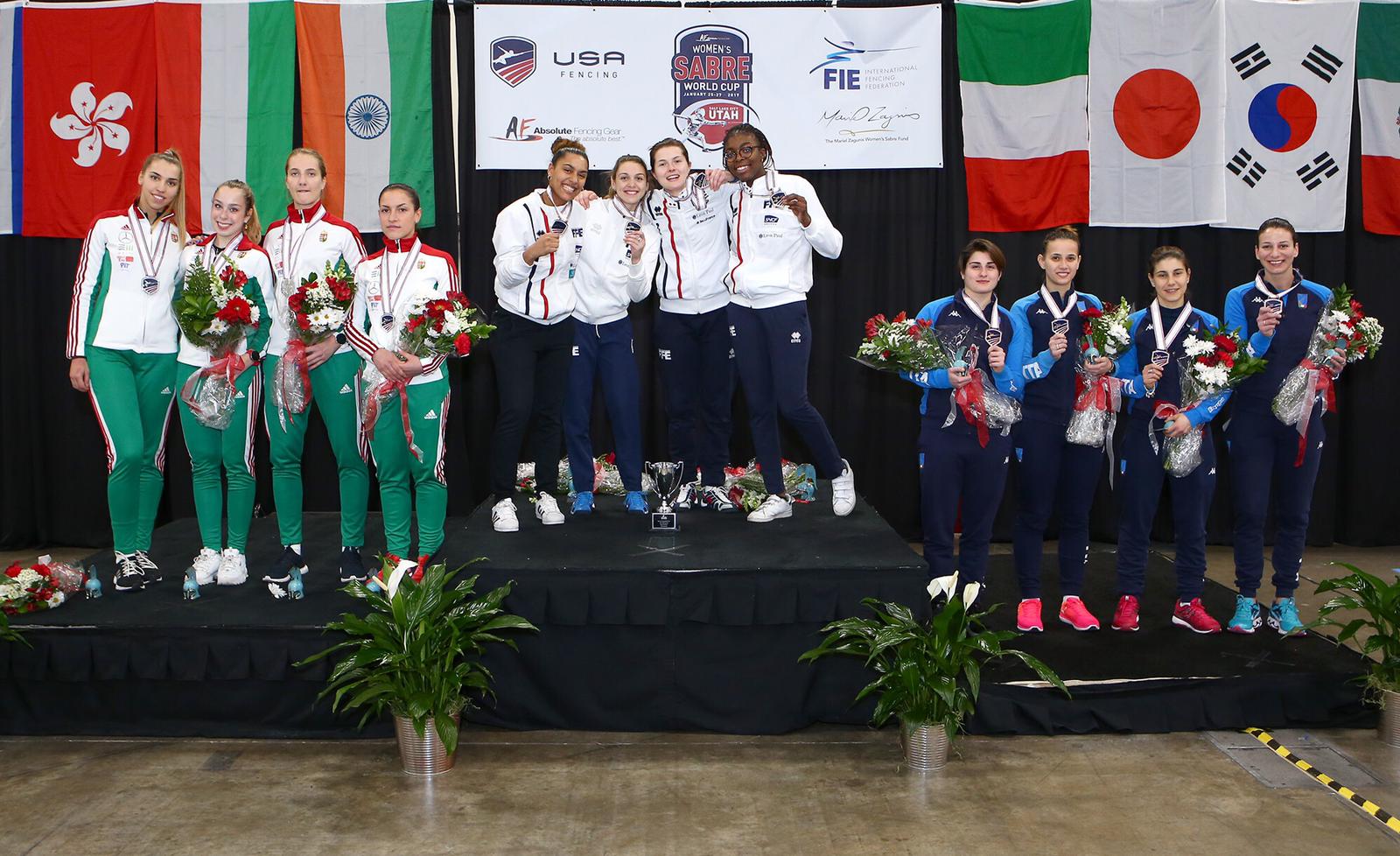 In the women's team sabre event, France won against Hungary in the final round, 45-42. Hungary had beaten Italy in the semi-finals, 45-37, and France prevailed over China with the same score, 45-37. The bronze medal went to Italy over China, 45-40.

The top-eight individual women's sabre ranking at the 2019 Absolute Fencing Gear FIE Women's Sabre World Cup included Cecilia Berder (FRA, gold), Anna Marton (HUN, silver), Irene Vecchi (ITA, bronze), Sofya Velikaya (RUS, bronze), Sofia Pozdniakova (RUS), Jiyeon Kim (KOR), Liza Pusztai (HUN) and Theodora Gkountoura (GRE).
The top-eight women's sabre teams included France (gold), Hungary (silver), Italy (bronze), China, USA, Korea, Ukraine and Russia.
Official results are available here, on the FIE Web site.