MOSCOW, Russia, May 11-13, 2018—Korea's Sanguk Oh and Russia's two-time World Champion Sofya Velikaya each took gold this weekend in Russia at the Moscow Sabre Grand Prix. The event took place at Moscow's 'Ice Palace', featuring more than 300 of the world's top men's and women's sabre fencers participating in this seventh Grand Prix of a nine-event series of the FIE's 2017-2018 competition season.
Oh, who won the Cancun Sabre Grand Prix in December, defeated Italy's Luca Curatoli in the final men's match, 15-8. Top-ranked Korean Bongil Gu lost in the semi-final to Curatoli, 15-11; Curatoli beat Gu in this same event last year in the final round, taking the gold medal. In the other semi-final, Oh overcame Iran's Mojtaba Abedini, 15-9. Notably, the Iranian defeated the two-time Olympic gold medallist from Hungary, Aron Szilagyi, in the round of 16, 15-13.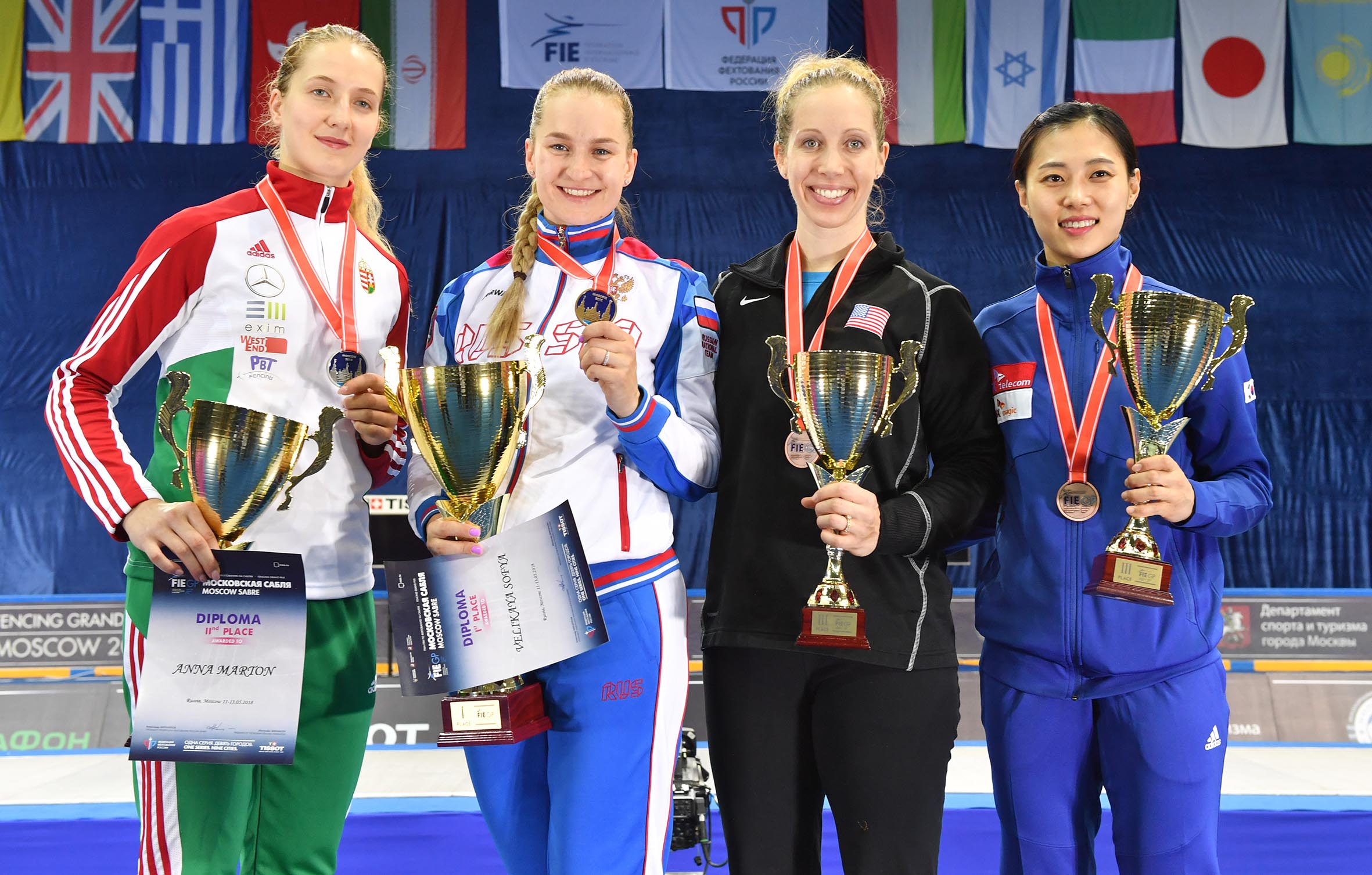 In the women's event, Russia's two-time World Champion Sofya Velikaya took gold against Hungary's Anna Marton, 15-12, in the final round. The unranked Velikaya's win marks a stunning comeback after a year-and-a-half break from competition. Marton defeated USA's two-time Olympic gold medallist and two-time World Champion Mariel Zagunis in the semi-final round, 15-12, while in the other semi-final Velikaya beat Korea's Olympic gold medallist Jiyeon Kim, 15-5.

The top-eight in the men's sabre event included Sanguk Oh (KOR, gold), Luca Curatoli (ITA, silver), Mojtaba Abedini (IRI, bronze), Bongil Gu (KOR, bronze), Eli Dershwitz (USA), Vincent Anstett (FRA), Daryl Homer (USA), and Hansol Ha (KOR).

The top-eight in women's sabre included Sofya Velikaya (RUS, gold), Anna Marton (HUN, silver), Jiyeon Kim (KOR, bronze), Mariel Zagunis (USA, bronze), Cecilia Berder (FRA), Liza Pusztai (HUN), Risa Takashima (JPN), and Lucia Martin-Portugues (ESP).
Final results from the 2018 Moscow Sabre Grand Prix can be found here for the men's and here for the women's events.