ST. PETERSBURG, Russia, May 4-6, 2018—France's Maxime Pauty won this weekend's St. Petersburg Men's Foil World Cup individual event, competing against nearly 200 of the world's best men's foilists. The USA also finished in first place in the men's team event among 23 international teams, which took place in St. Petersburg's Zimniy Stadium.
Pauty, in the best individual result to-date in his career, defeated Italy's second-ranked Alessio Foconi in the gold-medal match, 15-7. Foconi beat World Champion Russian fencer Alexey Cheremisinov in the semi-final, 15-9, and Pauty beat Korea's Kwanghyun Lee, 15-9. Pauty also beat World Champion Italian Andrea Cassara in the quarter-final, 15-13.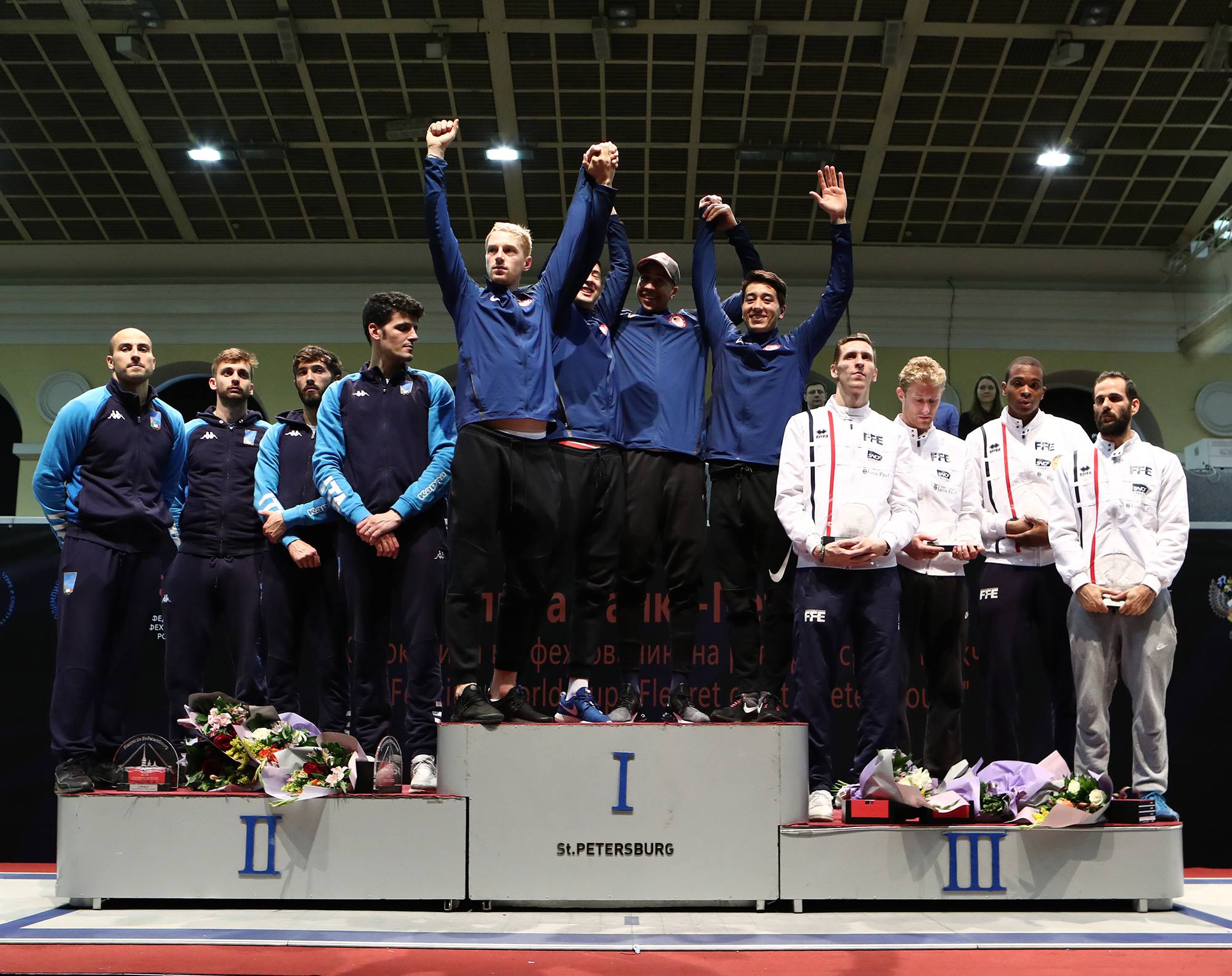 In the men's team event, the USA completed an undefeated World Cup season by winning this weekend in the final round against Italy, 45-25. Italy beat France in the semi-final round, 45-31, and USA beat Russia, 45-38. The bronze medal went to France in the third-place match, beating Russia, 45-34.
The top-eight ranking from the St. Petersburg Men's Foil World Cup included Maxime Pauty (FRA, gold), Alessio Foconi (ITA, silver), Alexey Cheremisinov (RUS, bronze), Kwanghyun Lee (KOR, bronze), Alexander Massialas (USA), Andrea Cassara (ITA), Jeremy Cadot (FRA), and Young Ki Son (KOR).
The eight top-ranked men's foil teams included USA (gold), Italy (silver), France (bronze), Russia, Korea, Great Britain, Japan, and China.
Full results for the individual competition can be found here, and results for the team event are here.