ATHENS, Greece, March 16-18, 2018—Romanian fencer Bianca Pascu, in a career-best win, took gold at the Athens 'Coupe Acropolis' Women's Sabre Fencing World Cup. The Italian women's fencers also took top place in the team event, with both competitions taking place at the Athens Olympic Complex. In all, 23 teams participated with a field of more than 180 international fencers.
Pascu, 29, is ranked fifth in the world, and she defeated Hungary's 16-year-old Liza Pusztai in the final, 15-11. Pascu also beat Pusztai's teammate, second-ranked Anna Marton, in the semi-final, 15-12; Marton is a World Championship bronze medallist and the defending champion from last-year's Coupe Acropolis. Top-ranked Olga Kharlan (UKR) was eliminated in the quarter-finals, 15-13, also by Pascu. Pusztai took out France's Manon Brunet, who took silver in this same event last year, in the semi-final, 15-9.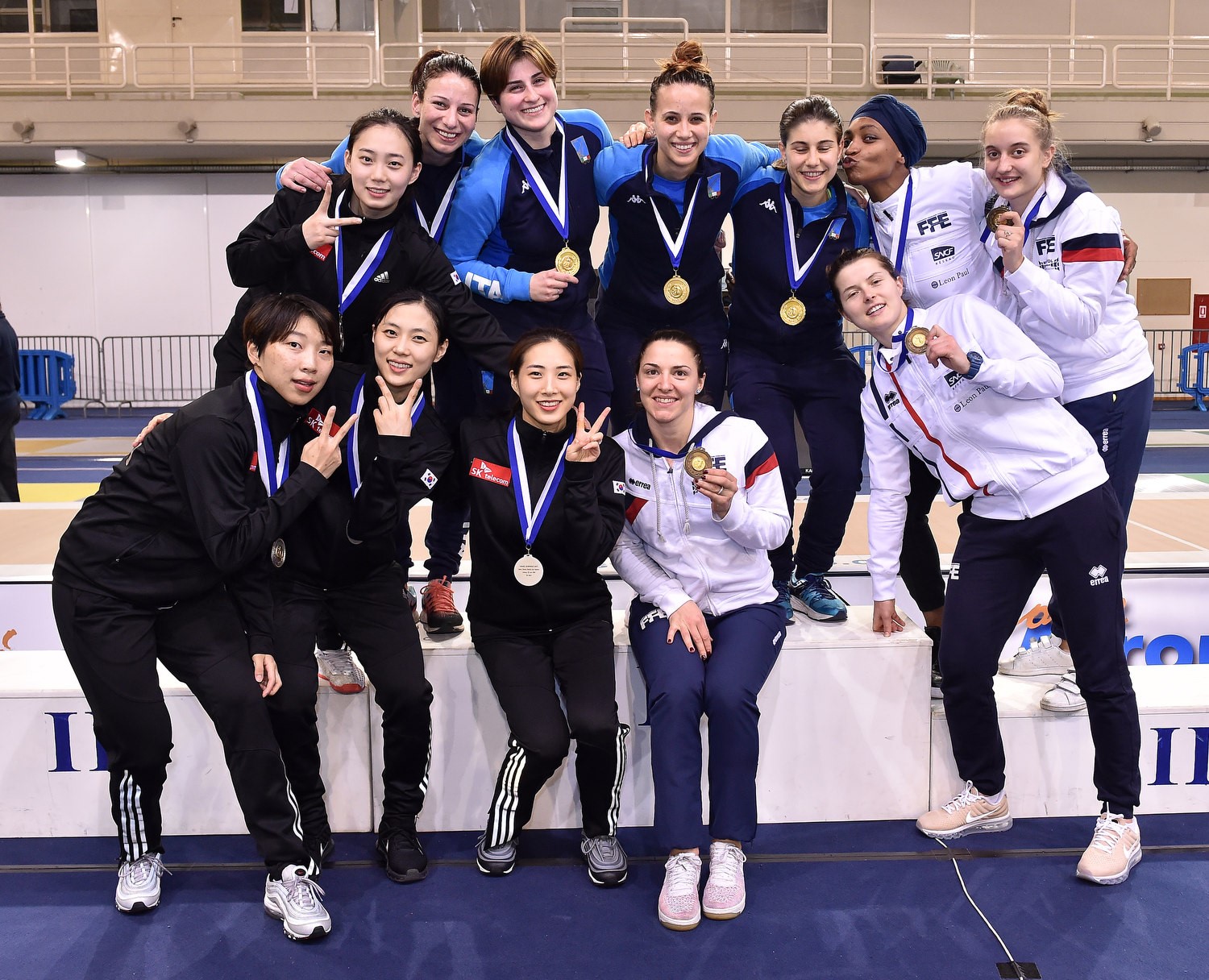 The final of the women's team sabre event featured Italy beating Korea, 45-31. Italy also won against USA in the semi-final, 45-39, while Korea defeated France in a close match, 45-43. France took home the bronze medal after winning against USA, 45-41.
The top-eight overall individual women's sabre ranking from the Coupe Acropolis include Bianca Pascu (ROU, gold), Liza Pusztai (HUN, silver), Manon Brunet (FRA, bronze), Anna Marton (HUN, bronze), Olga Kharlan (UKR), Charlotte Lembach (FRA), Sofia Pozdniakova (RUS), and Malgorzata Kozaczuk (POL).
The top-eight women's sabre team rankings place Italy (gold) first, followed by Korea (silver), France (bronze), USA, Russia, Spain, Hungary, and China.
Full results for the individual competition can be found here, and results for the team event are here.