ANAHEIM, Calif., USA, March 16-18, 2018—USA's Race Imboden won his first Grand Prix tonight at the 2018 Absolute Fencing Gear® Men's & Women's Foil Grand Prix in Anaheim, California. Russia's top-ranked fencer, Olympic gold medallist and two-time World Champion Inna Deriglazova took gold in the women's event. More than 300 foil fencers participated in the Grand Prix, which took place at the Anaheim Convention Center.
In the women's competition, the 28-year-old Deriglazova defeated Germany's Anne Sauer, 15-3, for the gold medal. For the German, it was her best-in-career result to date. Sauer overcame her teammate, Leonie Ebert, in the semi-final, in a close match with a 15-14 final score. Also in the semi-final, Deriglazova beat USA's Lee Kiefer in another narrow finish, 15-14. Kiefer won this same event last year, when she defeated Deriglazova in the same round.

'The most difficult thing today was to fight against Russians, my teammates', said Deriglazova. 'To enter into the 16, I had to fight not only my teammate, but my best friend.'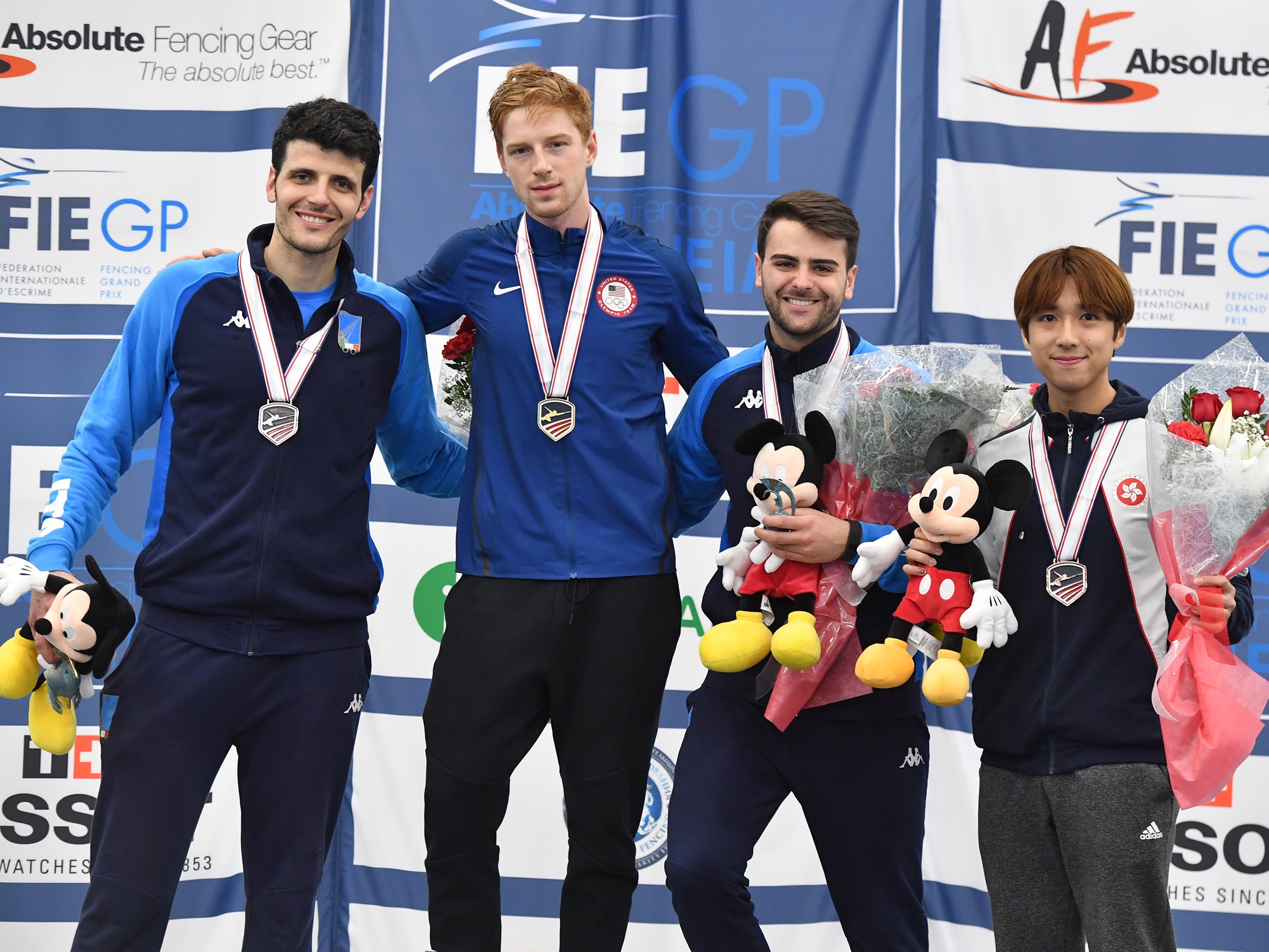 In the men's event, the 24-year-old Imboden won against Italy's World Champion, Andrea Cassara, 15-10, in the final. The day featured several top-ranked upsets, including 31st-ranked Nicholas Edward Choi of Hong Kong beating second-ranked and Olympic silver medallist Alexander Massialas (USA) in the round of 32, 15-13, as well as Egypt's Olympic silver medallist Alaaeldin Abouelkassem in the round of 16, 15-14, and France's six-time Grand Prix winner Erwann Le Pechoux in the round of 8, 15-4. Choi went-out in the semi-final to Cassara, 15-9. In the same round, Imboden beat Italy's Damiano Rosatelli, 15-10; Imboden also took-out Russia's Olympic bronze medallist, Timur Safin, 15-8, in the round of 8. The 57th-ranked Rosatelli had a strong day as well, defeating top-ranked Olympic gold medallist and teammate Daniele Garozzo in the round of 16, 15-11, and World Champion Alexey Cheremisinov (RUS) in the round of eight, 15-11.

'I was feeling good all day, and unfortunately I had to meet my teammate early', said Imboden. 'There were a lot of really good competitors here and I'm really happy I won at home.'

The top eight in the women's foil event included Inna Deriglazova (RUS, gold), Anne Sauer (GER, silver), Leonie Ebert (GER, bronze), Lee Kiefer (USA, bronze), Camilla Mancini (ITA), Eleanor Harvey (CAN), Julia Walczyk (POL), and Diana Yakoleva (RUS).

The top-eight men included Race Imboden (USA, gold), Andrea Cassara (ITA, silver), Nicholas Edward Choi (HKG, bronze), Damiano Rosatelli (ITA, bronze), Timur Safin (RUS), Erwann Le Pechoux (FRA), Ka Long Cheung (HKG), and Alexey Cheremisinov (RUS).

Final results from the 2018 Anaheim Absolute Fencing Gear Men's & Women's Foil Grand Prix can be seen here for the women, and here for the men.