BONN, Germany, Feb. 9-11, 2018—Russian World Champion Alexey Cheremisinov took top-honours this weekend in Bonn, winning the Löwe von Bonn Men's Foil Fencing World Cup. The USA men's foil team also took gold, winning the men's team foil event. The World Cup drew more than 250 international men's foil fencers, as well as 27 teams from around the globe.
Cheremisinov took-out world number two and Olympic silver medallist Alexander Massialas (USA) in the final of the individual men's foil event, 15-8. Massialas beat France's Jeremy Cadot in the semi-final, 15-11, while Cheremisinov overcame Italy's Guillaume Bianchi in the same round, 15-8.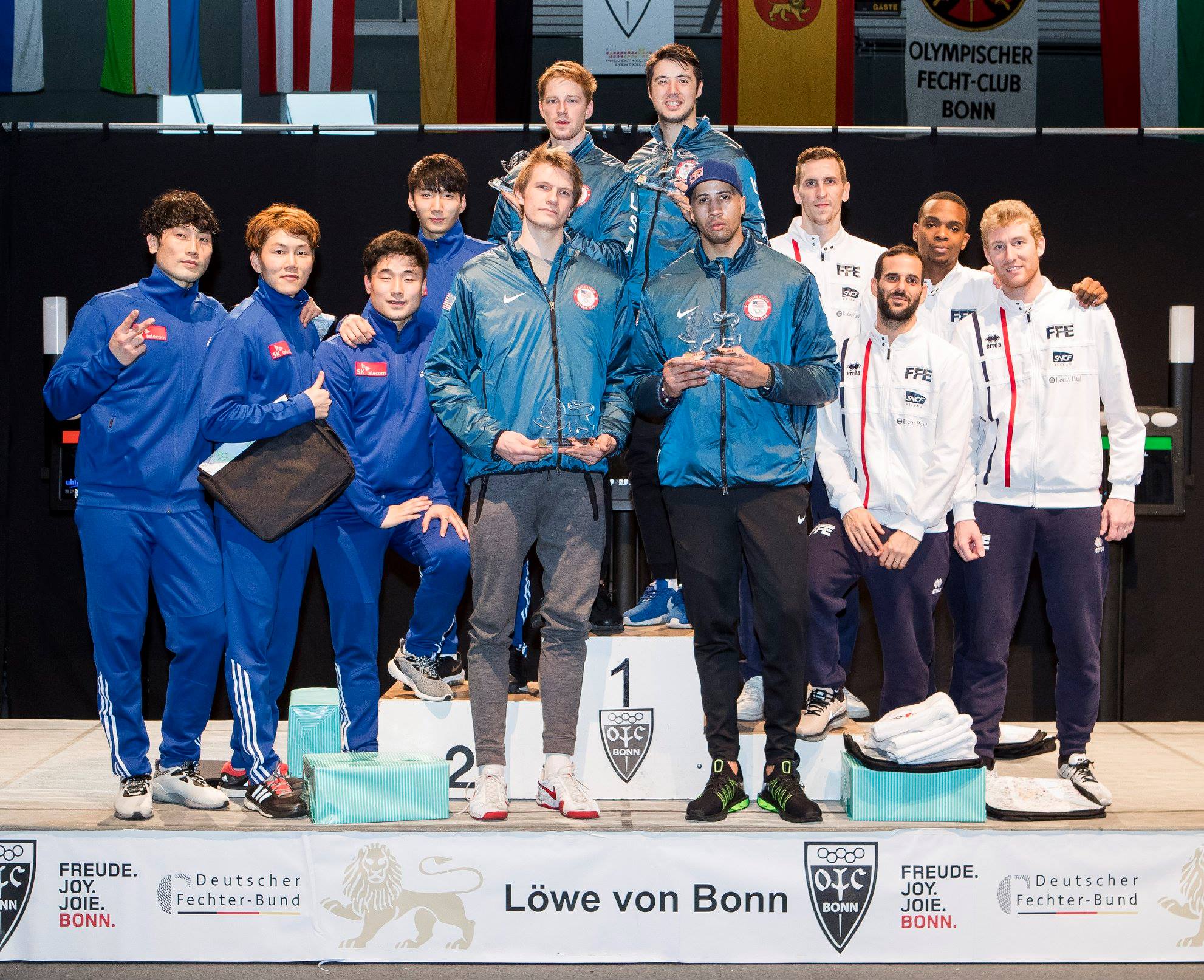 In the men's team foil event, the USA prevailed over Korea, 45-32, after beating the Russians in the semi-final, 45-37. Korea beat France in the same round, 45-36. For the bronze-medal match, France narrowly defeated Russia, 44-43.
The top-eight overall individual men's foil ranking from the Bonn World Cup include Alexey Cheremisinov (RUS, gold), Alexander Massialas (USA, silver), Guillaume Bianchi (ITA, bronze), Jeremy Cadot (FRA, bronze), Taegyu Ha (KOR), Marcus Mempstead (GBR), Lorenzo Nista (ITA), and Andrzej Rzadkowski (POL).
The top-eight men's foil team rankings place USA (gold) first, followed by Korea (silver), France (bronze), Russia, Italy, Japan, Germany, and China.
Full results for the individual competition can be found here, and results for the team event are here.