HEIDENHEIM, Germany, Jan. 26-28, 2018 – Japan's Kazuyasu Minobe achieved gold this weekend in Germany at the Heidenheimer Pokal Men's Epee World Cup, overtaking a field of more than 300 competitors. The Korean men's team also won gold in the event, which featured more than 30 international teams. The event took place in Heidenheim's Congress Centrum.
Minobe beat Ukraine's Bogdan Nikishin in the final match, 15-13. Nikishin had won this same event two times previously (2013, 2014). He overtook Italy's Gabriele Cimini in the semi-final, 15-8, while Minobe beat Russia's Vadim Anokhin, 15-9, in the same round. The Japanese epeeist also had a notable victory in the quarter-finals, defeating Korean Olympic champion Sangyoung Park, 15-11.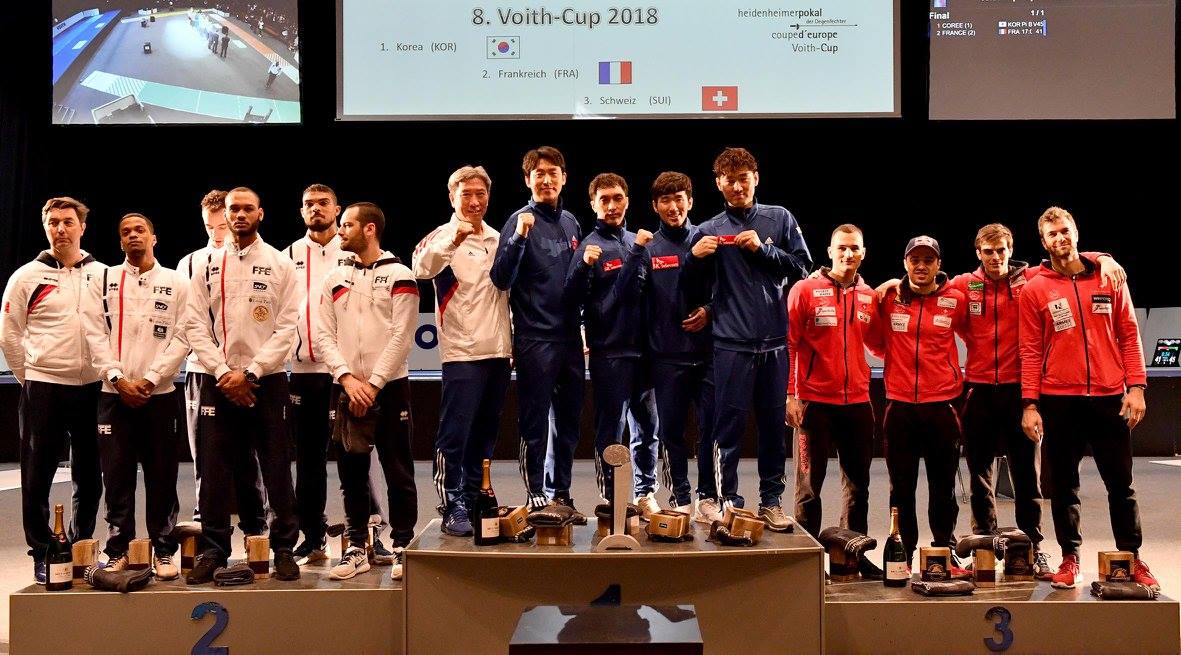 In the men's team epee event, Korea was victorious against France in the final, 45-41. Prior to that, Korea beat the Swiss men's team in the semi-finals, 45-33, while France beat Russia, 45-35. Switzerland took home the bronze medal after beating Russia for third place, 45-35.
The top-eight overall individual men's epee ranking from Heidenheim include Kazuyasu Minobe (JPN, gold), Bogdan Nikishin (UKR, silver), Vadim Anokhin (RUS, bronze), Gabriele Cimini (ITA, bronze), Marco Fichera (ITA), Sangyoung Park (KOR), Youngjun Kweon (KOR), and Jongkwan Na (KOR).
The top-eight men's team epee ranking place Korea (gold) in first place, followed by France (silver), Switzerland (bronze), Russia, Czech Republic, Italy, Ukraine, and Japan.
Full results for the individual competition can be found here, and results for the team event are here.