KATOWICE, Poland, Jan. 12-14, 2018 – Russia's Olympic gold medallist and two-time World Champion in women's foil, Inna Deriglazova, once again earned gold at this weekend's Artus Court PKO BP Women's Foil World Cup in Katowice, Poland. Russia's women's foil team also achieved gold at the event, which was held at the City's Spodek arena. Nearly 200 top-level women's foilists competed, as well as 21 teams from different countries.
Deriglazova won the final against USA's Lee Kiefer, 15-4. In the semi-final, Deriglazova beat Italy's Camilla Mancini, 15-6, while Kiefer overtook Germany's Anne Sauer, 15-7, in the same round.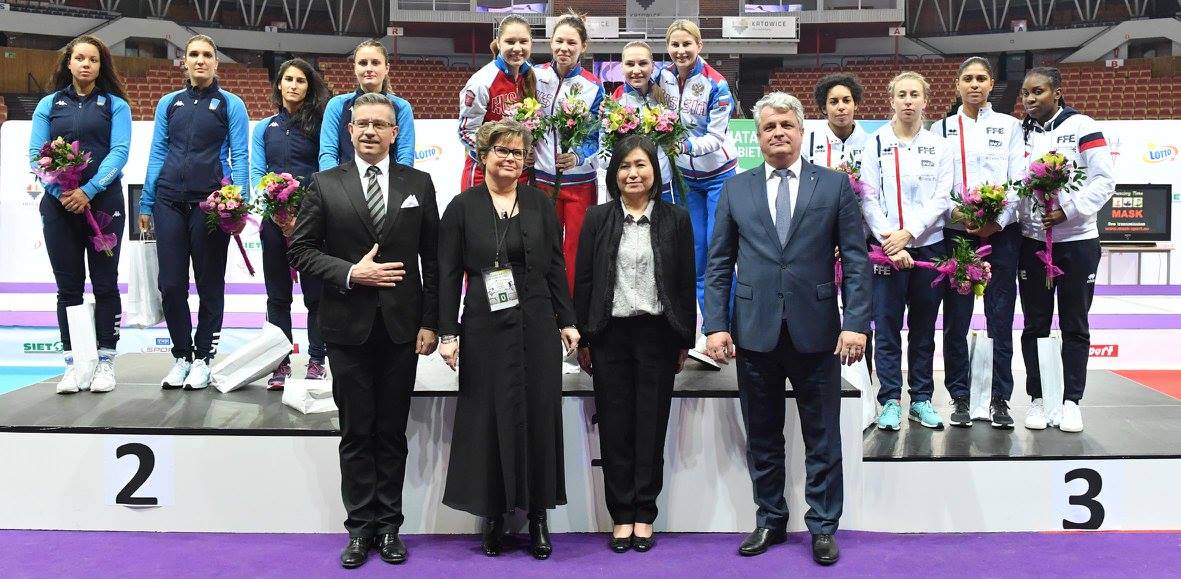 In the women's team foil event, Russia took gold over Italy, 45-39, in the final match. Italy beat France in the semi-final, 45-35, while Russia defeated Germany, 42-31. For the bronze medal, France won over Germany with a score of 45-22.
The top-eight overall individual women's foil ranking from the World Cup include Inna Deriglazova (RUS, gold), Lee Kiefer (USA, silver), Camilla Mancini (ITA, bronze), Anne Sauer (GER, bronze), Eleanor Harvey (CAN), Seo In Hong (KOR), Leyla Pirieva (RUS), and Sera Azuma (JPN).
The top-eight overall women's foil team ranking places Russia first (gold), followed by Italy (silver), France (bronze), Germany, USA, Poland, China, and Hungary.
Full results for the individual competition can be found here, and results for the team event are here.