DOHA, Qatar, Dec. 10, 2017—More than 300 of the world's top-ranked men's and women's fencers competed this weekend in Doha at the 2017 Qatar Epee Grand Prix. Korean Olympic champion Sangyoung Park won gold in the men's event, and Romanian Ana Maria Popescu was victorious for the women. This is the second Grand Prix of nine taking place in the 2017-2018 International Fencing Federation (FIE) competition season.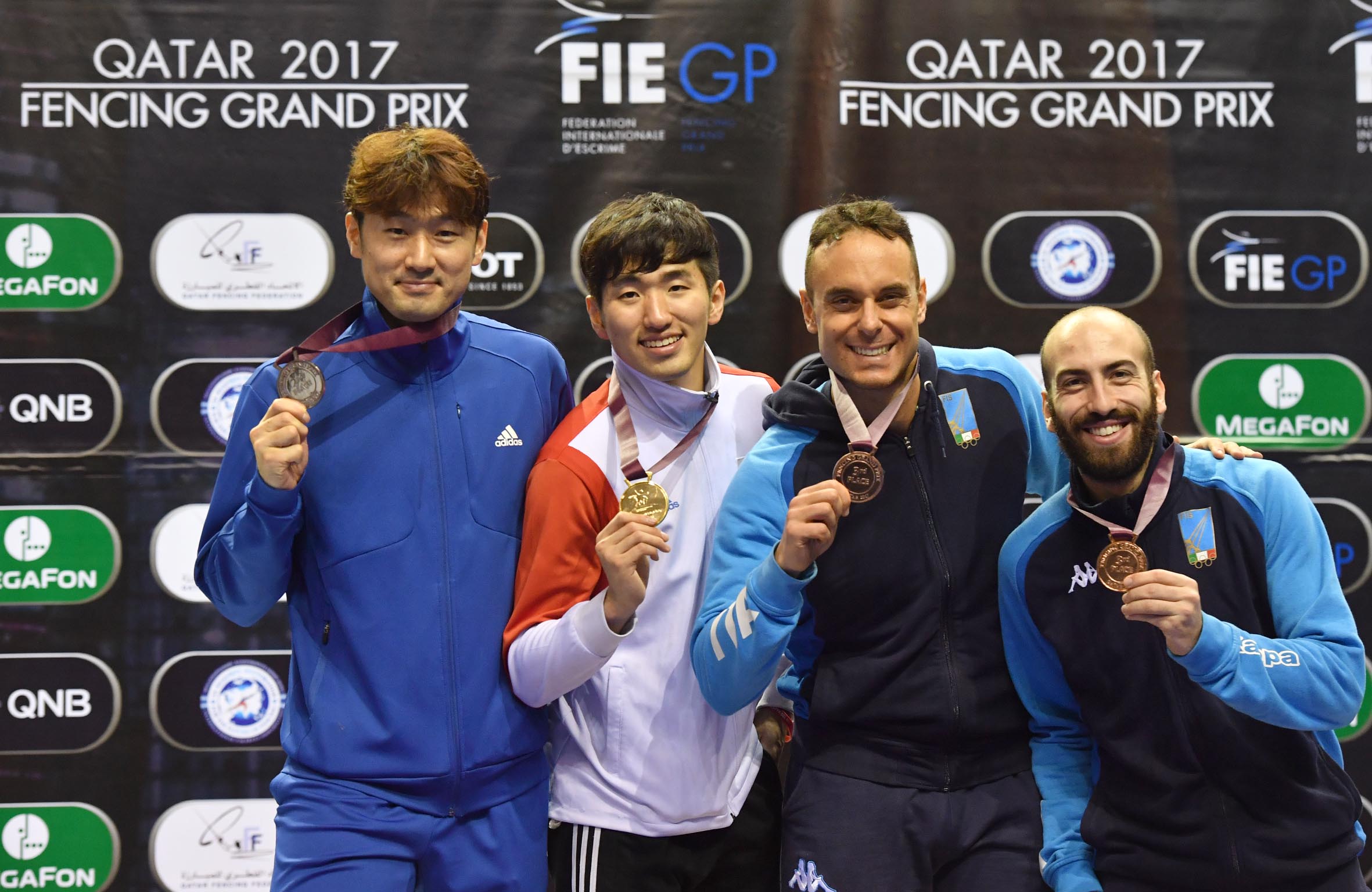 In the men's event, Park took the gold medal against Olympic bronze medallist Jinsun Jung (KOR) by priority in overtime, 4-3. Both Koreans defeated Italians in the semi-finals, with Park overtaking two-time World Champion Paolo Pizzo, 15-13, and Jung winning against Andrea Santarelli, 15-11. Park also won this same event in 2014.
There were several notable results among the men: Italian Enrico Garozzo lost to Jung in the round of eight by a touch, 15-14, and three-time Grand Prix champion Max Heinzer of Switzerland also missed the medal rounds by a single point in the round of eight against Park, 14-13. Ukrainian two-time Grand Prix winner Bogdan Nikishin lost closely in the quarter-finals, as well, to Pizzo, 15-14.
Following his win, Park said, "I'm so very happy, especially because I am here individually and not part of the national team. I did it by myself."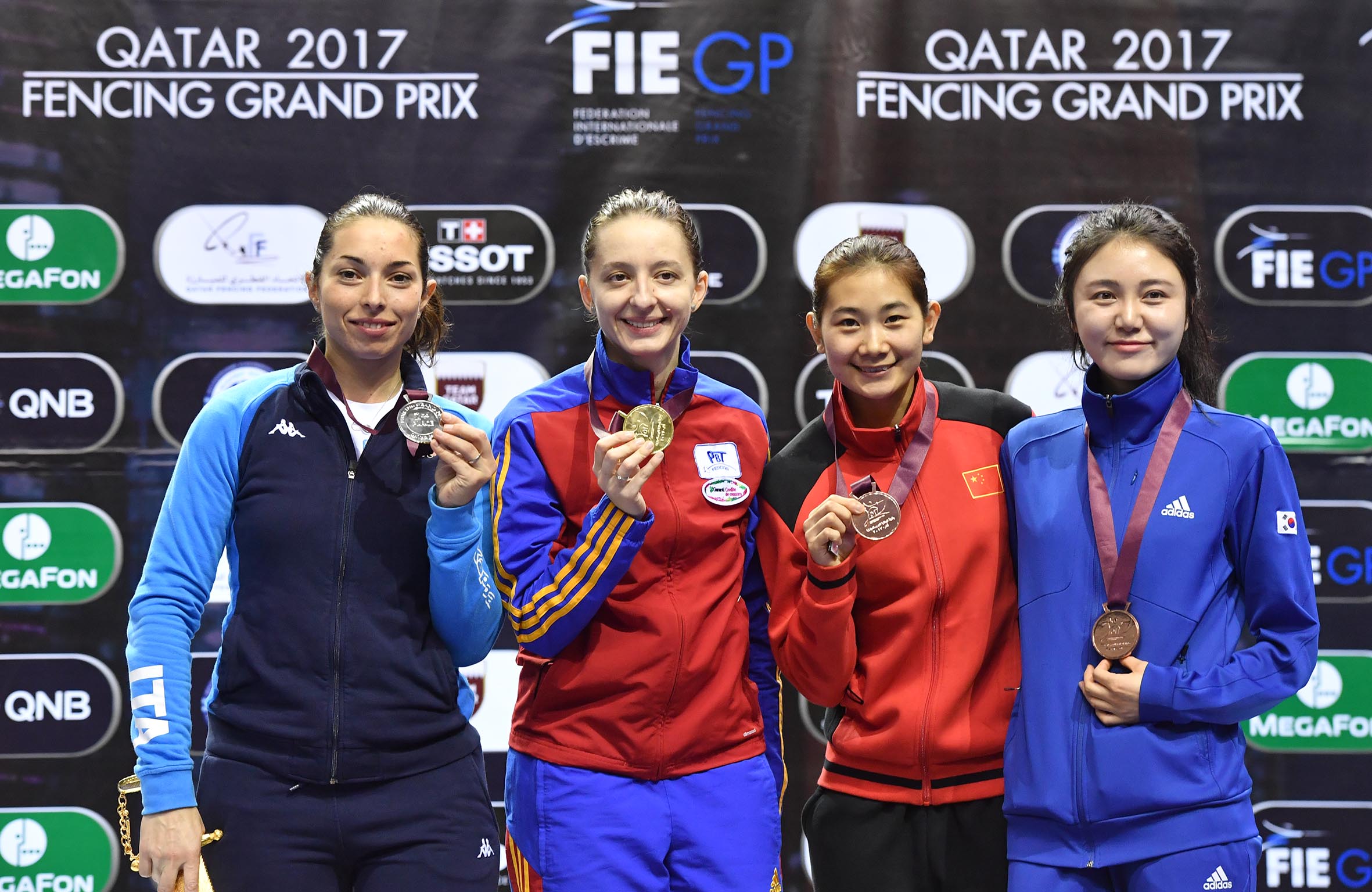 After an extended absence from competition, Romania's Olympic silver medallist Ana Maria Popescu took gold at the women's event, a repeat of her gold medal in Doha in 2009. The Romanian epeeist defeated Italian Mara Navarria in the final, 10-6; the Italian won this same event in 2015 and 2012.

In the semi-final, Navarria beat Korean Injeong Choi with a score of 15-10; Choi was the winner of the 2013 Xuzhou, China Grand Prix. In the same round Popescu overtook Guangjuan Hou from China, 15-9; Hou had the best day of her career after being ranked 152nd coming into the event. Hungarian Olympic gold medallist Emese Szasz-Kovacs also had a narrow loss to Hou in the round of eight, 12-11.

After her victory, Popescu said "I'm so lucky, I'm like a kid in a candy shop. After eight months off the piste, for me it's such a big satisfaction to be here. I'm back in business."
Overall top-eight ranking for the men's epee event include Sangyoung Park (KOR, gold), Jinsun Jung (KOR, silver), Paolo Pizzo (ITA, bronze), Andrea Santarelli (ITA, bronze), Bogdan Nikishin (UKR), Max Heinzer (SUI), Enrico Garozzo (ITA), and Volodymyr Stankevych (UKR).
Top-eight for the women included Ana Maria Popescu (ROU, gold), Mara Navarria (ITA, silver), Injeong Choi (KOR, bronze), Guangjuan Hou (CHN, bronze), Emese Szasz-Kovacs (HUN), Olena Kryvytska (UKR), Tatyana Andryushina (RUS), and Giulia Rizzi (ITA).
Additional and information for the Doha Epee Grand Prix may be found on the FIE Web site, with men's results located here and women's results here. The official website for the Doha Grand Prix is located here.