GYOR, Hungary, Dec. 1-3, 2017 – Korean men's sabre fencers took two gold medals at this weekend's International Fencing Federation (FIE) World Cup in Gyor, Hungary. The competition, which took place at the Audi Arena Gyor, drew more than 200 top-level individual competitors and 25 teams from around the world.
Korean Sanguk Oh beat Russian World Champion Veniamin Reshetnikov, 15-9, in the final match of the Gerevich-Kovacs-Karpati Individual Men's Sabre event. Reshetnikov had a strong win in the semi-final over French fencer Bolade Apithy, 15-5, and Sanguk overtook Apithy's teammate, Vincent Anstett, 15-13, in the same round. Another World Champion, Andras Szatmari (HUN), went out in the quarter-finals to Anstett, 15-11.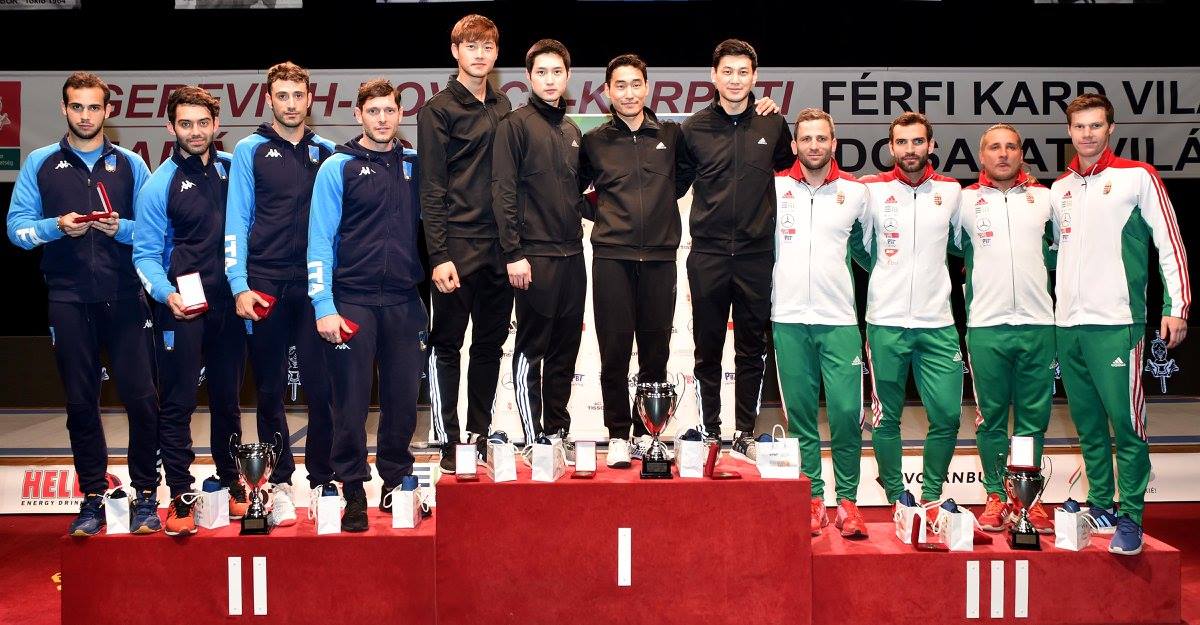 It was Korea and Italy duelling for gold in the final round of the Zarandi Csaba Men's Sabre Team World Cup event, with Korea winning by ten points, 45-35. Russia went out in the semi-finals to Korea, 45-29, while Hungary lost to Italy in a tight match, 45-43, in the same round. Hungary won over Russia in the bronze-medal match, winning 45-40.
The top-eight overall individual men's sabre ranking from Gyor includes Sanguk Oh (KOR, gold), Veniamin Reshetnikov (RUS, silver), Vincent Anstett (FRA, bronze), Bolade Apithy (FRA, bronze), Andras Szatmari (HUN), Luca Curatoli (ITA), Max Hartung (GER), and Byungul Hwang (KOR).
Overall, the top-eight team rankings place Korea (gold) in first place, followed by Italy (silver), Hungary (bronze), Russia, France, Germany, Iran, and USA.
Full results for the individual competition can be found here, and results for the team event are here.