TURIN, Italy, December 3, 2017—Top-ranked foil fencers competed this weekend in Turin, Italy at the first of nine International Fencing Federation (FIE) Grand Prix tournaments of the 2017-2018 season, with more than 300 men and women participating in two events. Russia and USA took the honours, with Russia's Inna Deriglazova winning the women's event, and USA's Alexander Massialas taking the men's gold.
In the men's foil event, the 23-year-old Massialas, Olympic and World Championship silver medallist and ranked first in the world, overtook Russia's Olympic and World Championship bronze medallist Timur Safin, ranked second in the world, by two touches. Massialas came from behind in the second period to win with a final score of 15-13. In the semi-final, Safin defeated Italian Alessio Foconi, 15-12, while Massialas beat France's Enzo Lefort, 15-7. Olympic gold medallist, Italian Daniele Garozzo, was beaten in the quarter-finals by teammate Foconi, 15-10.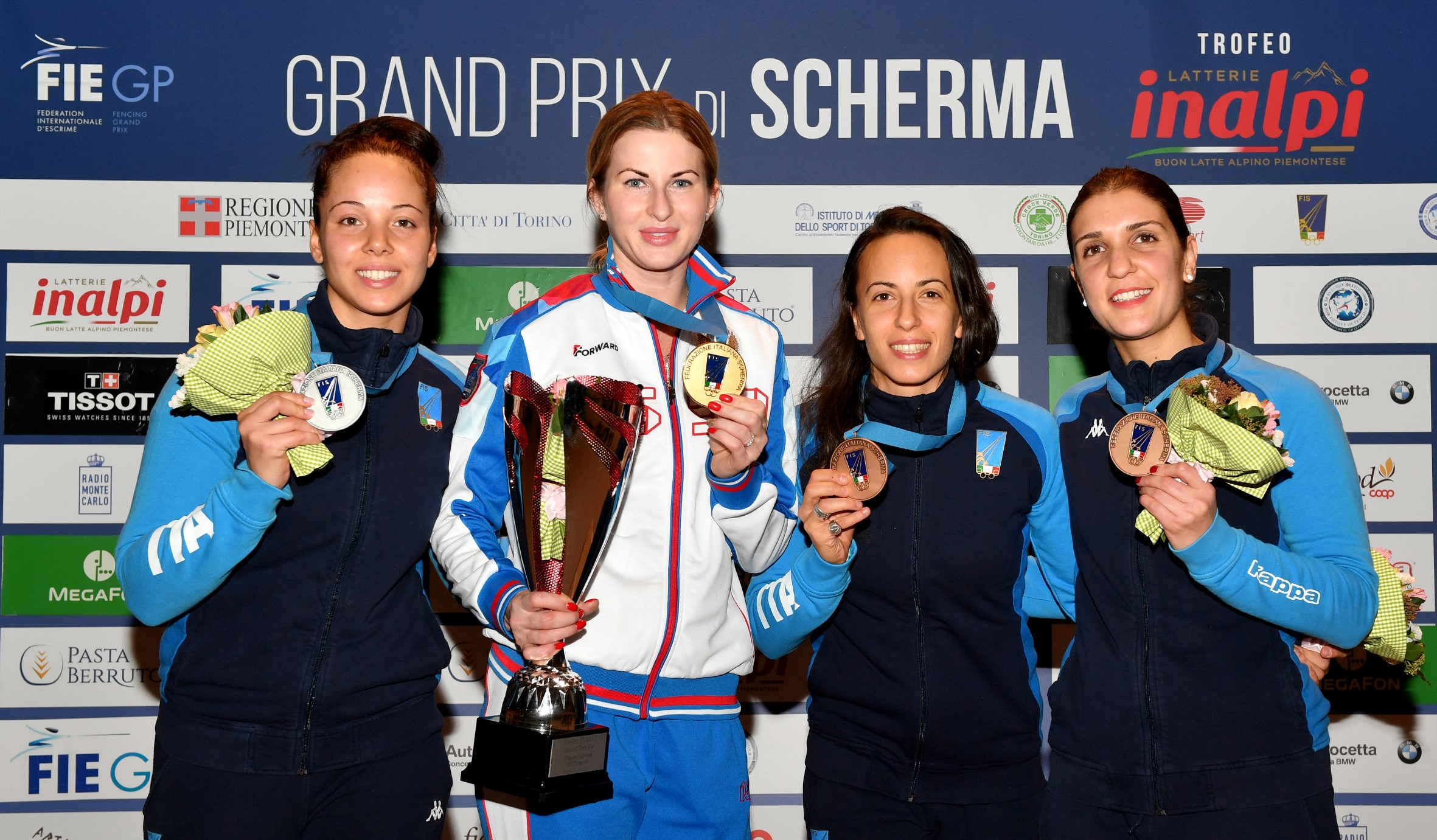 For the women's foil competition, Russia's Olympic gold medallist and two-time World Champion, Inna Deriglazova, faced and overtook Italy's Alice Volpi in the final, 15-9. The Russian had similarly beaten Volpi last summer in the women's foil final of the World Championships in Leipzig, Germany. Volpi won against teammate Valentina De Costanzo in the semi-final, 15-8, and Deriglazova narrowly beat Italy's Olympic silver medallist and two-time World Champion Arianna Errigo in the other semi-final, 15-14.
Overall top-eight ranking for the men's foil event includes Alexander Massialas (USA, gold), Timur Safin (RUS, silver), Alessio Foconi (ITA, bronze), Enzo Lefort (FRA, bronze), Daniele Garozzo (ITA), Richard Kruse (GBR), Erwann Le Pechoux (FRA), and Valerio Aspromonte (ITA).
Top-eight for the women include Inna Deriglazova (RUS, gold), Alice Volpi (ITA, silver), Valentina De Costanzo (ITA, bronze), Arianna Errigo (ITA, bronze), Ysaora Thibus (FRA), Svetlana Tripapina (RUS), Hyunhee Nam (KOR), and Martina Favaretto (ITA).
Additional and information for the Turin Foil Grand Prix may be found on the FIE Web site, with men's results located here and women's results here. The official website for the Turin Grand Prix is located here.