SUZHOU, China, Nov. 10-12, 2017 – Olympic bronze medallist Yiwen Sun of China took gold this weekend in her home country, winning the Suzhou Women's Epee World Cup. The Polish women's epee team also scored victory, earning a gold medal from a field of 20 teams from around the world. More than 150 individual competitors participated in the event, which took place in Suzhou's SND Cultural & Sports Centre Indoor Stadium.
Sun faced Brazil's Nathalie Moellhausen in the finals, taking the win with a 15-9 final score. Both finalists faced Polish epeeists in the semi-finals, with Moellhausen defeating Renata Knapik-Miazga, 15-9, and Sun beating Magdalena Piekarska, 10-4. Olympic gold medallist Emese Szasz-Kovacs (HUN) took fifth place, overtaken by Sun, 15-12, in the quarter-finals.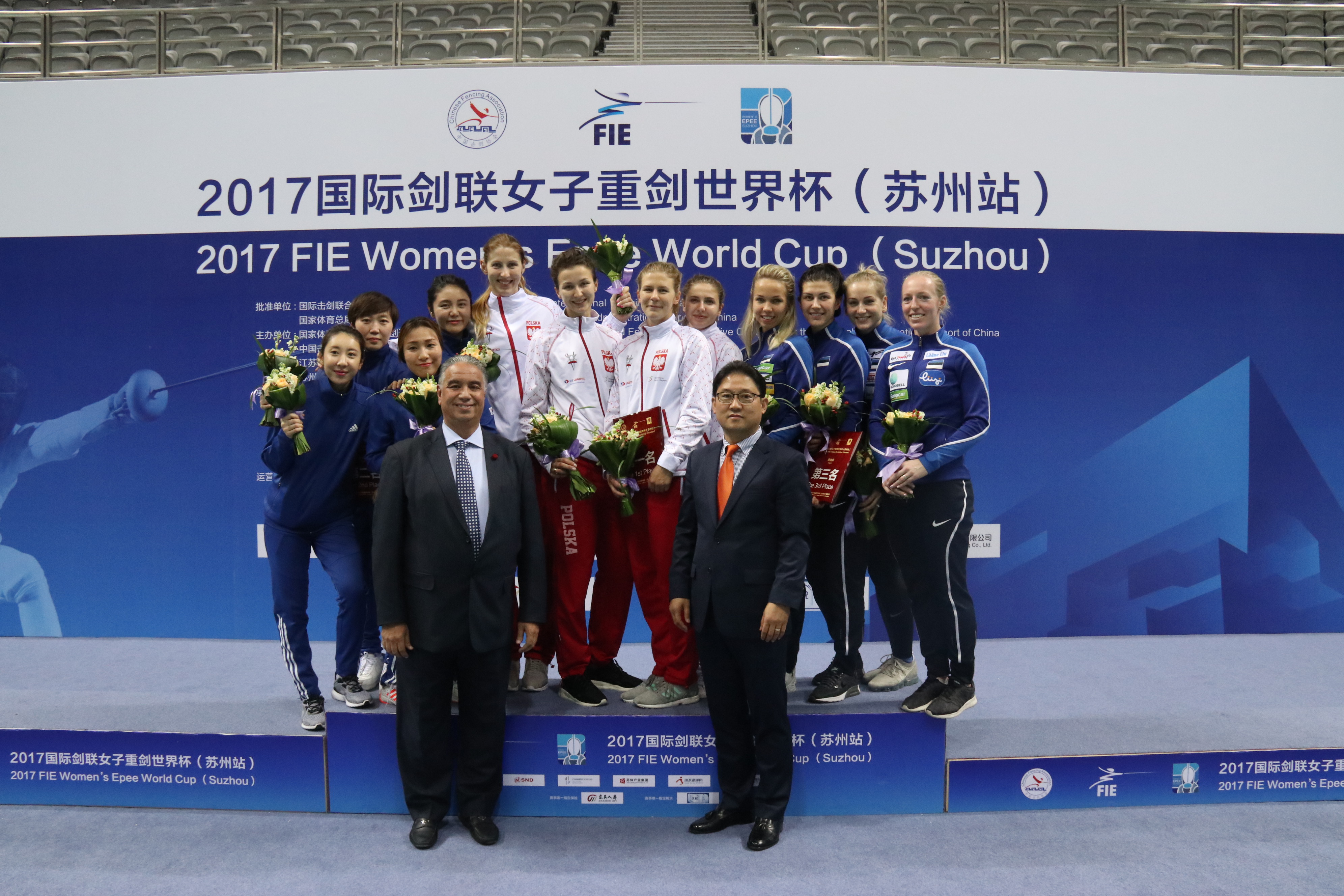 In the women's team epee competition, Poland beat Korea with a final score of 31-21. Prior to that, in the semi-finals, Estonia won over Korea, 36-32, while Russia lost to Poland, 32-25. Estonia took the bronze medal over Russia, 38-36.
The top-eight overall individual women's epee ranking from Suzhou include Yiwen Sun (CHN, gold), Nathalie Moellhausen (BRA, silver), Renata Knapik-Miazga (POL, bronze), Magdalena Piekarska (POL, bronze), Emese Szasz-Kovacs (HUN), Kseniya Pantelyeyeva (UKR), Hyein Lee (KOR), and Aizanat Murtazaeva (RUS).
The top-eight overall individual women's team epee rankings place Poland (gold) first, followed by Korea (silver) Estonia (bronze), Russia, Germany, China, Ukraine, and Italy.
Full results for the individual competition can be found here, and results for the team event are here.