BERNE, Switz., Oct. 27-29, 2017 – Korean men's epee fencers scored a double-gold win this weekend in Berne, Switzerland at the Tissot Grand Prix de Berne World Cup, taking first in team and individual competitions. More than 250 top men's epeeists participated from around the world, along with nearly 30 international teams. The World Cup took place at Berne's Sporthalle Wankdorf.
The individual gold medal went to Olympic gold medallist Sangyoung Park (KOR), who overcame Ukrainian Bogdan Nikishin in the final, 15-8. Ukraine took three of the four individual medals, with Volodymyr Stankevych (UKR) losing to Park in the semi-final, 15-11, and Nikishin defeating his teammate, Igor Reizlin (UKR), in the other semi-final, 8-6.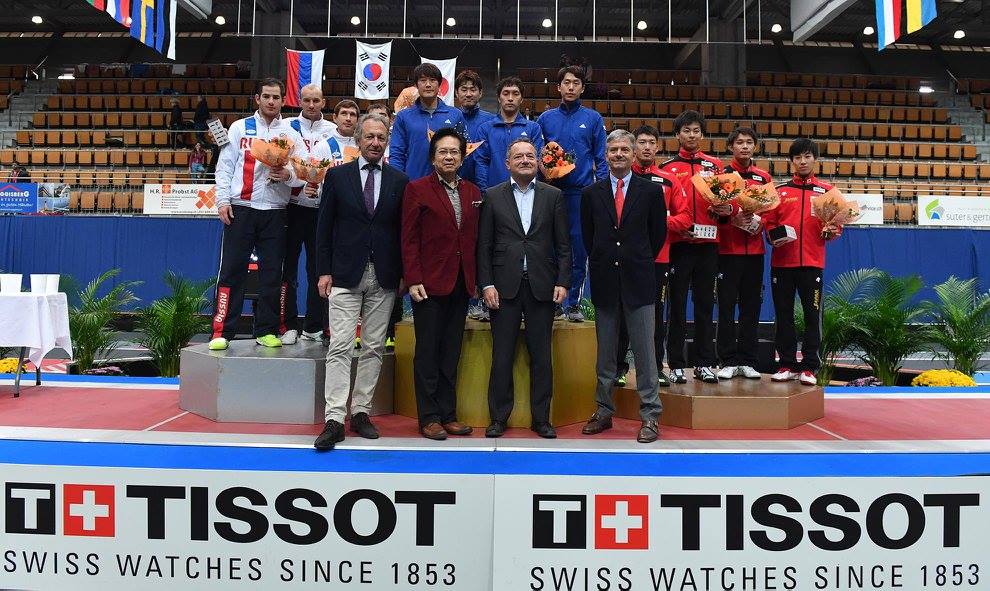 In the men's team epee competition, Korea again scored victory, this time against Russia, winning the final, 45-39. The Koreans defeated Japan in a very close semi-final, 27-26, while Russia beat Italy, 35-31. The bronze medal went to Japan over Italy, 18-15.
The top-eight overall individual men's epee ranking from Berne include Sangyoung Park (KOR, gold), Bogdan Nikishin (UKR, silver), Igor Reizlin (UKR, bronze), Volodymyr Stankevych (UKR, bronze), Andras Peterdi (HUN), Vadim Anokhin (RUS), Sergey Bida (RUS), and Keisuke Sakamoto (JPN).
Overall, the top-eight team rankings place Korea (gold) first, followed by Russia (silver), Japan (bronze), Italy, France, Switzerland, Ukraine, and Czech Republic.
Full results for the individual competition can be found here, and results for the team event are here.