CAIRO, Egypt, Oct. 20-22, 2017 – Great Britain's Richard Kruse took gold in Cairo this weekend, winning the second-annual Pharaoh's Challenge, with a turnout of more than 150 top-level men's foil fencers from around the world. The USA men's foil team also took gold, winning the team competition in a field of 16 international teams.
With a very strong finish in the men's individual competition, Kruse overcame Italy's Alessio Foconi, 15-5, to win the first men's world cup of the 2017-2018 FIE senior competition season. Kruse defeated Hong Kong's Ka Long Cheung, 15-6, in the semi-final, while Foconi beat USA's Race Imboden, 15-11.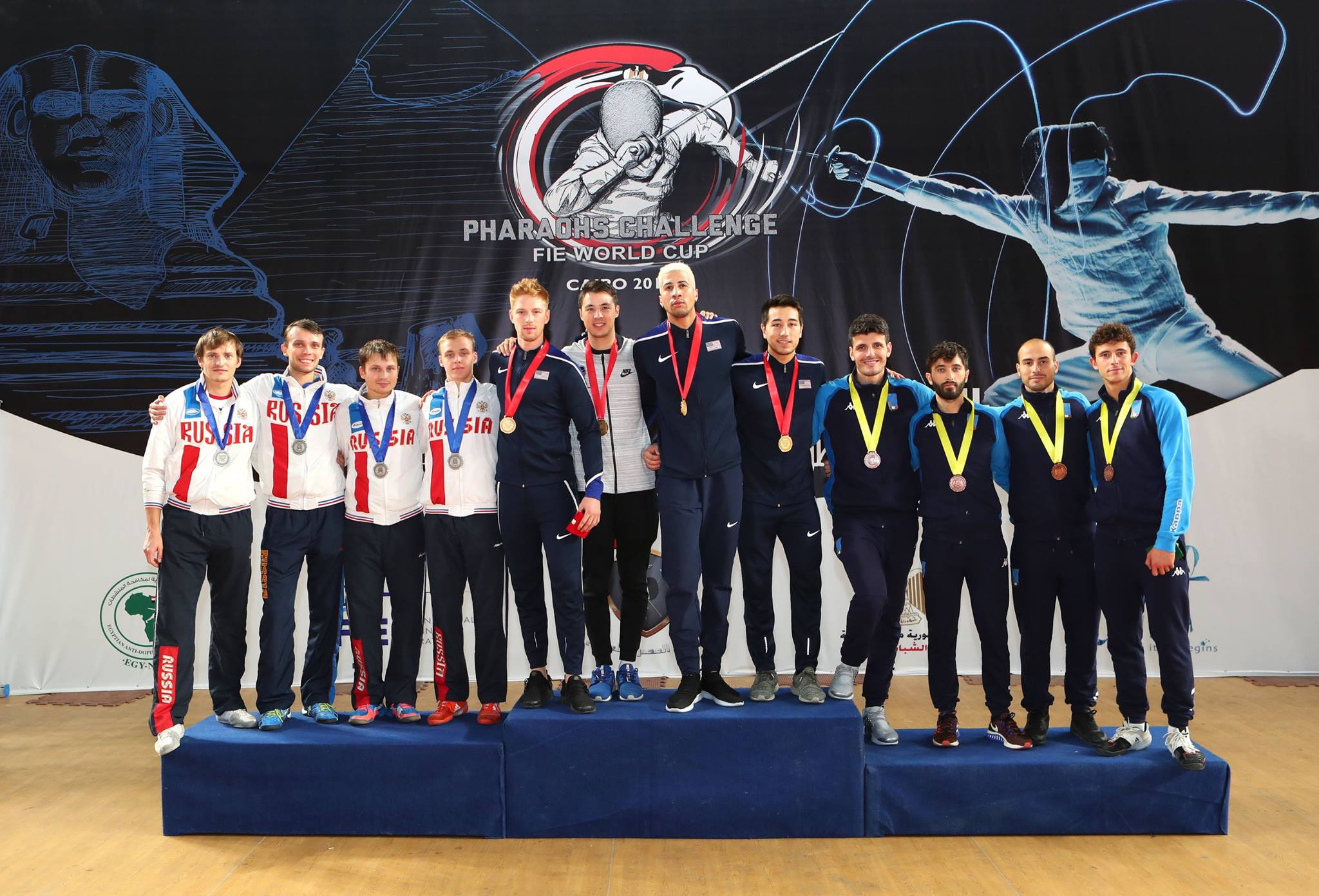 In the men's foil team, competition, USA defeated Russia, 45-26, to take the gold medal. The semi-final rounds had much closer scores, with Russia winning over France, 44-43, and USA beating Italy, 45-42. The bronze medal went to Italy over France, 45-41.
The top-eight overall individual ranking from Cairo include Richard Kruse (GBR, gold), Alessio Foconi (ITA, silver), Ka Long Cheung (HKG, bronze), Race Imboden (USA, bronze), Alexander Massialas (USA), Giorgio Avola (ITA), Andrea Cassara (ITA), and Alexandre Sido (FRA).
Overall, the top-eight team rankings place USA in first place (gold), followed by Russia (silver), Italy (bronze), France, Ukraine, Japan, Germany, and Korea.
Full results for the individual competition can be found here, and results for the team event are here.
The International Fencing Federation (FIE - Fédération Internationale d'Escrime) is the world governing body for the sport of fencing, part of the Olympic Games since 1896. The FIE currently has 152 affiliated member federations representing the sport on all five continents. The headquarters of the FIE are in Lausanne, Switzerland. The mission of the FIE is to actively promote the development of fencing throughout the world, and to educate people from all walks of life about the values intrinsic to fencing: Clean Sport, Fair Play, gender equality, hard work, and excellence.